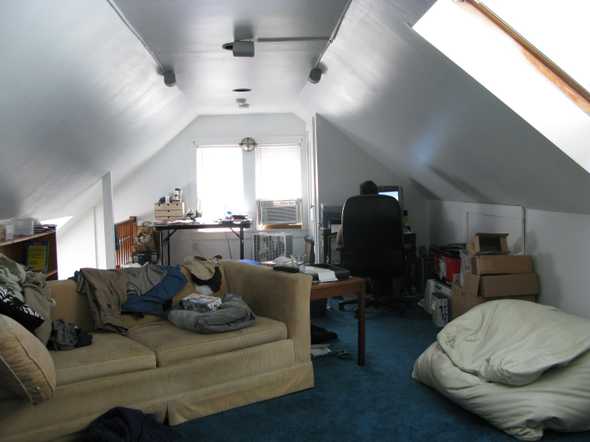 In Boston we stayed with Jane, Tom, and Jaeda. Instead of seeing all the cool sights Boston has to offer, we mostly ran errands and relaxed a little. They were nice enough to let us use their cars, and that was very helpful. It was quite hot when we arrived, and I don't think we had a day below 80 degrees all week. The first full day in the area, we did a Death By Pull Up workout (9.5 rounds for me), and then did some random errands. I got Skype set up on the 128MB WinXP machine, which took a while. Then Danielle took full advantage, calling what felt like every travel clinic in the region to sche'dule our last twinrx shot (that's for hepatitis A and B). She eventually found Passport Health who could fit us in the following day. I did some other phone errands. We made copies of our important documents. We went grocery shopping, and finally made gazpacho for dinner.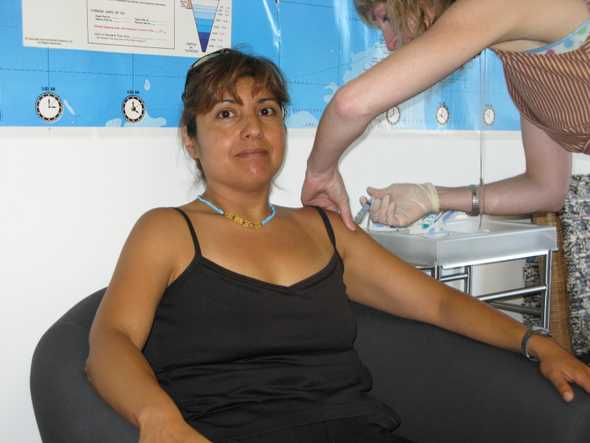 The next day we went and got our shot, which was pretty painless (except for the cost). We stopped by a jeweler on the same street to get some replacement wedding rings, and then went to a recommended barbecue joint to celebrate our 3rd wedding anniversary. We both ordered ribs (silly reference coming up; you might want to skip to the next line) because we sho' were hungry. They were tasty, and we left totally stuffed. In the afternoon my parents came up, and we went out for a big family dinner at night.
Then, having pondered the pay phone problem, the next day I went downtown to meet somebody to buy his laptop. Everybody knows laptops are better than cell phones, right? I hope it'll be at least good enough, and that the laptop will pay for itself by cutting down on Internet cafe costs. I got an Asus Eee 4G, with 1GB of RAM. It's a great toy, and I've spent quite a bit of time playing with it. It now runs Ubuntu, and has Nethack installed. In the afternoon we drove Jane and Tom to the airport, and then we relaxed (read: played on the computer) at home.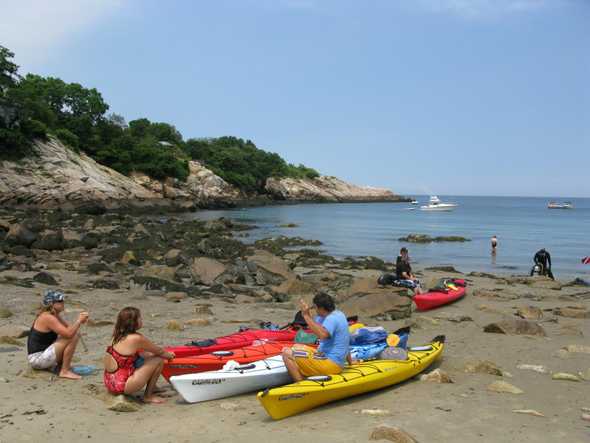 On Saturday we drove to Gloucester to visit Danielle's friend Casey. She owns a kayak and snorkel place, so we were invited to join a 4-hour guided tour where we got to kayak and snorkel. It was very cool to snorkel on the east coast, where there are different things to see than near Santa Barbara. Also, the water was clear. The main things we saw were several kinds of crabs and lobster. We also saw a flounder and a few small fish. All the crustaceans were a lot bigger than what we see at home, and it was cool to see crabs eat, fight, and run away in their natural habitat. Afterwards we hung out for a while before heading home. At home I stubbornly did a quick workout: 10 rounds of carry a stump 20 paces, and jump over it 10 times. 8:00.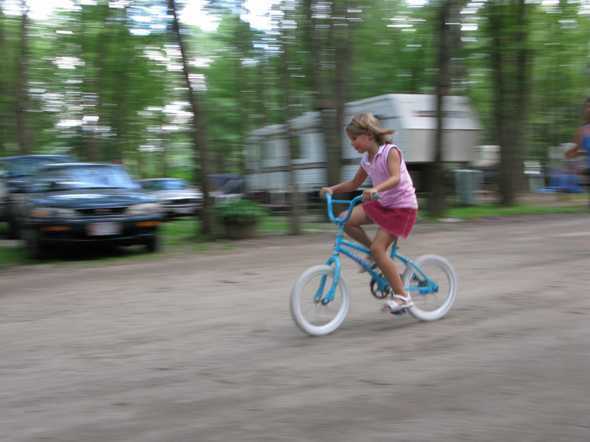 Sunday morning Danielle worked out before we drove down to the campground where my parents were staying, and Jaeda was spending the weekend. We had a good time teaching Jaeda how to ride a bicycle. She is getting pretty competent at it! We also went to the pool, and got the passport photos we took of ourselves printed. We'll see if various governments think they're worthy of their visas.