May 15 - May 18, 2017
After our trip to Madidi, we took another rest day in Rurrenabaque. I don't remember doing anything besides catch up on the Internet and read. This is one of very few days where I didn't take any pictures.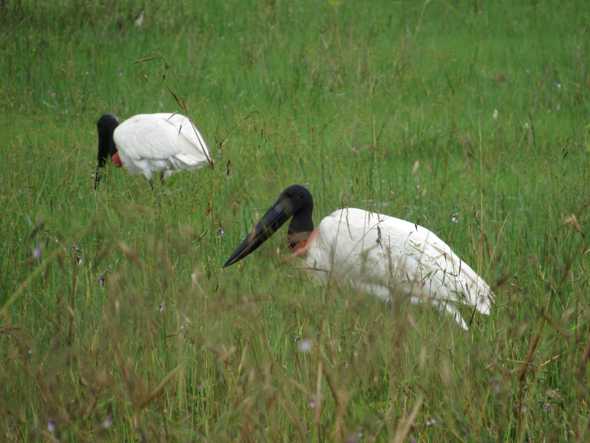 The following morning we made our way to the office of Bala tours, where we were picked up by a car that took us to Santa Rosa. This drive took about 3 hours, mostly over a dirt road that a big Chinese company was busily turning into a large highway. This road will provide a good connection to Bolivia's neighbors, but is also controversial because it will cut through Madidi National Park. In Bolivia's current political climate however, infrastructure (usually accompanied by a huge billboard with Morales' face on it) and industry trump everything.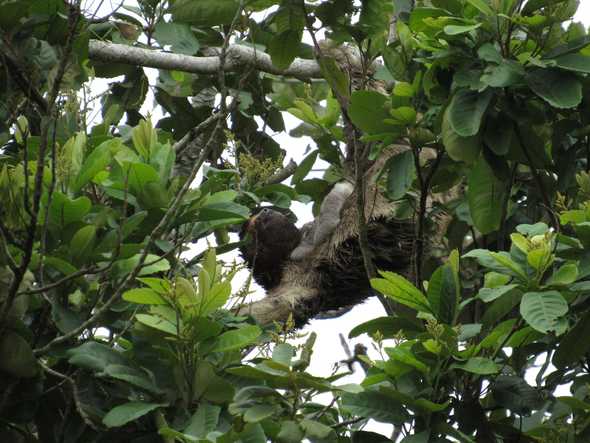 But for now the road was still dirt, and the surroundings were minimally developed farmland. As such we saw quite a few birds on our drive, and at one point we stopped to watch some sloths. They were much harder to see than the ones in Santa Cruz, but we did glimpse one with a baby.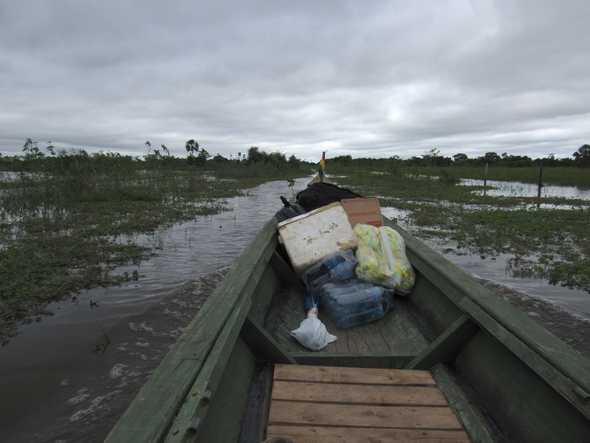 From Santa Rosa we took a short boat trip to the lodge where we would stay. On that short trip we saw more birds, and got our first glimpses of Bolivian "pink" river dolphins. The lodge consisted of half a dozen cabins and a central dining room, all built on packed dirt with palm trees growing on it. We met our guide for our stay, and after dropping off our luggage went on our first boat ride.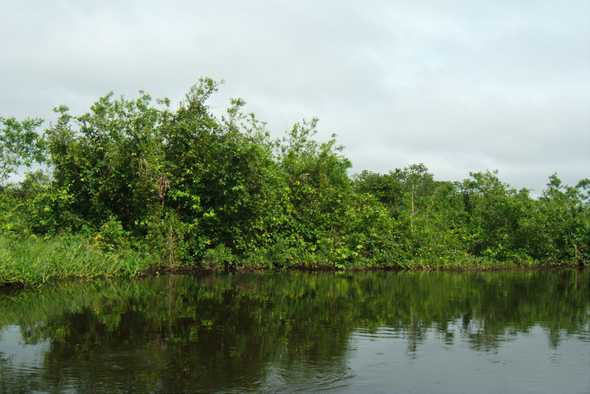 The water was unseasonably high. Usually at this time of year the water is 6 meters above the low water level, but during our visit it was 10 meters above the low water level. As a result the water was very murky, and we were effectively sailing through the upper layer of brush/lower layer of trees. The murky water made it very hard to get pictures of the river dolphins, because you could only really see them when they're above water, and they would only be there very briefly.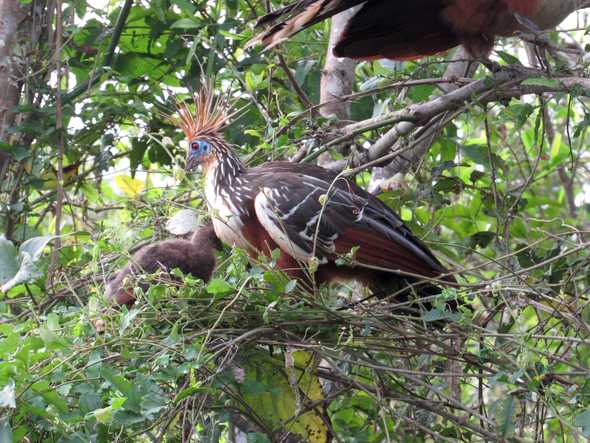 We saw lots of birds during our stay. Danielle had a list going, and ended up with more than 50 species. Some of the most interesting birds were the Hoatzin birds. They sat in the trees not far above the water line, with distinctive blue faces and mohawks. As we passed, they'd emit a warning call which sounded like a forceful breath more than anything. The chicks, of which we saw quite a few, are born with little claws on their wings so that they can climb out of the water should they fall in.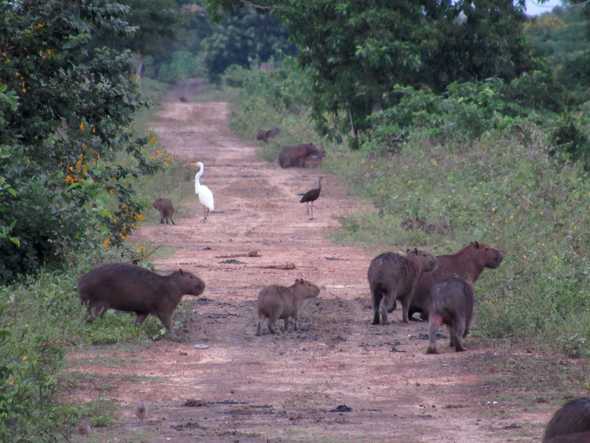 At night we went out again looking for cayman eyes. We only saw a few because the high water gave them lots of space to hide. We also saw some capybaras, but nothing like what we saw the following morning. We had gotten up early for the sunrise, and saw a river bank with many capybaras. Of course there were more birds as well. The sunrise was a bust due to cloudy weather, but we were plenty happy because of all the wildlife we saw.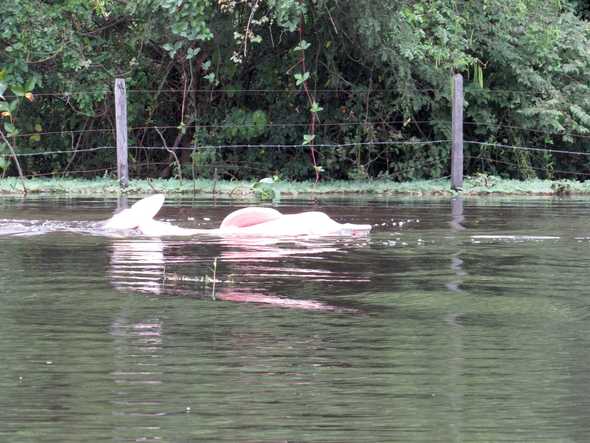 After breakfast we got our best look at river dolphins. They were playing in the water around our boat. A few jumped out of the water, and Danielle even touched one. Our guide had instructed us to splash the water with our hands, and one dolphin was curious enough to come right up to Danielle's hand.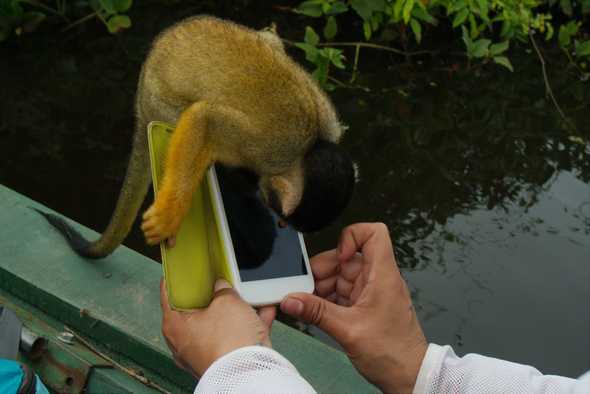 Later, we came across a troop of squirrel monkeys. Our guide lodged our boat into the tree they were in, and promptly several monkeys used the stern of the boat to wrestle and chase each other around. A few monkeys also showed interests in Danielle's phone and my camera. After a few minutes of this they moved on. It was also really neat to watch them grab insects and eat them.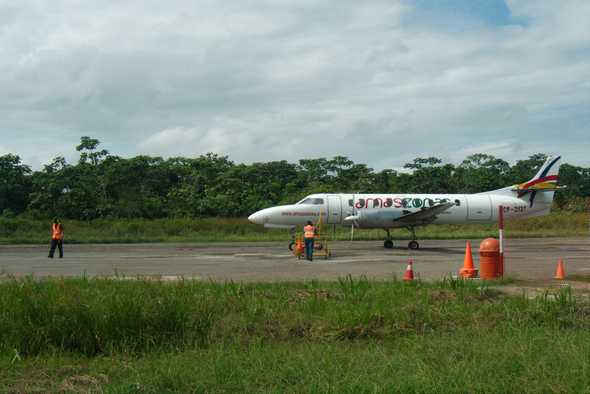 In the afternoon we returned to Rurrenabaque by boat and then by car. We once again retired to the air conditioning. The next morning we got to the airport nicely on time, but the staff there made a mistake and ended up putting us on a later plane. We didn't really have anything planned so it wasn't a huge deal, although a bit annoying.