April 2-5, 2017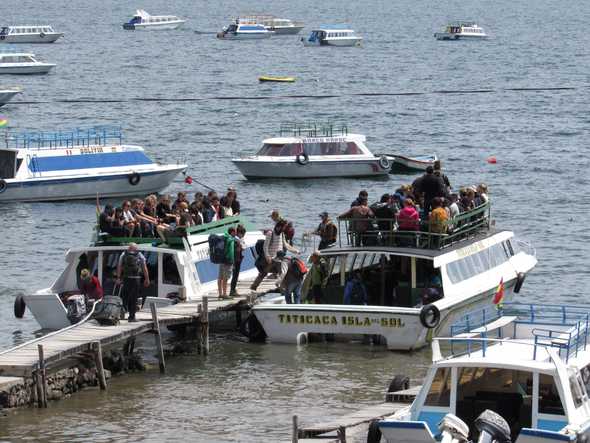 We didn't do anything in Copacabana besides eat lunch and use the ATM to get our first Bolivianos. Then we got on a boat (organized by Bolivia Hop) to the island of Isla del Sol. This was not an overloaded boat like in the picture, but instead we paid just a little more to have a lot more space. The passage took maybe an hour, and was quite pleasant. We saw the endemic flightless grebe, and enjoyed beautiful clouds all around us.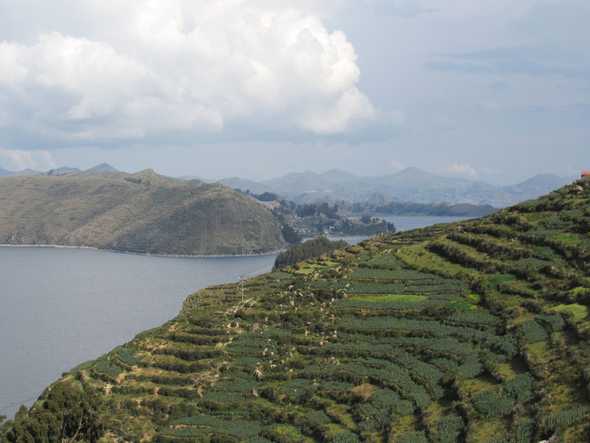 On the island we were let off the boat to go on a hike, and meet the boat at the next port. Danielle elected to stay on the boat to rest up for the hike to our hostel, but I got off. The hike took us past some not-very-interesting-without-a-guide ruins, and then up to a viewpoint which gave us great views of the clouds blocking far-away mountains. But the weather was beautiful, and I really enjoyed the small-plot farming that we passed everywhere.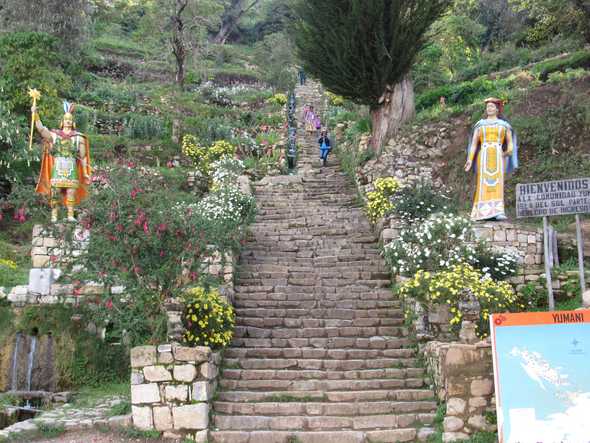 Back at the boat, we loaded up our packs and started the hike up the hill that makes up the island. We started with the Inca steps, which end up at an ancient fountain that is still used by some of the locals for their daily water today. As you can see it was pretty steep. Danielle had booked us into the highest hostel on the island, which itself is in the highest navigable lake in the world. Between all that, with our packs, it made for a challenging ascent of a few hundred meters. Danielle stubbornly refused a local boy who can't have been older than 10 who offered to carry her pack for 10 Bolivianos. But the weather was nice, and with plenty of breaks we made it.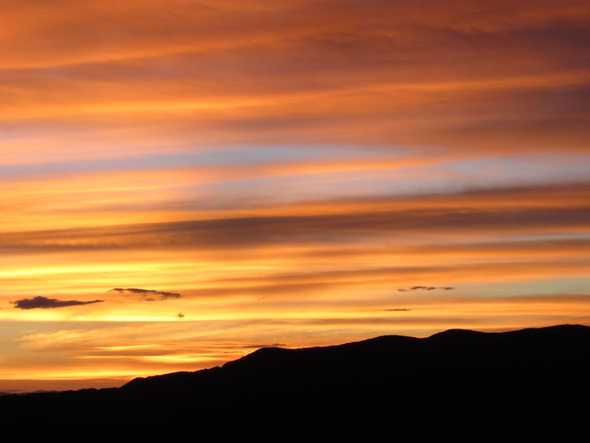 We stayed at Hostal del Sol, which was far enough back on the ridge to not have amazing views, but very close to several restaurants that do. The plan was to rest up in a place where there just isn't much to do, and that's exactly what we did for 3 nights. The only real activity on the island is to go hiking, and that was further limited by the fact that we couldn't go the northern part of the island. We never quite figured out what the problem was, except political, and possibly something to do with unions of artisans.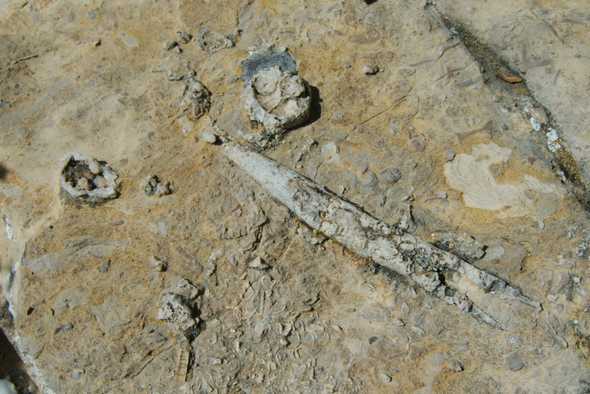 In any case, that ruled out long walks so instead we went on some short walks. We visited nearby viewpoints, as well as a beach and neat rock formations below. It appears the island was formed by a block of rock rotating upwards, because we could see the different layers of rock as we walked along them. Late the first day I discovered a layer which had fossils in it, which the next day Danielle and I had a good time exploring further. We didn't come across anything spectacular, but it was cool to see find them for ourselves. There were lots of cool rocks, which lead to me starting to reading McPhee's Annals of the Former World, which is supposed to be a decent layman's introduction into geology.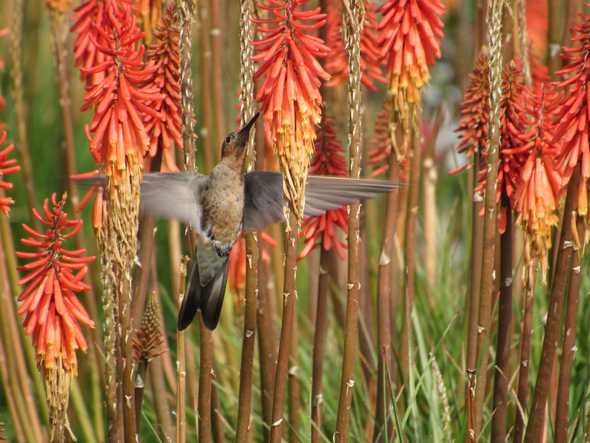 The other thing we did was just sit at one of the restaurants, watching the view and the birds. One restaurant had a nice stand of flowers that attracted 3 different varieties of humming birds: a big brown one, a green and blue one, and a little gray one. I only got pictures of 2 of them, but it was fun, not to mention relaxing, to watch them come and go.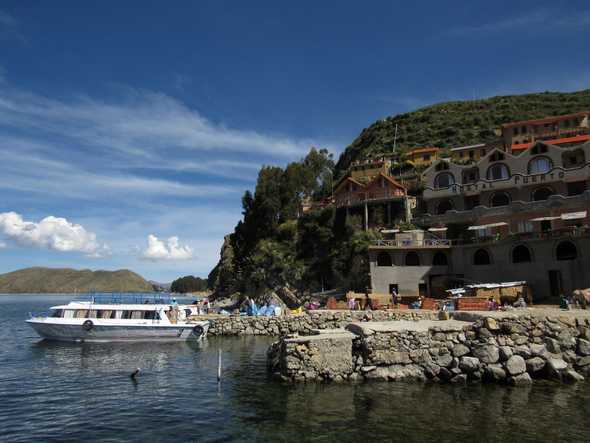 And then it was time to move on. We got back on the boat after a very leisurely day, and arrived in Copacabana in time for an early dinner. Afterwards we took the bus to La Paz, where we arrived later that evening.