March 3-6, 2017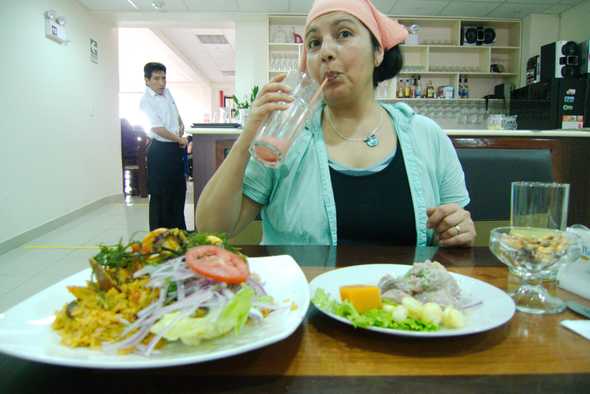 After a well-deserved nap, we headed into the busy Lima streets. We stayed at the 1900 Hostel, which is near Lima's old center and government buildings. We could see Peru's equivalent of the Smithsonian simply by stepping out the front door. We walked around the block looking for food, and quickly found some amazing ceviche. Ceviche is basically raw seafood in lemon juice(?). We also had rice with seafood, and wonderful fresh juice. This is the life!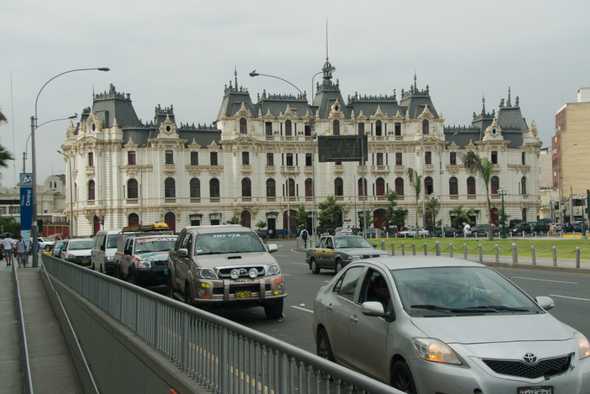 Back at the hostel we took a free walking tour, which took us through most of Lima's old center. We saw government buildings, churches, shops, and lots of traffic. The architecture is beautiful, with almost all buildings having a classic European look. The colors however are very Peruvian, with many buildings being yellow, blue, and one notable one red and black. Some of the buildings are in great shape, and some have peeling paint and worn down stone details. But almost every building in central Lima has this same look, which is nifty.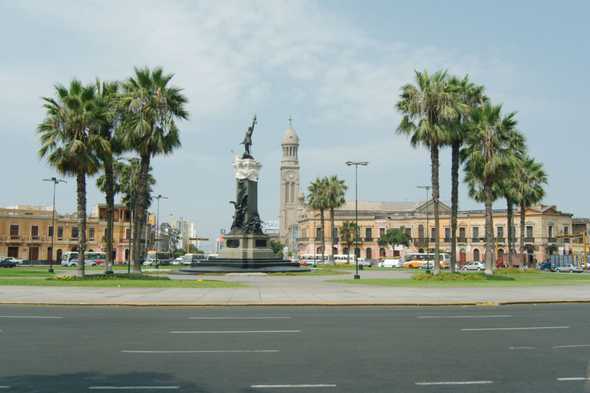 The traffic is loud and near-continuous. Horns are used when passing, approaching pedestrians, or otherwise get attention. Also it's hot and pretty humid. Meanwhile Lima is actually in a desert (0.3 inches of rain per year) and the surrounding hills are completely devoid of any plantlife. While downtown Lima is beautiful, it's experienced at the same time as lots of noise and uncomfortable temperatures.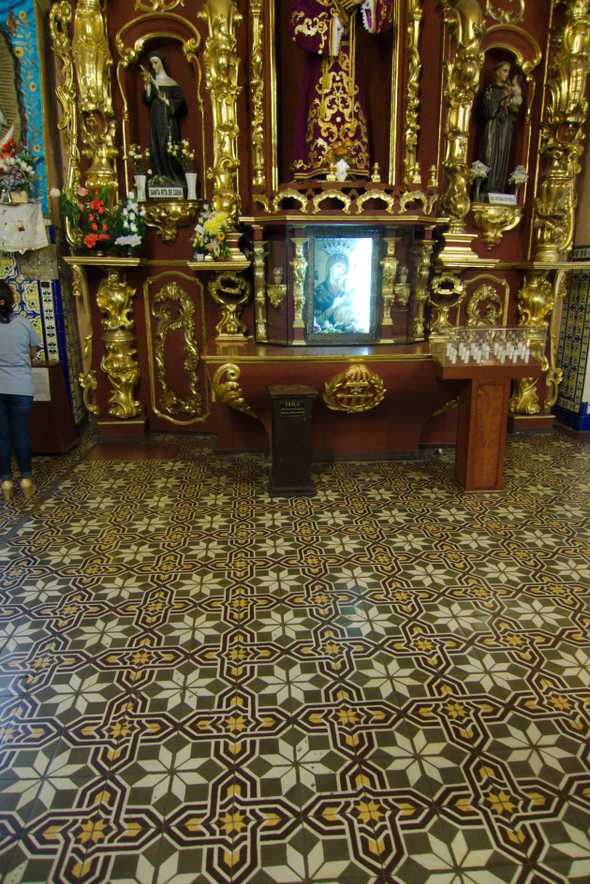 Peruvians take their Catholicism seriously. The churches here are some of the most ornate I've seen anywhere, especially inside. I really enjoyed the geometric tiles used in some floors and ceilings, which presumably came here from Morocco via Spain. It's also hard to argue with gold-plated anything.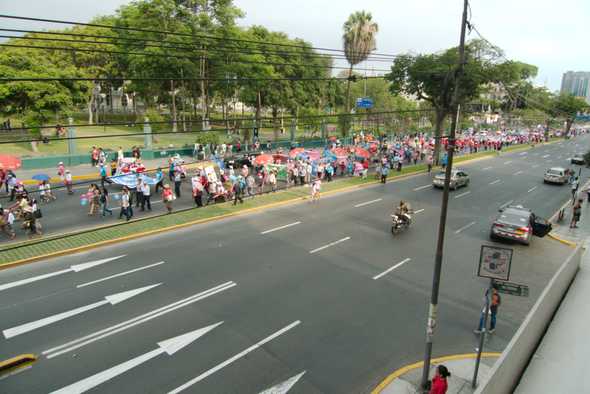 Vaguely related, we encountered a large protest. I'm still not entirely sure about the details, but my impression is that the ministry of education has put out new materials which imply that it's OK to be gay, and protestors don't want their children exposed to this. If your Spanish is better than mine, searching for con mis hijos no te metas might give you more background. We had a local man try and explain it to us, but our Spanish was not up to the job. I mostly learned through a bit of Googling and by asking an English-speaking tour guide.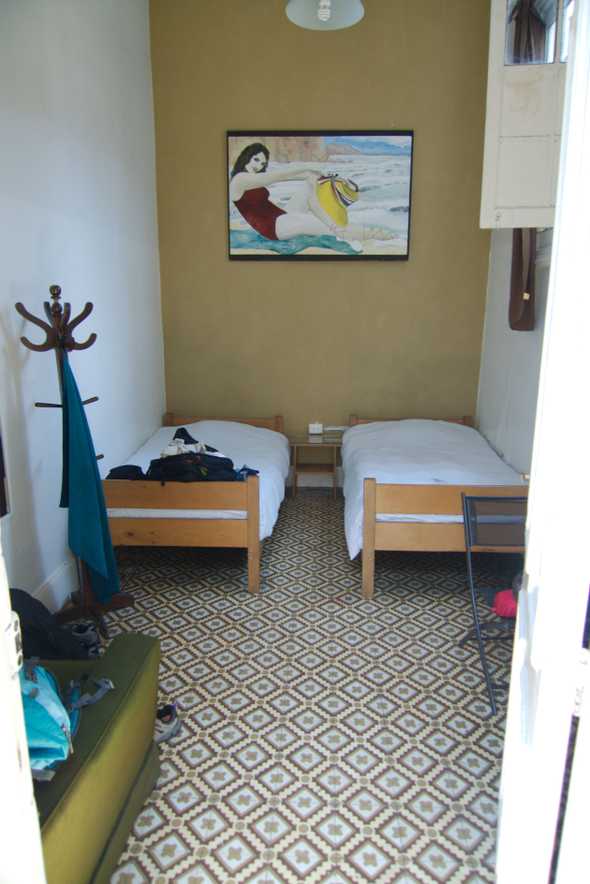 Internet quality at our hostel was amazing. Most of the time it was as good as it is at home. The rest of the hostel was good too. Rooms were clean, it felt safe, and there were some nice common spaces. We talked to several other travelers. The food was mediocre. Toilets were mostly in good shape, and always clean. That last one is important since I've had the occasional urgent need to go to the toilet ever since the first day. It's not a big deal, but is occasionally annoying. Danielle is fighting something similar that started a day later.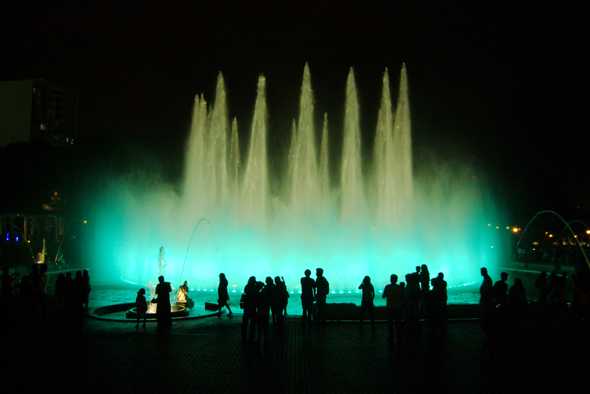 Overall we had a good time in Lima, but it did feel very busy. We were catching up on sleep, being slightly sick, seeing some sights, and adjusting to the traveling life. 3 days after we arrived, we were on a bus to Paracas, which is much more quiet. On the way there we got an incidental tour of the Miraflores neighborhood where most passengers were picked up. It's very different from the central district where we stayed. It mostly consists of small but nice-looking homes, clean streets, cute restaurants, and some beautiful parks by the water. It's a popular but more expensive area to stay as well. Perhaps we should have started here to ease into travelling a bit more.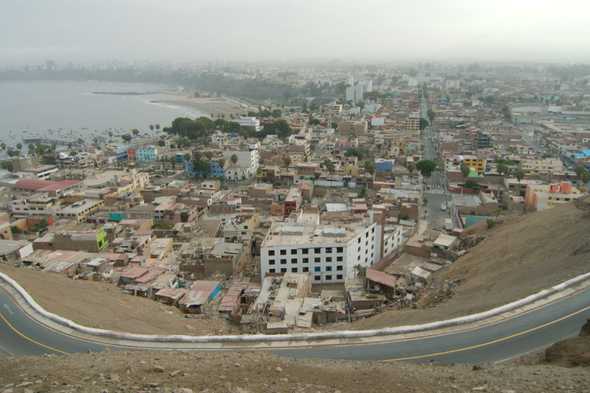 Before leaving town the bus took us to an overlook in the south of the city, which had a good view of the contrast between rich and poor. Lodgings barely nicer than the Seattle homeless live in are built up on a hill, which overlooks rich beachfront neighborhoods. The poor apparently have squatters' rights to the hill so they cannot be kicked out, otherwise it would doubtlessly be filled with hotels and luxurious apartments. We actually saw very few homeless people. Our guide suggested it might be because homeless people have the option of living in slums. Contrast this with Seattle, where homeless people are very visible and slums are illegal.