Typed up: on ship to Long Beach Posted from: Andy and Juliette's house in Newbury Park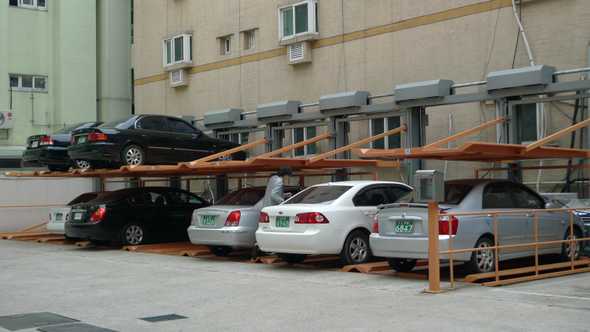 The bus ride to Busan was over an hour shorter than the book had said it would be. I think they must have built some new roads since the book was written. It was easy to find a locker that fit both our bags at a metro station. Then we spent the afternoon just wandering a little until it was time to meet Matthew, our CouchSurfing host. There wasn't a whole lot to really wander where we'd chosen, though. Just a few busy shopping streets and some blocks of huge apartment buildings. We couldn't even find an Internet cafe that was open.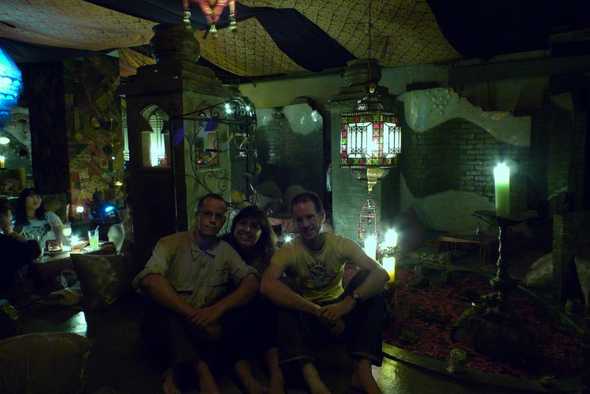 Matthew lived high in an apartment building in the middle of the city, with a giant window which gave a nice view. He took us out to a great bar, where we sat on lots of pillows around a low table, in low light. It was in a much more trendy area of Busan, and lots of people were on the streets when we went out. The area was so trendy that there were two Outback Steakhouses visible from one intersection.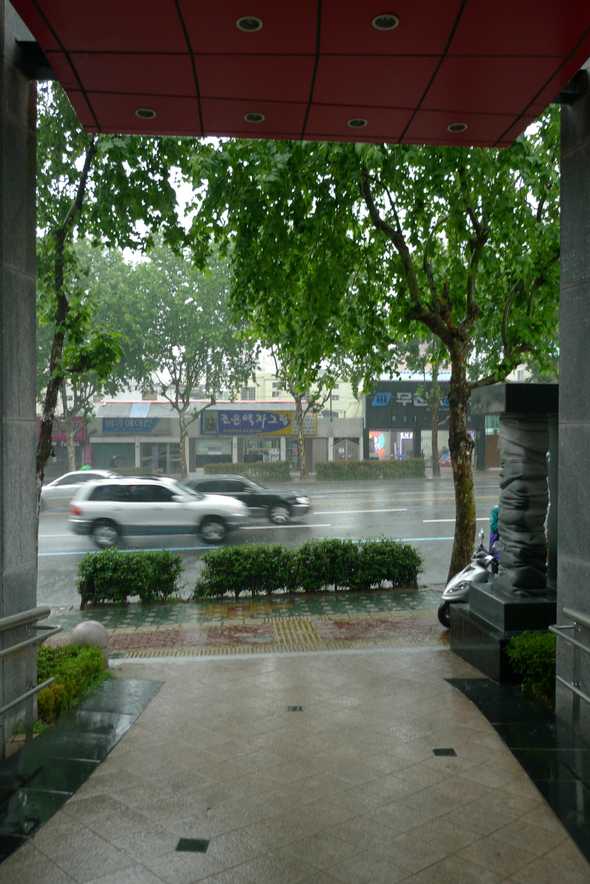 We had two things we wanted to do in Busan: visit a Korean bath house, and visit the fish market. On our first day it rained hard and we decided to tackle the bath house. We took the metro and walked through the downpour to what's supposed to be one of the nicest ones in the country but sadly it was closed for renovation. Dejected we just went back to Matthew's apartment. When he came home in the afternoon he pointed us at a different one and so we set off again.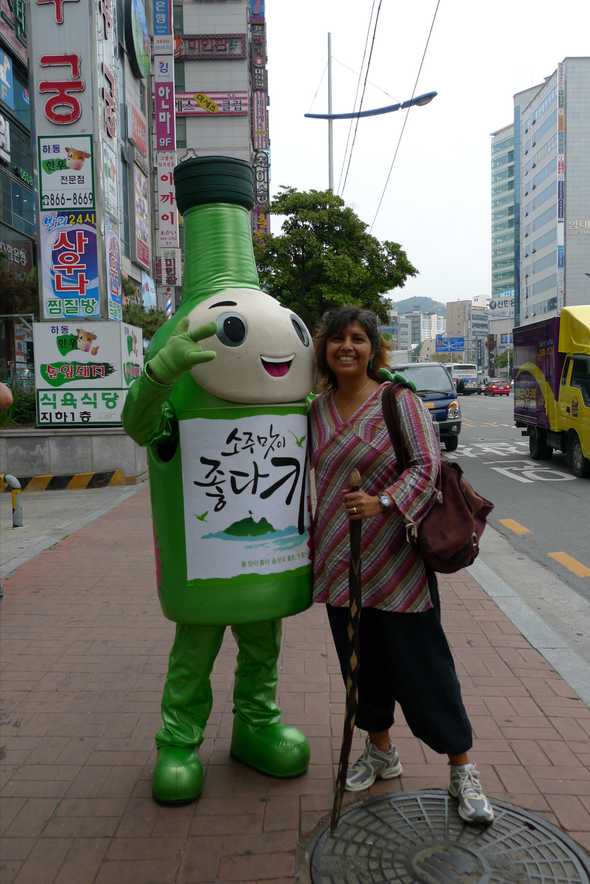 It wasn't raining anymore, and with the help of some locals we found the bath house. Men and women went to separate all-nude sections. I put my clothes in a locker and showered like I was supposed to. Then I sat in baths of various temperatures, went in the sauna for a few minutes, and spent about as much time as I thought I could. It was an odd atmosphere, with almost no socializing going on. Everybody just was doing their own thing and almost completely ignored one another. I was supposed to meet Danielle after an hour but after 45 minutes I was done. Through some confusion at the entrance we hadn't bought the extra robes which would let us into the common area where people have snacks etc., so we missed out on that part. I was pretty down on the whole thing when we left, but Danielle really enjoyed her experience.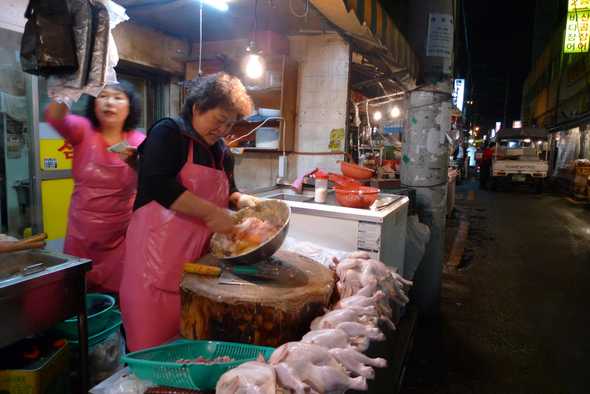 At night we went out with Matthew to a local chicken shop where we ate some nice fried chicken, including an appetizer of little unidentifiable pieces of chicken (also fried). Afterward we met some of his fellow English teachers.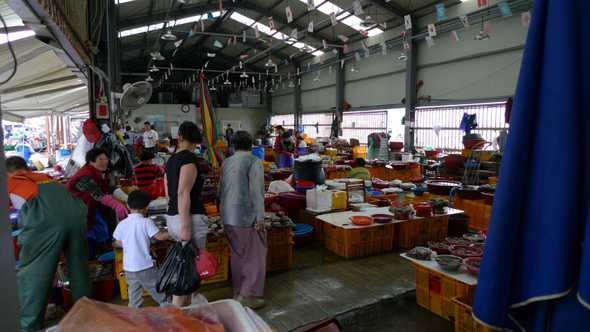 The next day was our time to leave. We'd called a harbor representative a few days before the 23rd as instructed. Our ship was running a little early, and we were supposed to board on the evening of the 22nd. This meant we had to meet somebody at a downtown coffee shop at 8pm, leaving us plenty of time to visit the fish market. Unfortunately Danielle was feeling a bit ill in the morning, so I went by myself.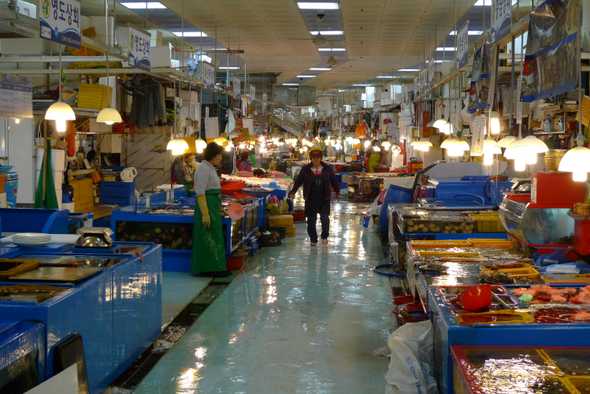 The fish market was huge and awesome. It consisted mostly of live fish, shellfish, and octopus. It was at least as interesting as going to a medium aquarium. I loved seeing the clams squirt water around, the octopus swim, abalone crawl around, and some sizable fish sit in barely-big-enough tanks. Most of it was housed in a building that looked very new. After wandering a bit I went upstairs and had a lunch of cooked eel. I think the eel was supposed to be an appetizer, but Korean restaurants aren't set up for people eating by themselves.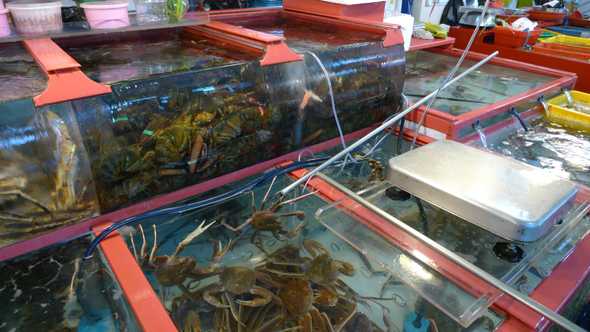 I thought the market was so awesome that I dragged Danielle over there in the evening, when she was feeling a bit better. Many of the stalls had closed down in the evening, but it was still worth a visit. Then we had a dinner of raw fish, where we spent just about all of the won we had on us. The fish was fairly nice, but did not have a lot of flavor and was a little chewy. One of our appetizers was some fish in teryaki sauce which was very good. On the whole, we've had only 1 meal I didn't think was good our entire time in Korea which was something at a hole-in-the-wall place consisting of 4 different kinds of starch in a red sauce. Part of that was probably that we just ordered the wrong things.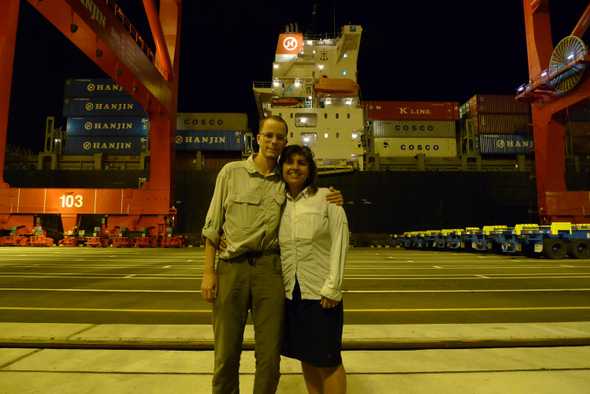 From the restaurant we went straight to the coffee shop to meet a harbor representative. We found him easily. Our boat was a bit later after all, so after waiting for an hour he drove us to the harbor. He listened to a baseball game on the radio all the way, alternately cheering and pounding the steering wheel. His team was behind, came back, but snatched defeat from the jaws of victory at the very end. In talking about this, I said we don't follow baseball but do watch a lot of American football. The next thing he asked is if we knew Hines Ward, which of course we do. Apparently he is quite the local celebrity because his mother is from Busan and he comes to visit once a year. Then he took our passports to get stamped, and we had technically left South Korea.