Typed up: on ship to Long Beach Posted from: Andy and Juliette's house in Newbury Park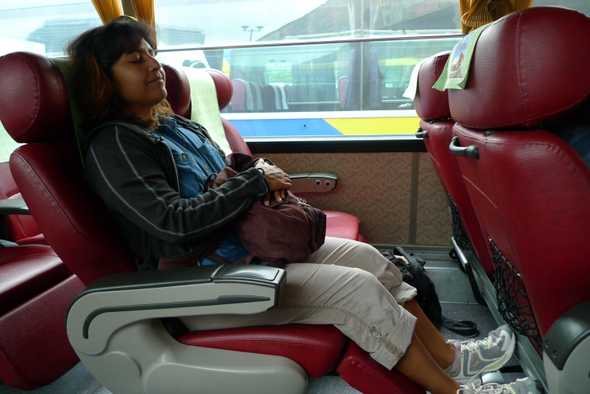 We took the bus from the Express Bus Station in Seoul to Cheongju. It was great. The bus had leather seats similar to business class in an airplane, yet ticket prices were still pretty low. The scenery was nice and green. It felt like Korea has a lot of space that is not built up, and is determined to keep it that way. What a change from every other country we've been to since East Africa.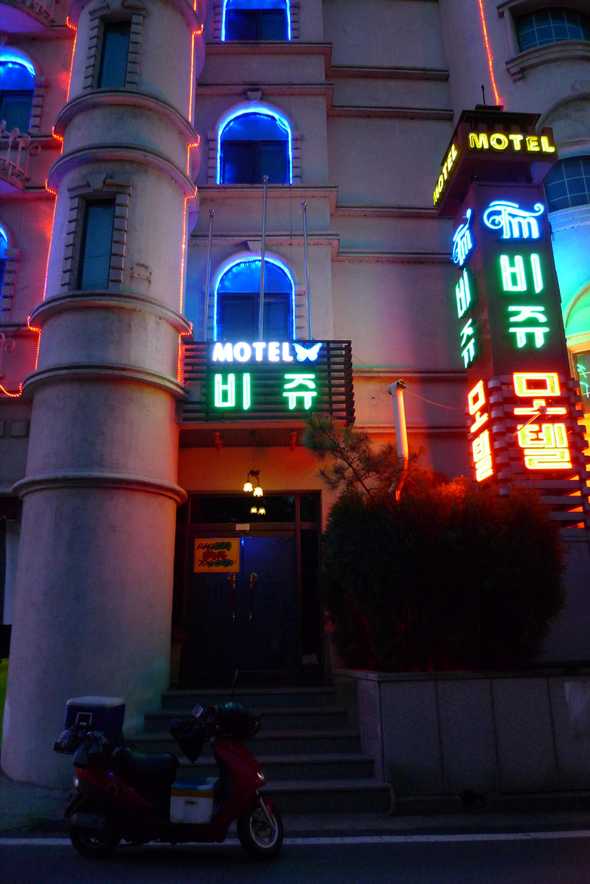 In Cheongju we wandered the neighborhood around the bus terminal to find a motel. It was cheap, and the common areas were just what you'd imagine: dark, with blacklights, and paintings of naked ladies on the wall. We had fun trying to tell the attendant what we wanted, both of us crouching down so we could see each other's faces through the small hole that is usually just used to swap cash for a key. The room, however, seemed like every other hotel room except that the complimentary toiletries included condoms. It was big, and came with a really fast Internet connection. (Actually, port 80 was blocked but the webpage it directed me to was all in Korean so I tunneled through a friend's machine at home.)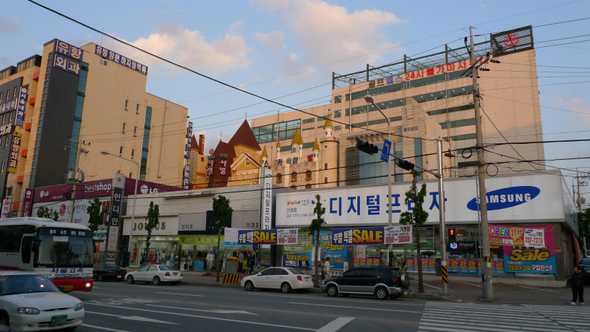 The good food streak continued with lunch at Mr. Pizza, which advertises itself as a place where Korean women love to go. (It was true. Maybe 80% of the customers were women.) The pizza was excellent. In the evening we walked into another busy-looking place and we had our first sit-on-the-ground meal of some beef soup with a lot of stuff in it. For breakfast we stuck with yogurt and fruit that we bought at nearby Lotte Mart. We couldn't find real yogurt so it was the sugary stuff but still alright.
On our first full day there we used local buses to go to Sangdang Sanseong fortress. This involved transferring once, but the English speaking lady had told us where. By saying the name to each passing bus driver and getting on when he looked positive we got there. We almost got off the second bus one stop too early, but almost everybody else on the bus told us to stay on and wait. They were all saying it in Korean, but we got the idea.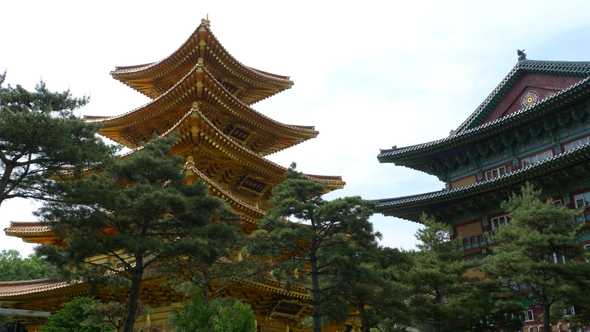 There was nothing left of the fortress besides a long wall surrounding it. The village now consisted of restaurants. So we walked the length of the wall, which was very pleasant. Quite a few Korean hikers were out, in full technical gear, but there were also plenty of people just going for a walk. The easiest way to get to the wall from the bus stop is to walk by the lake on the left side, and follow the steps up. After the hike we had a good lunch, and timing was great because 5 minutes after we were done a bus left to town. In town we checked out the local Golden Temple. It's not a huge complex like the one in India, and it's for a different religion, but it did look cool.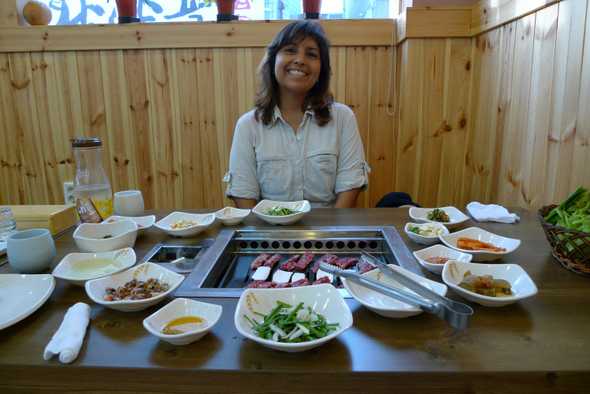 In the evening we walked to a restaurant we'd seen the other day that had a picture of beef on the outside. We did our usual pointing and saying OK. They brought out a plate of raw pieces of beef, for us to prepare on the center grill. The beef was awesome. I don't know if I've ever had any better. As with every meal here, it came with many sides. Unfortunately in their eagerness to help us with everything, we felt the owner rushed us through the meal a little faster than we would have liked. The menu didn't have any prices and that should've been a clue. It was expensive but it was also really great beef that I would talk about for several days.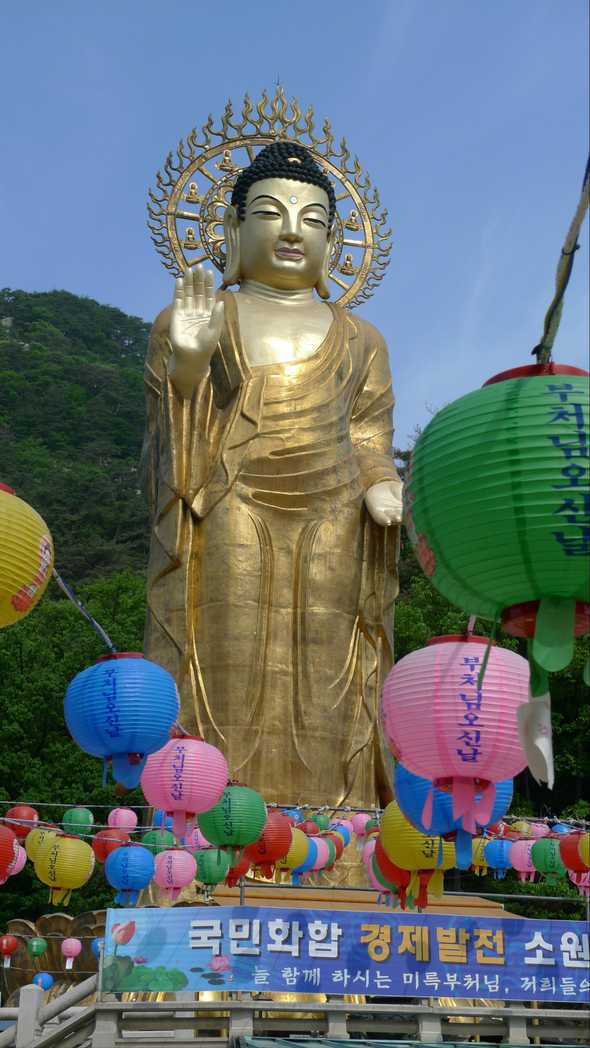 The following day we rode a luxury bus to Songnisan National Park. It was the first bus of the day, and it was fairly quiet when we started walking about 8:30am. It took a while to walk from the bus station through the tourist village into the actual park, and even there we walked on a paved road for a long time. Along the way we stopped by a Buddhist temple which had some neat buildings in the style we'd seen everywhere, and a giant Buddha statue.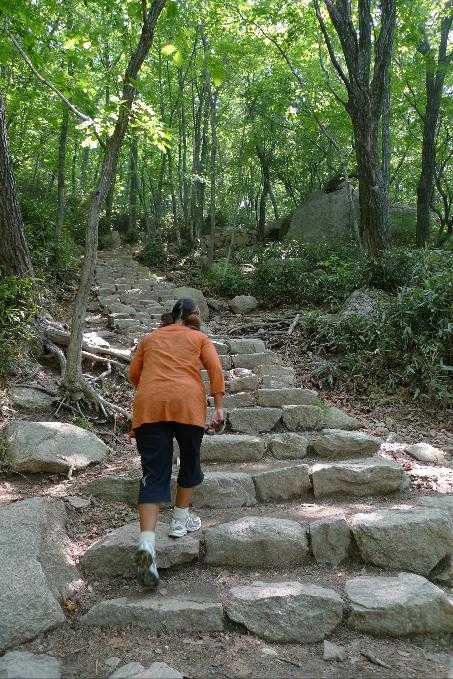 Once we had walked a third of the way to the top of our mountain, we turned off the paved road that followed a river onto a paved road that went up. It turned into dirt, and then finally we were on what I think of as a trail. Most of the trail was stairs. I don't think we encountered a single switchback, but there were many, many stairs. They were well maintained, and we passed several trail crews working on the stairs. All the stairs made for a tough hike, and we took many breaks before we reached the top.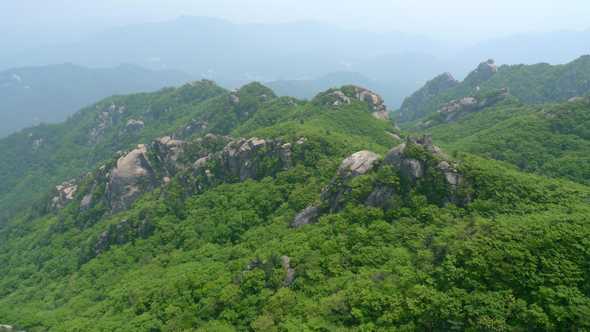 From the top we did have a very nice view of the surrounding mountains forests. Everything was very green, reminding me of spring. It was a bit hazy so we couldn't see very far. At the top several groups of hikers stopped for their lunch break, and they went all out with with tea, soju, rice, kimchi, and whatever else might be necessary to have a good meal. The North Face stores were all over the towns here, and now we could see why.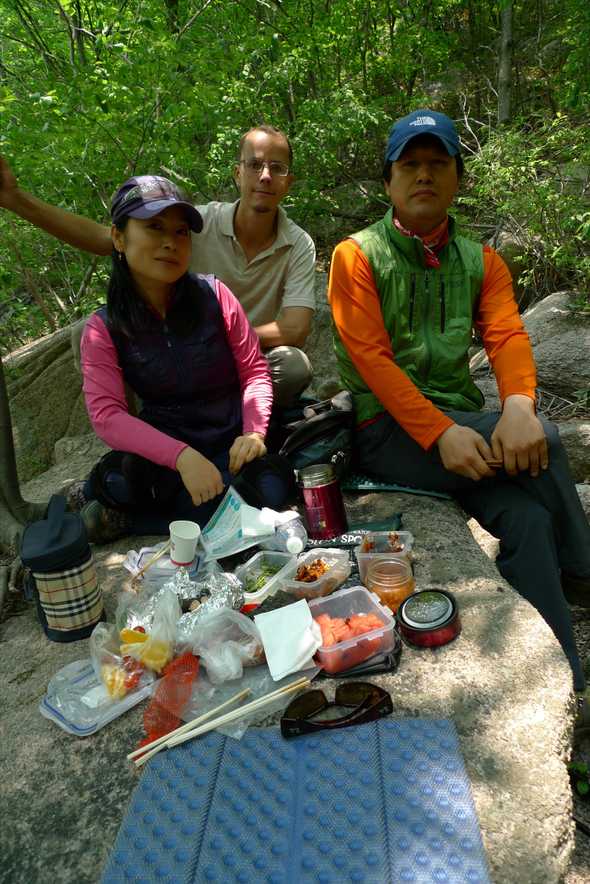 On our way down we passed a couple having lunch in the same style, and the woman motioned to us to join them. Hungry, and ready for an experience (which I not always am) we joined them. They moved over on the rock, and let Danielle sit on the cushion they'd brought. The food was great, and there were at least 8 different little dishes to try. There was also obviously plenty of food for the 4 of us. The Korean couple spoke barely any English. I think, and lack of understanding as well as bad memory foreign names means I'm probably wrong, that the woman's name was Miha while the man's name was Kyim.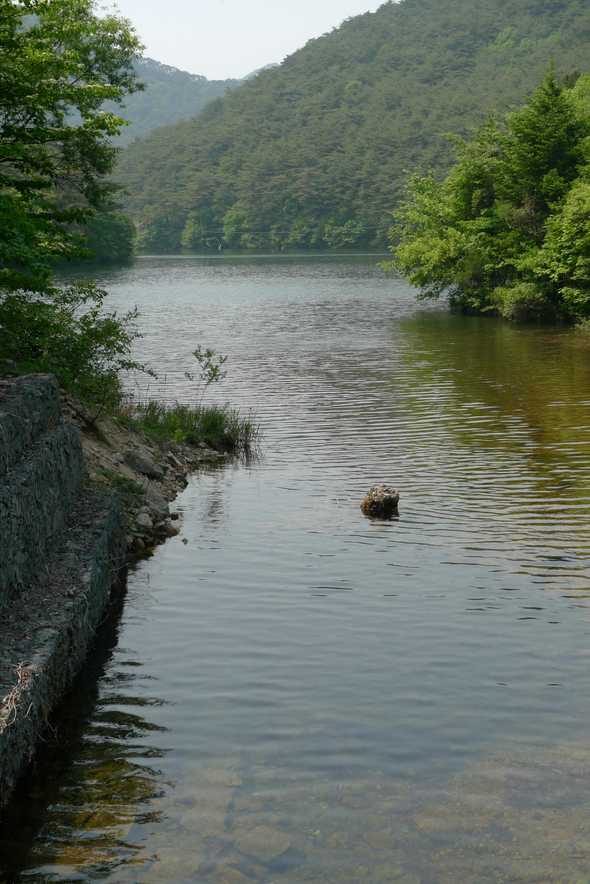 With our limited common language we didn't talk much, but we learned that they also live in Cheongju. When they discovered we'd taken the bus they offered us a ride back which we gladly accepted. We raced down the mountain, barely keeping up with their fast pace. It definitely felt like they hiked for the conquest, and not to appreciate the views along the way. Their car was nice and we had a very comfortable ride back to Cheongju where they dropped us off at the bus station like we asked.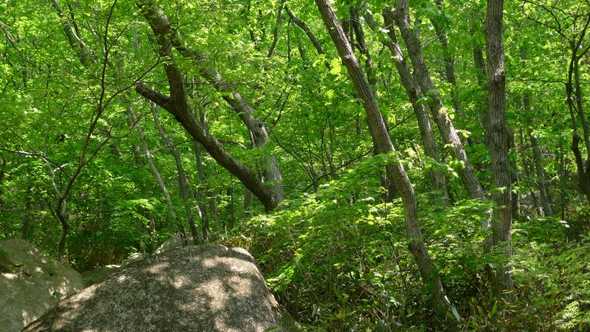 All the while Miha was excitedly trying to tell us and ask us everything. Her cell phone had a Korean-English dictionary in it, and she used it a lot. She bought us some drinks along the way, so I finally got to try the Pocari Sweat that's advertised everywhere, as well as something she called a Korean cookie but felt more like a large, chocolate-coated gummy bear.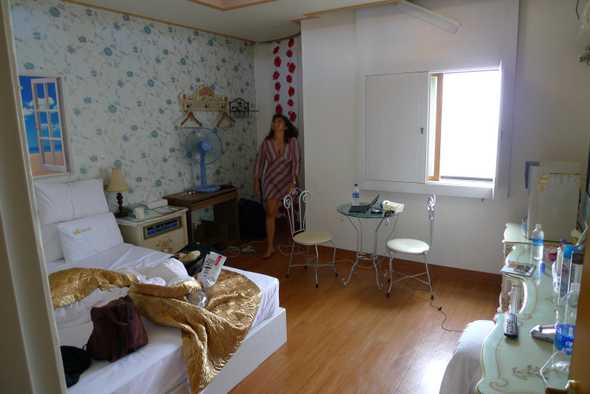 To round off our locals-interactions for the day, the attendant at the motel followed us up to our room and came in with is. She went to the fridge, and we think she was trying to tell us that we were allowed to drink its contents, although she called it "room service." The previous day she'd put a sticky note on the fridge that said "room service" but I suppose she thought we didn't understand. (Really, we just didn't feel the need for more alcohol or soda.) That night we drank the bottle of soju in the fridge.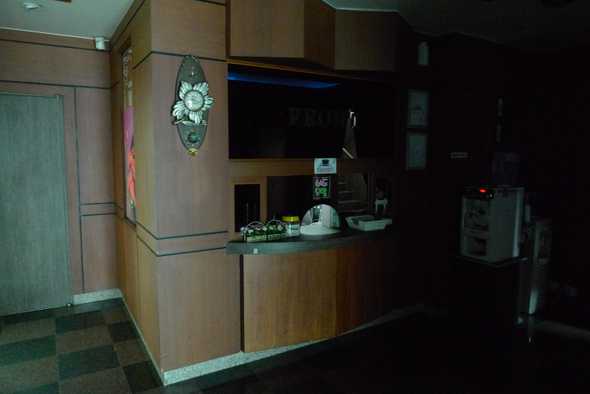 In the morning we got on a bus to Busan, our final stop in Korea, and our final stop outside the US. It was another luxury bus with leather seats that reclined way back. The scenery was about the same as it has been. We watched a Korean TV show about a city girl who had to go live with a family on a farm. Hilarity ensued.