Typed up at: Internet cafe in Solana Posted from: Internet cafe in Solana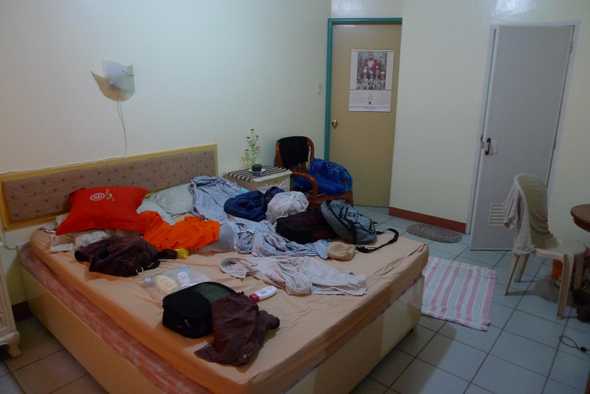 After our week relaxing on the beach, we felt ready to relax a little bit in a place with AC, TV, and Internet. We just spent one night in Tabaco and then took an AC bus to Naga. Naga is a college town, a bit bigger, and has all the comforts that rich Filipinos and tourists enjoy. We had a little trouble finding our hotel. Despite a store-owner downstairs telling us the hotel was "upstairs," the lady upstairs told us the hotel had closed.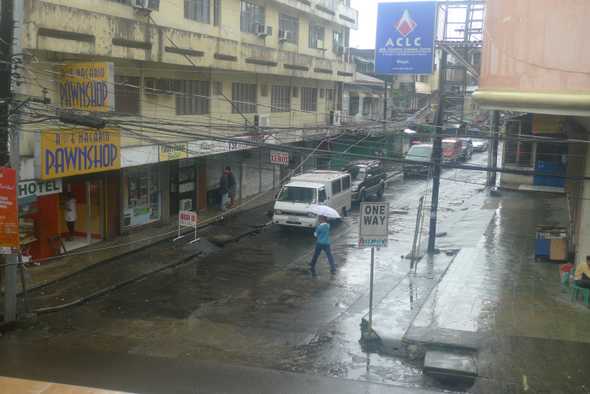 No problem though, because we found a pleasant place just a few doors down. AC, TV, and a nice bed. For Internet we had to walk to one of the 20 cafes withing a block of our hotel. The only downside to that was that it rained virtually non-stop while we were in Naga. So we didn't explore the city very much, but mostly stayed within a few blocks of our hotel. We had plenty of mediocre food, decent Internet, and rain.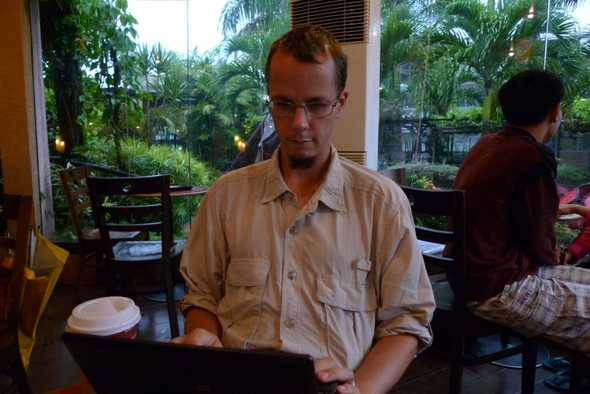 We did suck it up twice and wandered anyway. One day we went to the hip part of town so Danielle could have real brewed coffee. On the way there I bought some bananaque, which is bananas coated in syrup roasted on a grill. It's good stuff. In general, everything that we saw being roasted over a grill on the street tasted good. Everything else was not so good.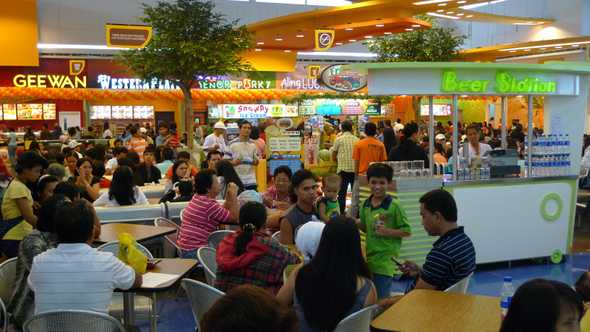 The other day we went to visit the opening of the SM mall that weekend. The security line was long, and loudspeakers blasted the SM mall song way too loud. The men's line was a lot shorter than the women's line otherwise I probably would not have gone in at all. We didn't do anything inside. Mostly we observed that half the town must be there for the opening, and that it looks like any other Filipino mall.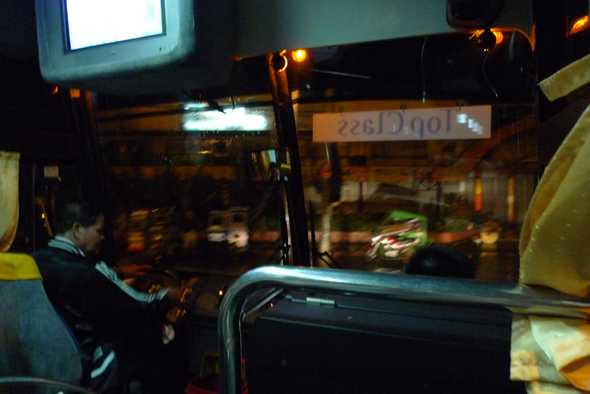 We stayed in Naga 2 nights, I think. Then we decided we wanted to get out of the rain and took an overnight bus to Manila. The overnight bus was a lot better than I thought it would be. I managed to doze and the 8 or whatever hours went by pretty quickly. In Manila, after being ripped off by a taxi, our hotel this time (Adriatico Inn) wanted to charge us 90% of a night's cost to check in 6 hours early. Not wanting to get ripped off twice in a row, we left and sat outside the mall until it opened, and then sat in the mall and at Internet cafes until, promptly at noon, we checked in and went to bed.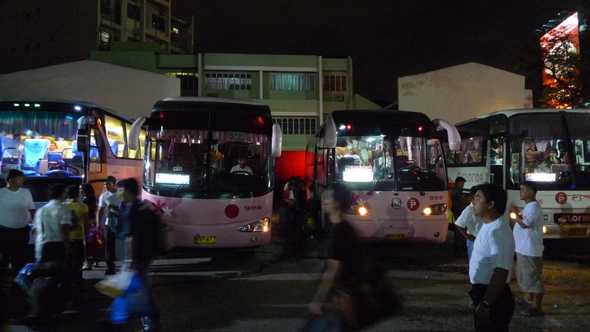 At least it wasn't raining in Manila. Not being very happy with where we were staying, spending money like water because it's so easy here, and wanting to see at least one more thing before leaving the country, on the very next day we took a bus to Banaue. This was also an overnight bus, and the experience was much the same as before. Note that overnight buses in the Philippines are freezing cold. The same AC that's capable of keeping the bus cool when it's hot and sunny during the day runs at full power during the night. We were prepared with Masai blankets but it wasn't quite enough.