Typed up: on the ferry from San Andres to Tabaco, at Banaue View Inn in Banaue Posted from: Internet cafe in Banaue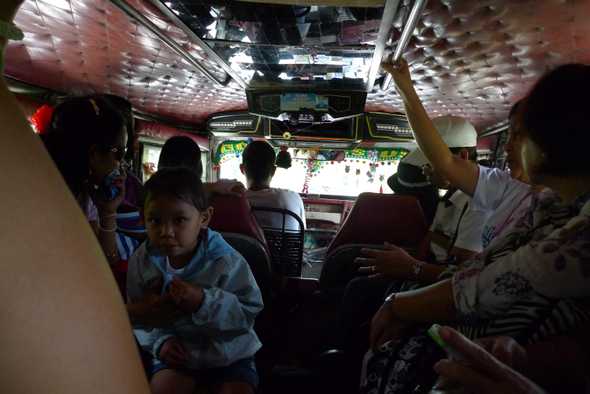 In Tabaco we woke up early to make it onto the 7am ferry (which left at 7:30 or so). The ferry brought us to San Andres on the island of Catanduanes. We took a jeepney to Virac. At one point I would've described that jeepney as bursting full. But with all my worldly experience it just felt cozy. About 11am we arrived in Virac where we were picked up by Alan from the resort. We rode in a minivan over a bumpy (maybe half of it paved) road through green forest with views of rice fields, ox-pulled plows, and the ocean.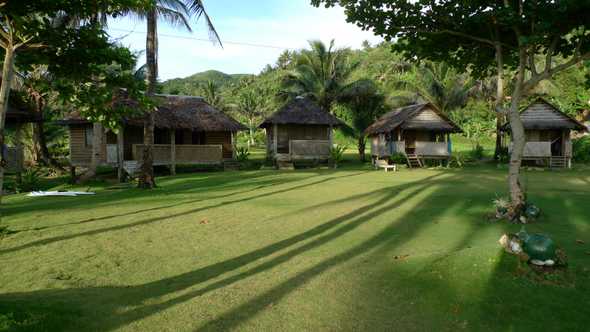 Right about noon we arrived at Elena's Majestics Resort. We got a simple private cottage, all made of bamboo and a bit of wood. We had a private bathroom consisting of a non-flush, no-seat potty, a tap, and a bucket. There was a bed, a mosquito net, a hammock on the porch, and not a whole lot else. Out front there was some grass, the restaurant, a small stream, the beach and then the ocean.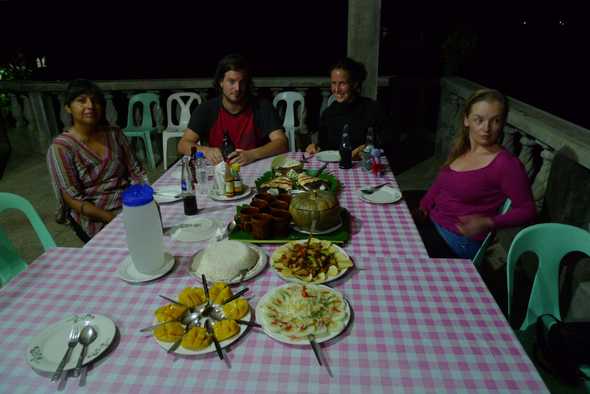 The restaurant varied between OK and good. There was no menu, just whatever was cooking today. Everything from fish to lobster to vegetable curry to chicken. It was pretty much all tasty even though a few of the dishes were over cooked or too salty. With plenty of drinks in the fridge common meals were a great opportunity to talk with the other guests. Some of them were western like ourselves, others Filipino on vacation, and a Japanese man who comes here regularly.
Most people came for the surfing. We mostly snorkeled. From the beach there was a shallow sandy stretch for about 100 meters. Then over the next 10 meters there was increasingly more coral followed by a steep dropoff 20 meters or so straight down. There were lots of different types and colors of coral giving the whole a patchwork appearance. This area was the most beautiful, looking down steep canyons on the edge of the dropoff. It felt like floating over the edge of the Grand Canyon.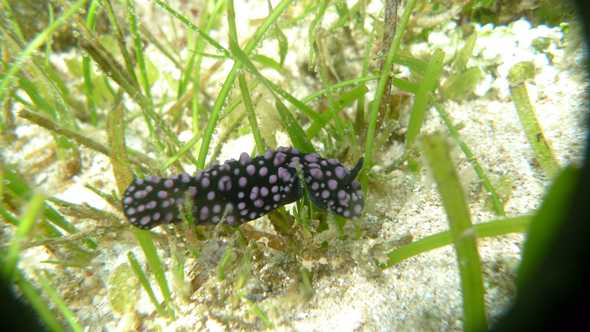 Despite the amazing feel, we didn't go out to the dropoff very often. At low tide we'd have to cross an area full of coral and just a few feet deep through the surf. That wasn't very appealing so we spent a lot of time in the shallow area, sometimes snorkeling in just a foot of water. This gave us a great chance to spot all the little life living amongst the rocks and sandy bottom. We saw several nudibranchs, worms, a sea hare, gobis, translucent shrimp, lizard fish, and quite a few species of small fish.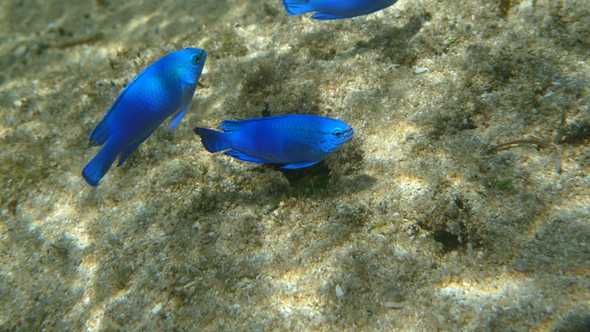 There were not many fish, though. The locals were out fishing the same areas every day using nets and spear guns. Among the food we ate were the smallest lobsters I ever saw. They definitely would not have been legal at home. I couldn't help but feel like they'd be better off declaring some areas a no-fishing zone so that baby fish would have a chance to grow up and reproduce.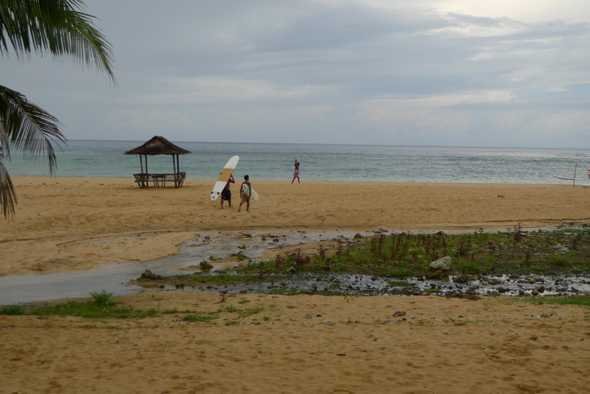 I took the opportunity of borrowing a surf board on 3 afternoons. I never got to stand up, but I sure got a lot of paddling practice. On my last day I even caught a few waves all by myself, which was fun but overall not worth the paddling. I did not make it to the point where I was all excited about surfing. I'd like the equivalent of a ski lift. Still, surfing is a lot cheaper.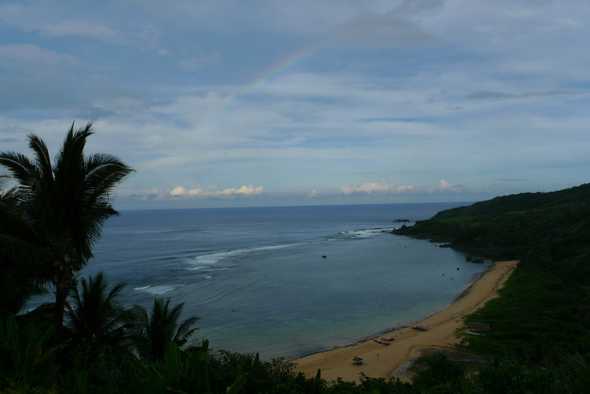 Most afternoons we hiked up the hill a little bit to Angie's place where we used expensive cell-modem Internet. The seating area had an amazing view over the bay and we talked quite a bit with Lacy, the owner. If staying in primitive huts isn't your thing, you can experience the same beauty with some luxury at his hotel. We kept using the expensive Internet so I could organize for us to take a freighter home. It took some e-mailing back and forth but everything actually went pretty smoothly. Our new itinerary is to go to South Korea after all, and then take a giant boat to Long Beach where we should arrive on June 4.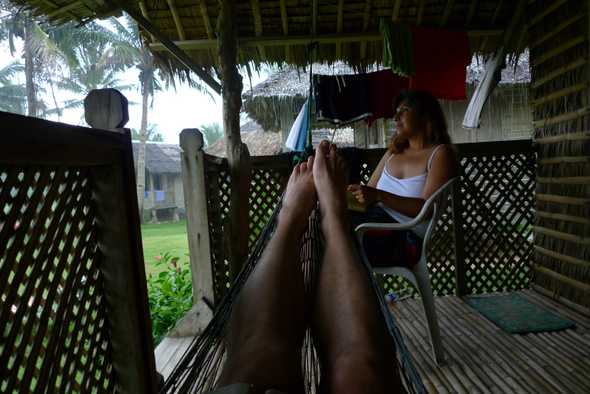 The rest of the time mostly we read, taking turns in the hammock and drinking sodas and beer. The resort had quite a few books available, and we left some more. The only thing that would have improved our stay here would've been a slackline. The grass and palm trees in front our cottage would have been perfect. After 8 days we decided it was time to move on.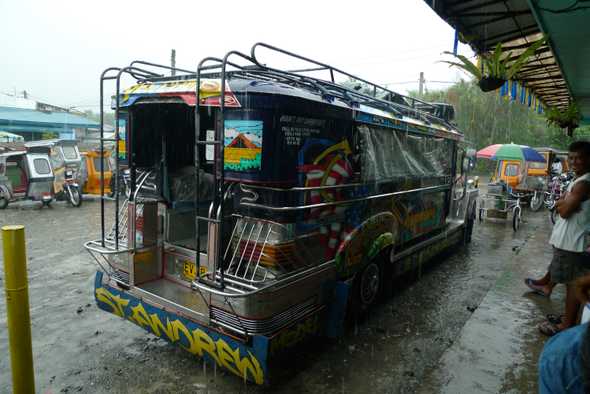 During the last few days it would rain more often. Starting with only at night, and then to the point where it might rain hard in the afternoon. Our cottage was dry, though, so not to worry. True to form it started raining after we'd gotten in the tricycle to Baras. It was dry while we transferred to a bus that took us to Virac but started pouring while we were underway. The bus had no windows, but instead had wooden boards that people pulled up to keep the rain out. Then we took a jeepney to a ferry to a tricycle back to Gardenia Hotel in Tabaco. It rained most of the way.