Typed up at: Elena's Majestics Resort on Catanduanes Posted from: 3GX Solutions in Naga
We spent a nice night at Nature's Pensionne in Cagayan de Oro, enjoying the "big city" feel as well as AC, TV, and not having to worry about mosquitoes. But early in the morning we got up to fly to Manila. We flew Cebu Pacific Air and they have a rather unique entertainment portion of the flight. On one flight the crew ran a small trivia quiz (with prizes, of course). On another one the flight attendants took turns singing a song, with prizes awarded to the person to first identify the song.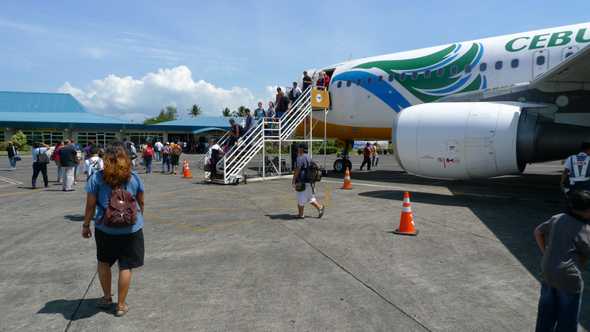 From Manila we flew to Legaspi, which had yet another charming little airport where we walked from the airplane to the baggage carousel (which was broken). We were picked up by a van which dropped us off at Casa Bianca (Blanca?) in Donsol. We had a decent enough duplex with excellent AC which we used a lot. The food was decent as well although a bit pricey.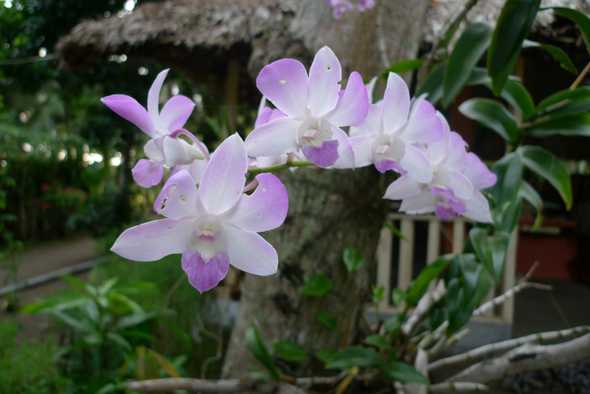 At the hotel we were met by Takz, who I'd SMS'd regularly and who organized everything about our stay here. As you'll see he was a great host. You can reach him by calling 0921-743-5677, e-mailing takz78@yahoo.com or visiting http://joelbutandingdonsoltours.com. We rode on the back of his motorcycle to the tourist information where we paid our fees and watched the movie.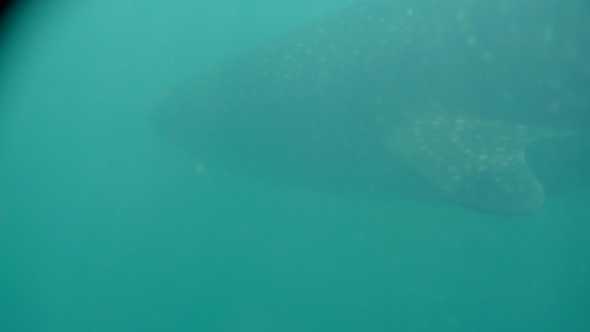 The next morning we got up early, drove to the beach, got on a boat, and started looking for whale sharks. Whale sharks (or butandings as they are called here) are the reason people come to Donsol. As the name implies they're a large shark that can grow up to 40 feet. Luckily they eat nothing but krill so are not at all dangerous to people. Every year a lot of them come to Donsol to eat and a large eco-tourism program has been set up to help protect them.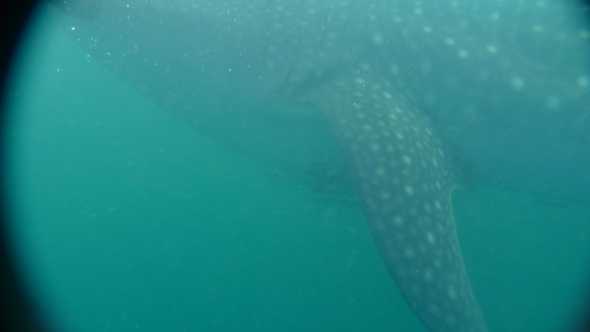 We didn't quite know what to expect so we sat on the boat, our snorkeling gear all laid out. Suddenly we were told to get ready. In the excitement I knocked my sun glasses over board. Lucky for me I wasn't wearing my regular glasses at the time. We put on our gear, sat with our feet over the side for a minute, and jumped when we were told to. I followed our Butanding Interaction Officer and before I knew it a 20' fish appeared out of the krilly water. We followed it but soon it dove down so deep that we could no longer see it.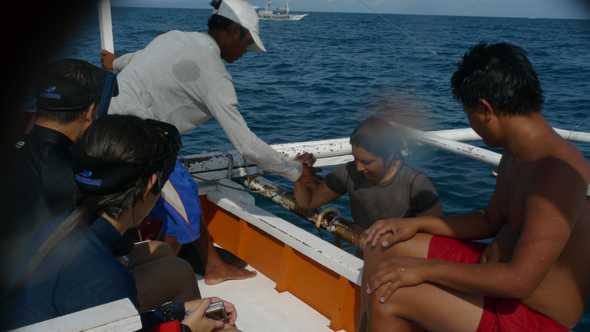 We did that for several hours. In all we jumped 7 times, and saw a whale shark every time. One shark never dove down very deep, so we were able to follow and swim with it for over 15 minutes. Sometimes we caught up with the fish from behind. Other times the boat and crew were so on top of it that almost immediately after we jumped in the water a whale shark would be heading straight for us, its wide mouth open, with eyes on either side of it.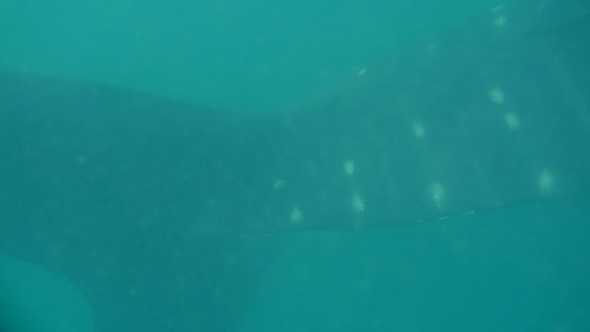 A whale shark's back is dark gray, covered in light gray spots and faint gray streaks. Its belly is white but we didn't get to see that too often because it required diving down below the shark. Around the pectoral fins and the head there were always a few remoras. Swimming where the whale shark's chin would be we sometimes spotted some jacks: good size, silvery, tasty-looking fish. And then there was us. Just one more species following this massive animal.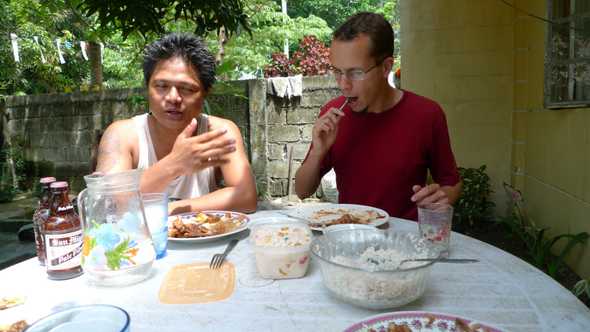 Afterwards Takz took us to a fiesta held in honor of the village's patron saint. We never figured out who that was but we enjoyed sitting around a table watching Filipino family life about us. Like everywhere there were orchids in the garden and tons of small children. The food was good, accompanied by warm beer with ice in it. The women did all the cooking, and even served us at our small table. We spent the afternoon relaxing out our hotel.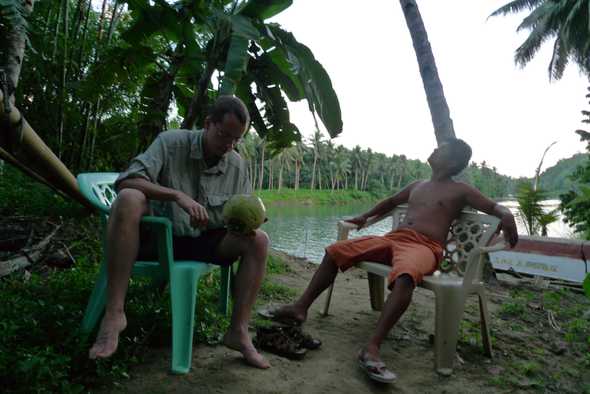 Late in the afternoon Takz picked us up for a boat ride on the river. We went up a wide shallow river, both banks covered in bright green vegetation. We stopped at some land belonging to Takz's family where they allow another family to live. They sent somebody up the trees to get us some coconuts. All coconut trees here have footholds carved into them, allowing people to climb up them barefoot without any special equipment. I climbed a few steps up one tree, but slipped in my sandals.
Dinner was a fighting cock, roasted with some tasty sauce. The bird (which was killed about 6 feet away from us) tasted very gamy, not like chicken at all. It was good. By then it had been dark for a while, and we took the boat back to watch fireflies. There were a few trees on our route which were filled with hundreds of fireflies. Their blinking caused patterns of light to ripple around, with "sparks" going off in every direction. From a distance it was like seeing a space ship hovering. From close up you could make out each individual point of light, illuminating just a very small area. It was magical and totally unreal.
In the morning we went to see whale sharks again. The previous day we'd had a boat to ourselves. Today we were joined by 3 Filipinos. It made swimming with the whale sharks a little more tricky because we also had to be aware of where everybody else was. The other guests were not as confident snorkeling as we were, which had a nice benefit. As we were following about the largest shark we'd seen (30 feet?) everybody else fell behind and got back on the boat while we followed it for a long time. Twice everybody else jumped off the boat to take another look and boarded again while we were with the shark all along. For almost 20 minutes we enjoyed swam alongside it. The enormous fish gliding through the water seemingly without doing anything at all, while we kicked continuously to keep up. On occasion it came as close as 3 feet to the surface, giving us a really good look.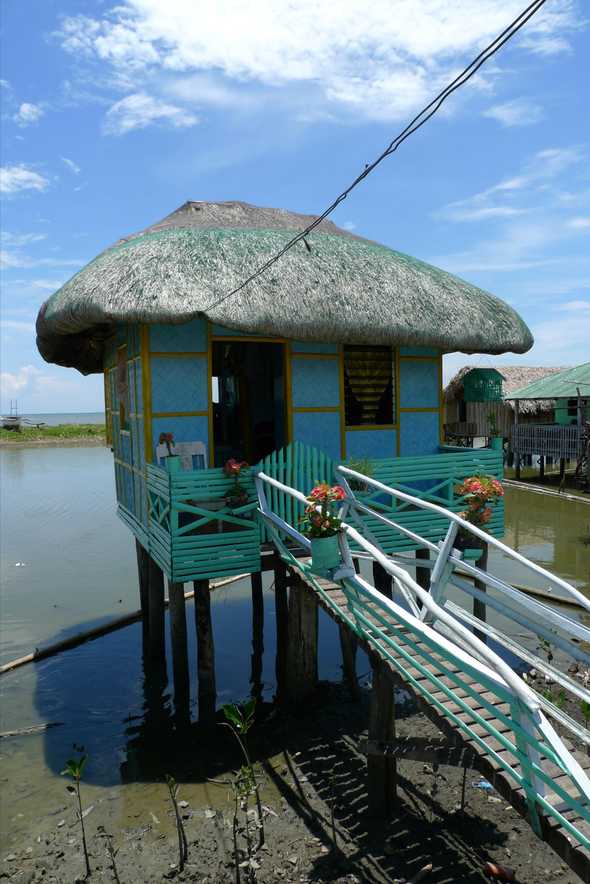 In the afternoon we braved the heat to wander around Donsol itself and find a nice lunch. The town was still a small fishing village because tourists have only been coming here for about 15 years. Many children greeted us with a loud "Hello!" They grinned and smiled as we responded likewise. We enjoyed a tasty lunch of noodles while chatting with a gay make-up artist.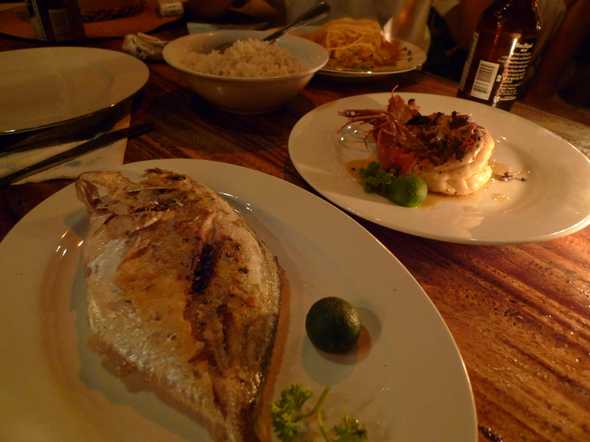 In the evening Takz took us to BARacuda which sounds immensely cheesy but was actually a very nice place to eat great fish. We had the biggest prawn I've ever seen, about 10 inches in size. Unfortunately the service was terrible. The next day we took a van back to Legaspi.