Typed up at: Legaspi Tourist Inn in Legaspi, Gardenia Hotel in Tabaco, Elena's Majestics Resort on Catanduanes Posted from: Internet cafe in Naga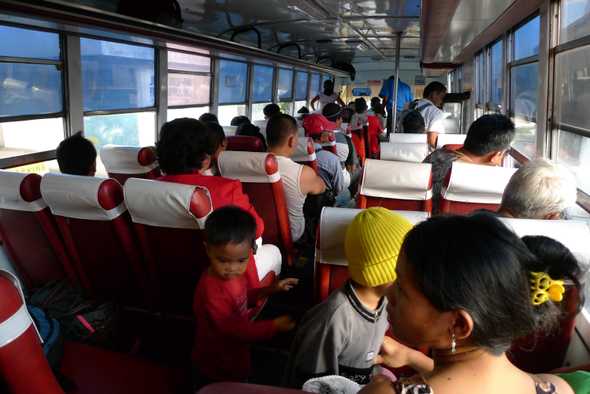 We'd flown to Butuan as a night stop on the way to Camiguin. Early in the morning we took a tricycle to the bus station where the bus to Balingoan was just leaving. Lucky for is, this is not the US and things tend to be a bit more flexible. The bus stopped and allowed us to get on. In Balingoan we took a tricycle ride to the ferry. We could have easily walked, but we didn't know that when we arrived. We walked onto the ferry which left 15 minutes later.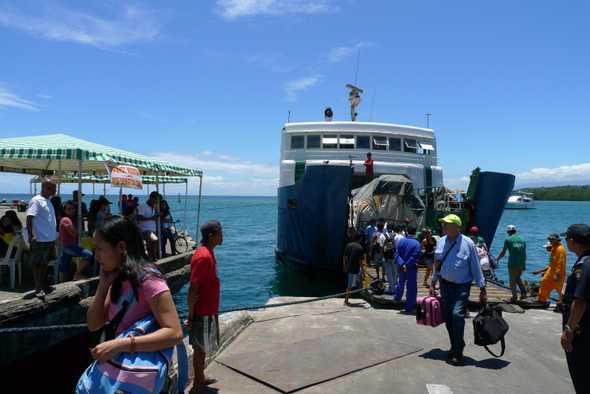 On the ferry we continued a conversation with a couple who had joined the bus after us. They gave us the first indication that finding a place to sleep might be difficult. I had thought that the island did not had telephone service because every call I tried to make there didn't go through. Told that this is not the case, I suspect it's just something about our cell phone provider (Sun) that prevents the call from going through. From the boat Danielle tried to make more calls with the same result as before.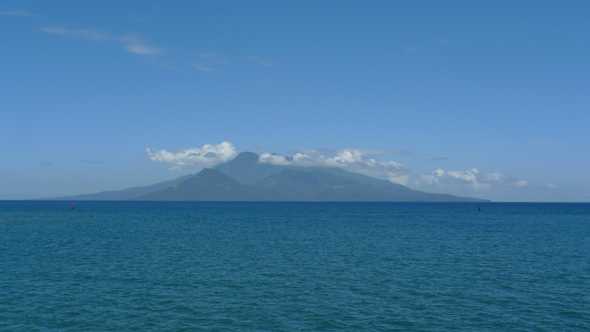 The island we were sailing to was a stereotypical tropical island: one giant volcano covered with green, surrounded by occasional beaches. When we got there it was hot, but luckily the next leg was in an air-conditioned van. It took us to the rotunda in Mambajao, where we jumped in a tricycle to the tourist information center. The walk from the tricycle to the office was enough to make us sweat. In the tourist office they confirmed that almost everywhere was booked full this week. Luckily they found us the last cottage at Cuba'an Beach Cottages, open for just the 1 night.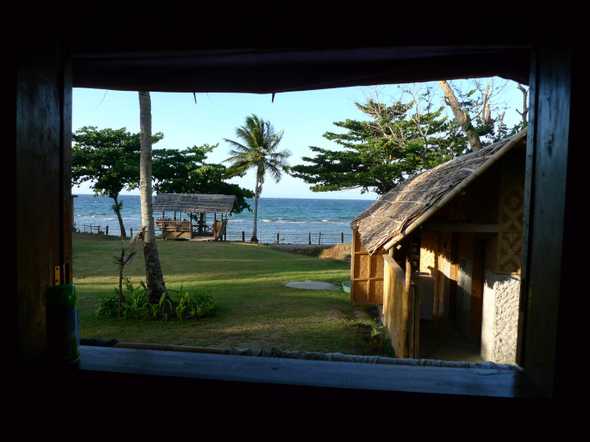 We moved around quite a bit. After that first night we met Rosie, the cousin of the owner. She is starting a resort and had space for us for 1 night. Then Rosie's cousin had a cottage further out of town that was available for 2 nights. Finally we spent 3 nights at Secret Cove which is where we would have gone initially, if they had had space available. We felt very lucky to have found lodging every night.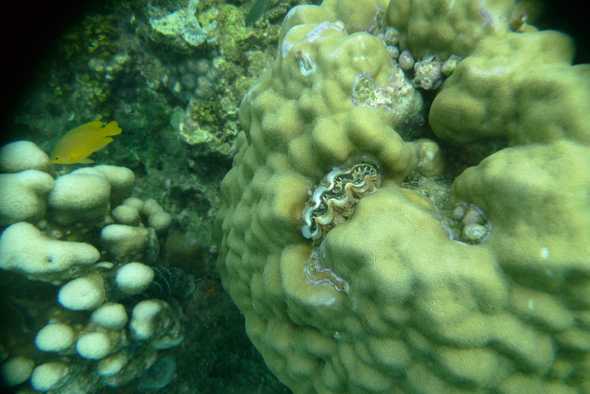 Nowhere we stayed was more than 100 feet from the water. We would snorkel twice a day, and spend the rest of our time reading and eating. None of the spots were perfect for snorkeling. Most of the coral was badly damaged due to dynamite fishing and rock anchors being dropped. On top of that most of these spots are still fished (with nets) today. Even with all that there was plenty of stuff for us to see and make us happy. We did not see large schools of fish, but we saw plenty of different species.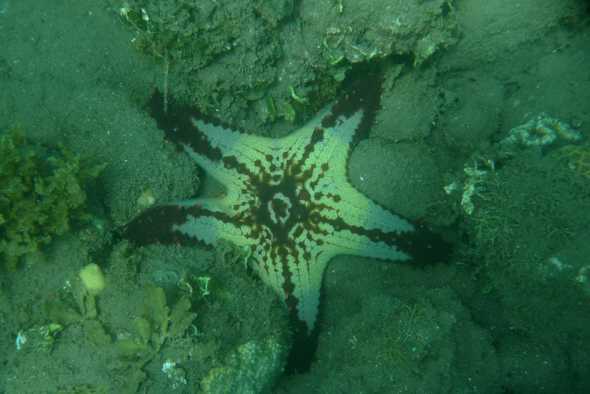 There were clownfish in anemones, trigger fish, butterfly fish, rock fish, lizard fish, and weird and interesting sea cucumbers. The starfish we saw were some of the prettiest I've seen. Two species stood out: a brilliant blue one, and a tan starfish with wine red spikes growing on it. We saw the gobe/shrimp combination in a sandy hole. We encountered about 5 nudibranchs of different sizes, all with brilliant colors.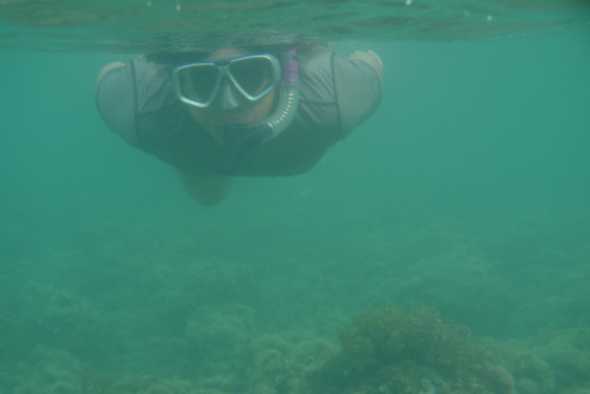 For two days we snorkeled close to a river mouth. This created an inversion layer which was a strange experience indeed. The ocean water was nice and warm, but on top of that was a layer of much colder fresh water. (Fresh water is less dense than salt water, and does not readily mix with salt water.) Where the layers met everything was very blurry. This gave the strange effect that you couldn't see the bottom until you stuck your head a foot or two underwater. As soon as you dove down you were warm and could see.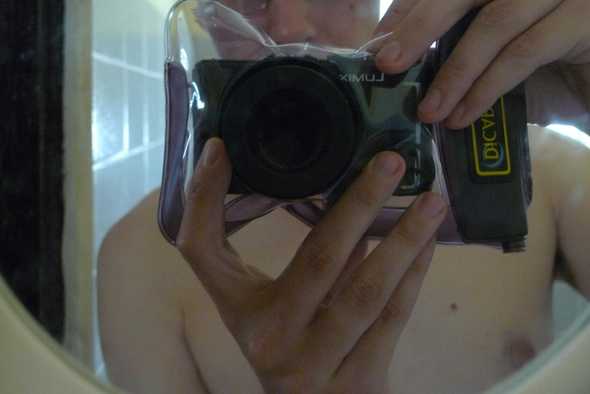 The underwater camera case I'd bought in Hong Kong has been working quite well. It's a DiCaPac which is not much more than a heavy-duty zip-lock bag with a piece of glass where the lens goes. Unfortunately the rubber lens barrel ended up in quite a few of my underwater pictures because the camera doesn't fit snugly. The case was only USD 35 or so though, and for that money it was well worth it. I really enjoyed being able to take some pictures of some of the amazing things we've seen under the sea. Time and time again I've been amazed how basically boring the water looks when you're on top of it while it's so amazing below.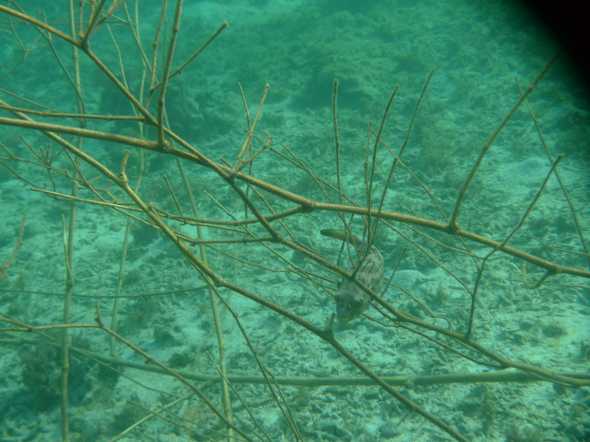 One day we went through the trouble to go to the sunken cemetery. In a volcanic eruption some of the land, including the cemetery, sunk into the ocean. Now there is a big cross on the island. We were looking forward to seeing coral on tombstones but unfortunately snorkeling was not allowed in that area. We went in the water anyway because we were there after all. We saw some fun things, like a big box fish hanging out in a tree that had fallen in the water. But the main thing we saw were a lot of jellyfish.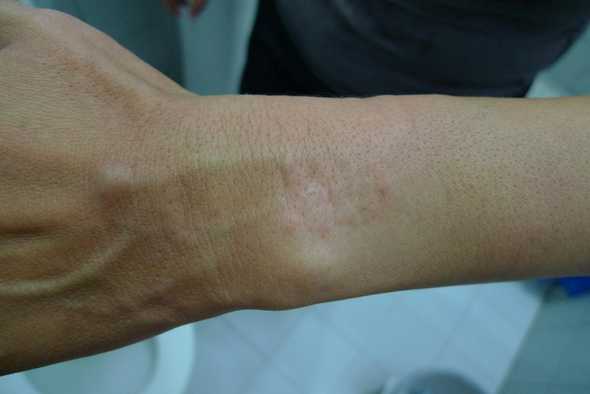 Whatever caused it, there were a lot of jellyfish in the water that day. I saw all kinds of different small jellyfish, and noticed several small stings throughout my body. A few of the larger jellies made me afraid of being stung and I tried (mostly unsuccessfully) to avoid them. Danielle was actually stung by a larger jelly than I'd even seen. Its bell was fist-sized and over a foot of tentacles wrapped itself around Danielle's wrist. We had snorkeled for less than 15 minutes and we got out because of the pain. Back at our hotel we consulted our first aid book and treated the sting with vinegar and alcohol-based disinfectant. We haven't seen any jellyfish since then.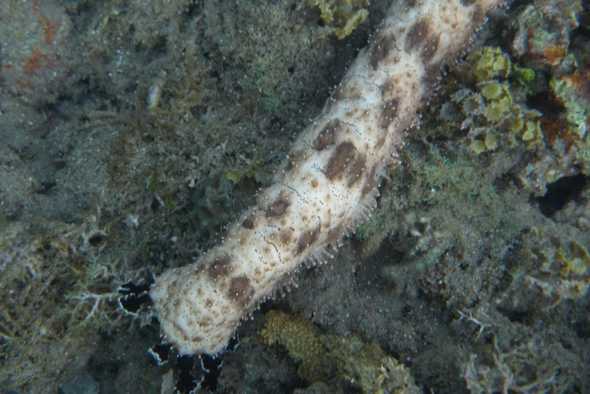 For the first time on this trip we went diving. We did a brief skills review in 3 meters of water before continuing to two boat dives. The first one ended up being a drift dive because of a very strong current. I felt overwhelmed, and a lot of my energy went to keeping my buoyancy under control, and avoiding chunks of coral. It was very beautiful, but it felt like watching a movie in fast forward. When we were doing our paranoia decompression stop a sea snake swam below us. It was a ways away but the water was clear enough that we could see it quite well.
The second dive was completely peaceful. We took it easy going along the bottom, with plenty of time to look at all the beauty. We saw a few nudibranchs, but mostly lots of coral and fish. The highlights were a medium-sized turtle hiding in a shallow cave and a moray eel. We also admired a porcelain crab in an anemone and sizable schools of fish in the distance.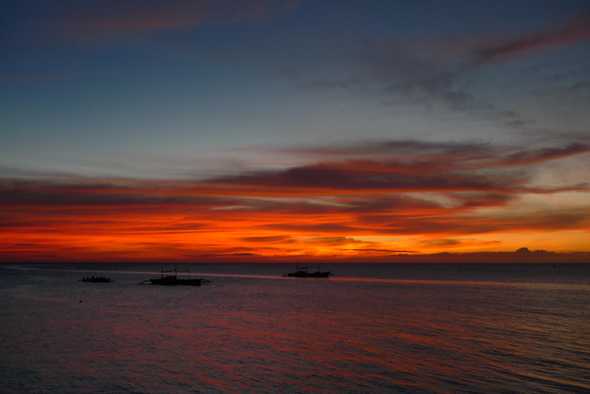 The diving and flying was costing a relatively large amount of money, which prompted me to take a look at our budget. It was not in good shape. After a few days of thinking about it we decided not to go to South Korea, and just stay in the Philippines until our visas expired. Also, we started counting our money every day to make sure we wouldn't spend too much of it. We had done this a while in East Africa as well, but resume our carefree ways when we got to Egypt.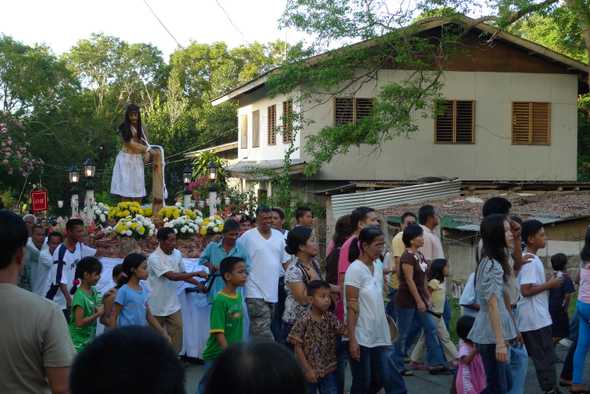 On Good Friday there was a procession in town. Many of the large island families keep a statue of a saint around for the occasion, and they are all paraded around town. Instead of watching the parade, almost all the locals joined the parade, walking behind the saint/family of their preference. The parade was virtually silent as well. It was quite a sight.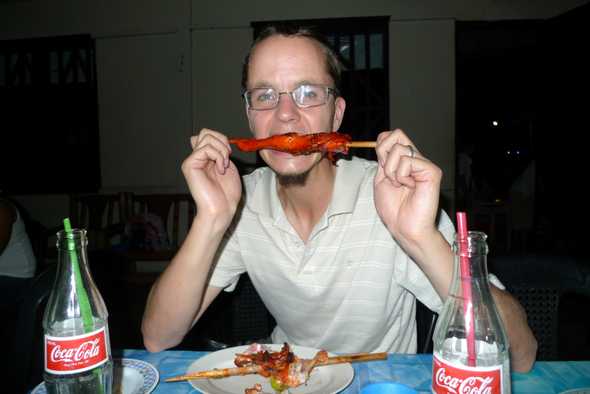 Also in town we tried our first real street food: grilled chicken. It tasted great and was cheap so we had several meals of chicken and rice, sometimes followed by "the best halo-halo on the island" (look for the sign at the traffic circle). Halo-halo is a somewhat strange dessert of shaved ice, milk, jam, corn, beans, and something which is a little like jello but isn't. It's sweet and cold though, so you really can't go wrong.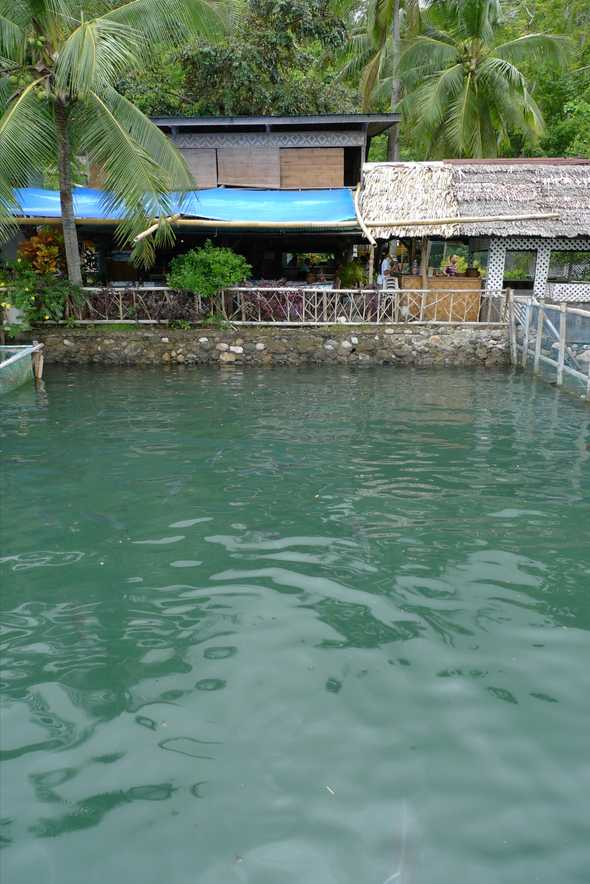 Leaving Camiguin did not go as smoothly as we hoped. From Mambajao we took an AC van to the ferries in Binoni. However, the 12pm ferry was canceled and the next one wouldn't go until 2:30pm. We took a chance locking our bags at the waiting area, and walked to a restaurant about 1km away. The restaurant had its own fish farm right there, and it tasted great.
Back at the ferry we discovered we had to buy a ticket in advance, and that they were sold out. At the advice of the tourist information representative we tried to get on the boat anyway, which consisted of walking on board and nobody asked us anything. From then on everything was fine again. Ferry, tricycle, bus to Cagayan de Oro, tricycle to Nature's Pensionne.