Typed up at: Ninoy Aquino International Airport in Manila, Roldan's Beach Resort on Camiguin Island Posted from: Legaspi Tourist Inn in Legaspi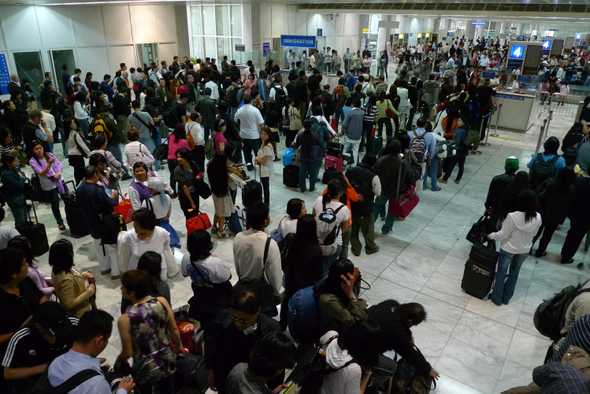 Our first experience in Manila was to stand in the biggest immigration line yet. But everybody was polite, gave each other enough personal space, and things ran very smoothly although it took a while. Despite all that we still had to wait for our luggage, but not too long. Leaving the airport they checked that the tags we had actually matched the bags we picked up. Another first. I don't know if that's indicative of crime or paranoia.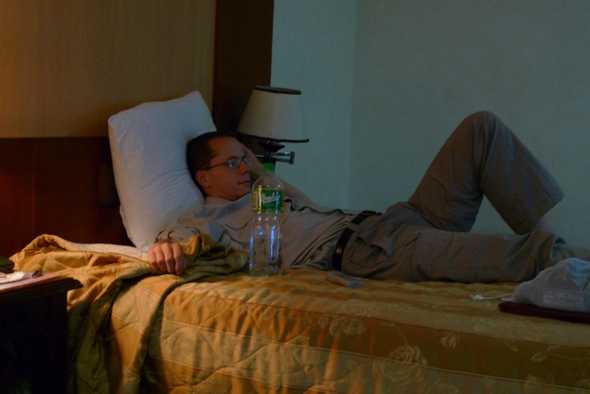 We'd organized somebody to pick us up from the airport, but being on an early flight meant that person hadn't arrived yet. But the friendly people at the hotel lounge got us a car to the Cherry Blossom hotel like we asked them to. There we checked into a largish clean room with good AC. Somehow we managed to go through this whole song and dance without realizing that we had checked into the wrong hotel. We don't know where we came up with the name, but our booking was in fact at a different hotel. We didn't discover that until the next day, when they e-mailed Danielle to tell us we were no-shows and they charged our credit card for a night's stay.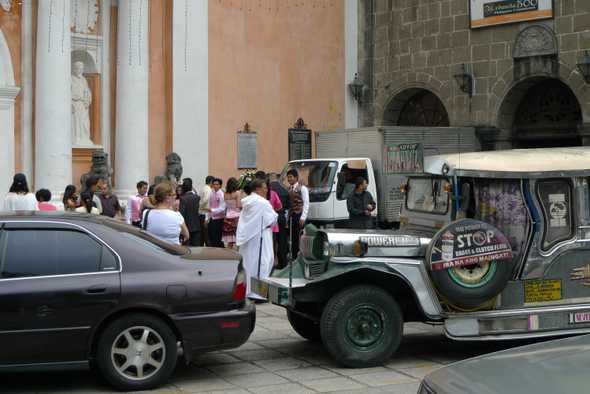 But it wasn't that big a deal overall. We were happy where we were, in a neighborhood close to the water and the old town. We didn't see any sights, but we did seem to have something to do every day. The first day we went to the immigration bureau to extend our visas. Everybody gets a 3-week visa at the airport and we wanted to stay longer than that. After a bit of bureaucracy, some waiting, and some money we were allowed to stay for an additional 5 weeks.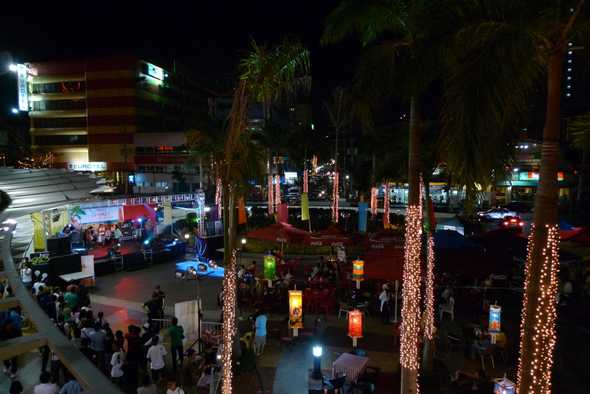 The next day we went to the Philippine Airlines (PAL) ticketing office to get our money back. In order to be allowed into the country we had to show proof of onward travel so at the Hong Kong airport we'd bought some fully refundable return tickets to Hong Kong. After taking a number and waiting about 20 minutes, we were told that they could not refund our money because then we wouldn't have an onward ticket anymore.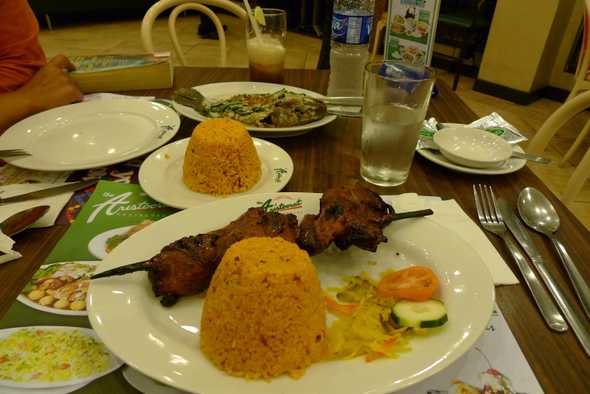 Our other major event was to meet up with our friends Bill and Faith from Carpinteria. They were the reason that we'd come to the Philippines (as opposed to Thailand or Cambodia) and it was nice to hang out with them. They took us to eat some Filipino food which wasn't that good. We'd previously had some good Filipino food, but most of the places in our neighborhood were Korean or Chinese so that's what we'd been eating. At a Japanese restaurant we had the best salmon sushi either of us had ever had. In general the seafood here seemed quite good.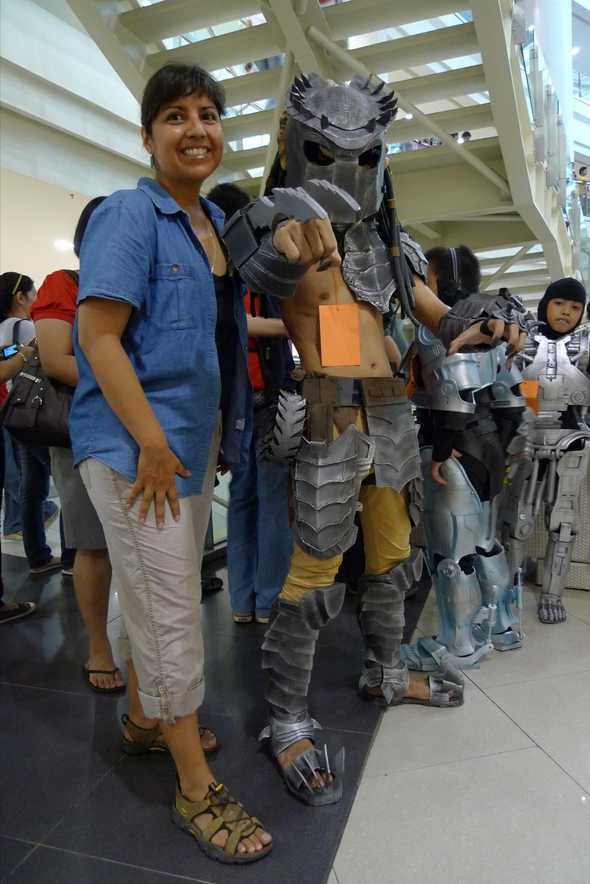 The main places we spent time in Manila were the many giant malls. They're air conditioned and have every kind of store in them, including super markets and nice restaurants. There's always some kind of event going on, although usually they're just sales events. We wandered into a cosplay convention which was fun to see, as well as a percussion group concert.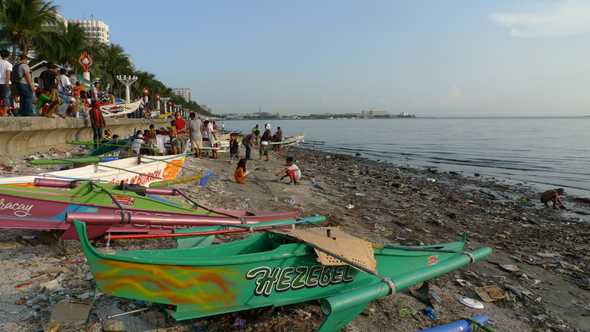 We pretty much limited wandering around outside to whatever was necessary. The streets were all paved, and fairly clean. Begging is fairly common but not as pervasive as in Delhi. A few families clearly lived and slept on the street, but it seemed like most people had some kind of permanent shelter that was nicer than the tents we saw everywhere in Delhi. The local trade involved selling watches, Viagra, and changing money. Surprisingly nobody was trying to get us to go into their tourist office.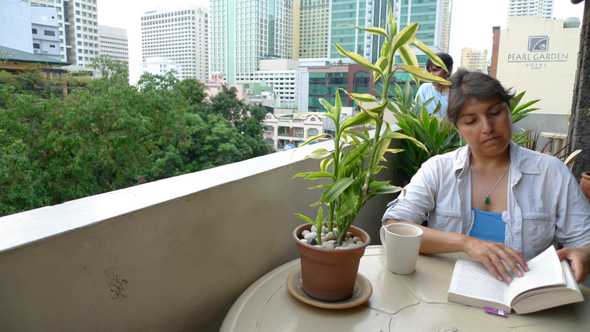 Halfway through our stay we moved to Friendly's hostel. It had a nice (but not air conditioned) rooftop terrace. Our room bordered the common area though. The first night this was fine, but the second night some people came home and had a loud conversation between 2 and 3 am. Otherwise it had everything a backpacker might want. The next day it was time for us to leave on a brief trip to Tagaytay.