Typed up at: Cherry Blossoms Hotel in Manila, Malate Pensionne in Manila Posted from: Momo's in Manila, Drahcir Internet Cafe on Camiguin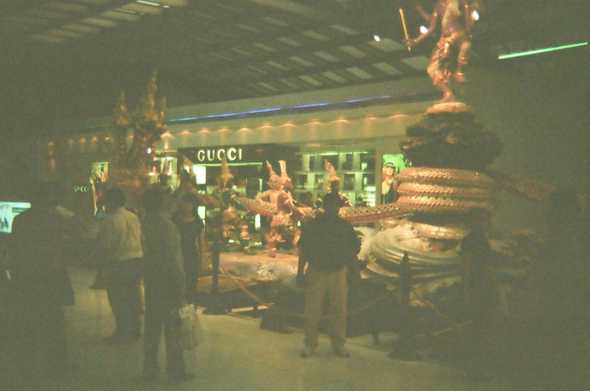 We flew Thai Airways (Air Thai, Thai Airlines, I forget whichever particular Air-word they use). The food was nice, and the flights were short. We had a layover in Bangkok where we spent about 25 minutes walking from our arrival gate to our departure date. This included buying some water, and then downing it as fast as possible when we had to pass through a security checkpoint 25m later. Drinking ice-cold water hurts! Anyway, we landed in Hong Kong in the early evening.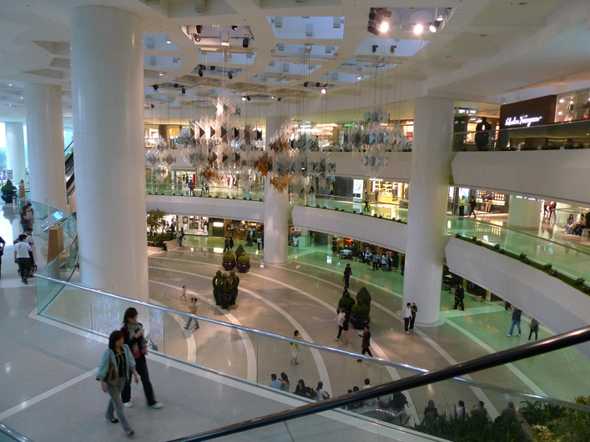 We were amazed at how the airport was like a mall (which was true in Bangkok as well). But we didn't get too distracted by it. We bought some water at the 7-11, and then took the Airport Express train to the Kowloon station. We were very impressed by its cleanliness, comfort, and the little LED display that showed us how far we had to go etc. Danielle ooh-ed at the lights of tall buildings that we could see during the above-ground parts of this journey.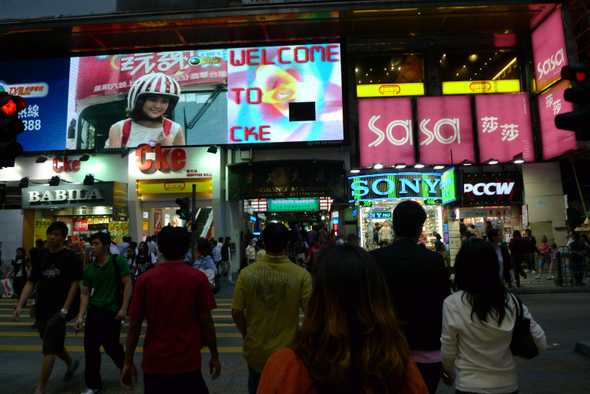 At the train station we were in for another surprise: an organized line to get a taxi! One after another people were directed to one of 4 sliding doors, where taxis appeared to take them away. Our taxi driver spoke virtually no English, but he thought we'd want to go to Chung King Mansion and we kind of went with it, even though we wanted to go to Mirador Mansion in Tsim Sha Tsui. It turns out Mirador Mansion is just a block away, so it worked out very well for us.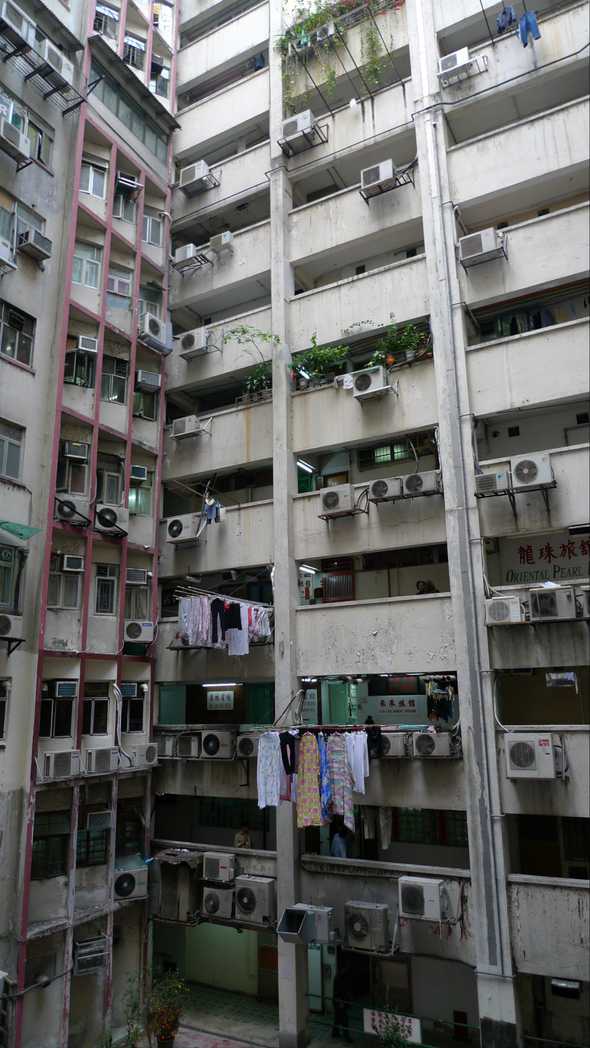 Almost all the buildings in this area are tall. Ours had 16 floors, and I don't know if I've seen any with under 5 floors. The reception for the USA Hotel was on the 13th floor, and it didn't take too long to take the elevator there. There were 4 main elevators, and each one only stops on every 4th floor, in addition to the ground floor. This meant you had to pick the elevator to match your destination (or walk some once you got close enough). At the reception we got keys to our room which was on the 5th floor (just two stops on the 1,5,9,13 elevator).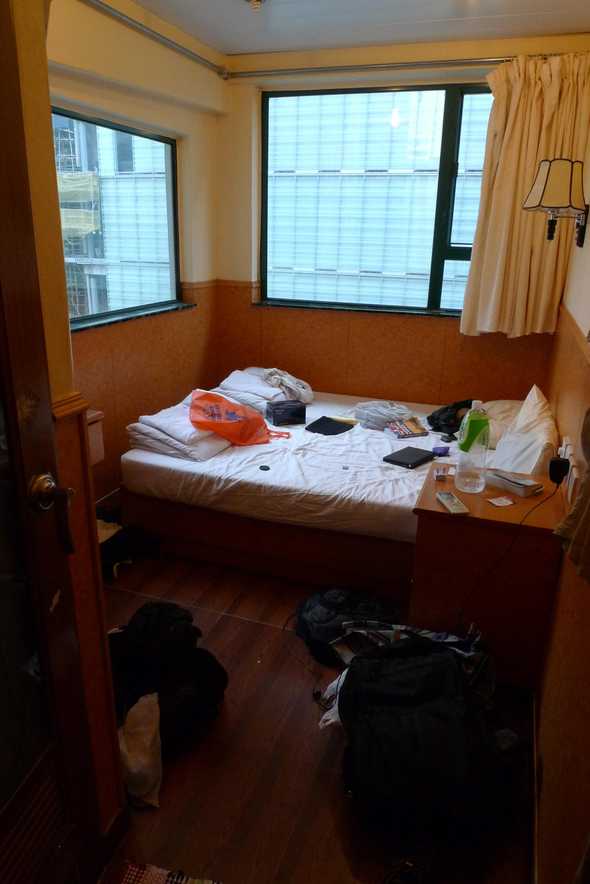 Our room was tiny, with just enough space for a nice size bed, a bed stand, a tiny table (which had a TV floating over it) and a small bathroom. The bed had windows on 2 sides, which gave us a nice view of the traffic (both vehicle and pedestrian) on Nathan Road. The sink stopper didn't work, and they had it fixed 2 days later. The AC broke after 6 days or so and was never fixed. But that was OK because the weather cooled down a lot and it was comfy enough without it. Everything was very clean, and generally in good condition.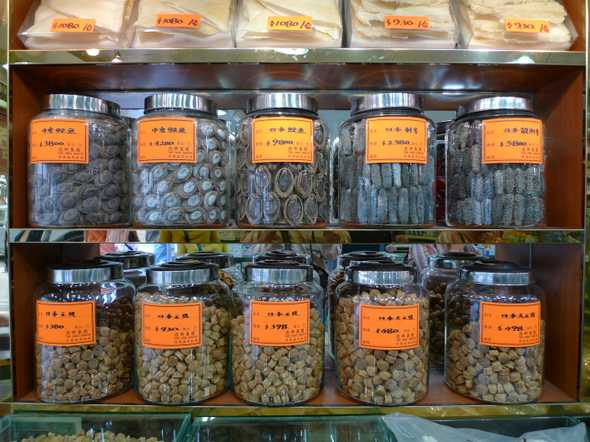 In the morning we got to the business of checking out Hong Kong. Most of our explorations were in the area of Tsim Sha Tsui. Perhaps more so than the rest of the city, the neighborhood felt like we were in a giant mall. It was clean, traffic was orderly, there were wide sidewalks and tons and tons of stores. These sold items varying from designer clothing to jewelry to electronics to deer antlers (for certain male problems) to abalone to fresh pastries and everything in between. It was never super busy, but almost always there was enough pedestrian traffic to make it feel bustling.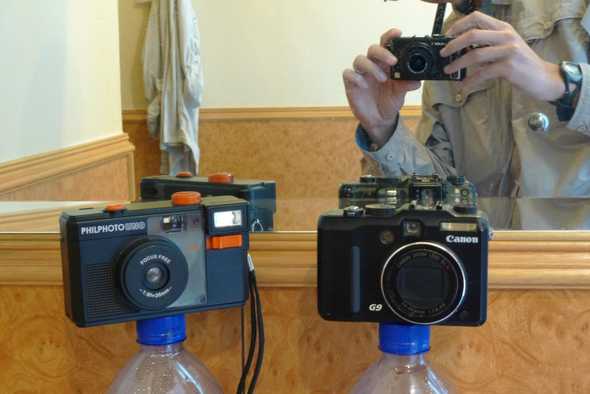 At one of these stores I bought a new camera, which is why there are pictures again. Every person from Hong Kong who I told this to was horrified that I'd actually bought a camera in Tsim Sha Tsui because the area has a reputation for ripping off tourists when selling electronics. (Common scams are lying about specifications, not including extras that are supposed to be included, replacing parts with cheaper ones, to simply charging to much.) But I'd done my homework, and I knew what I wanted and what it should cost.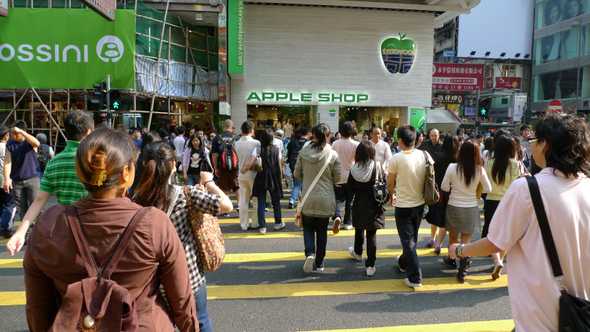 The Internet had told me that one of the good camera stores was Tin Cheung (on Carnarvon, next to 7-11) and they totally were. They let me play with the camera before actually buying it and didn't try to sell me anything other than what I asked. If you know what you want and have some idea of what a fair price is I highly recommend this camera shop. I dropped in again about a week later because my camera had come with Hong Kong power plugs. They traded me a US one, no questions asked.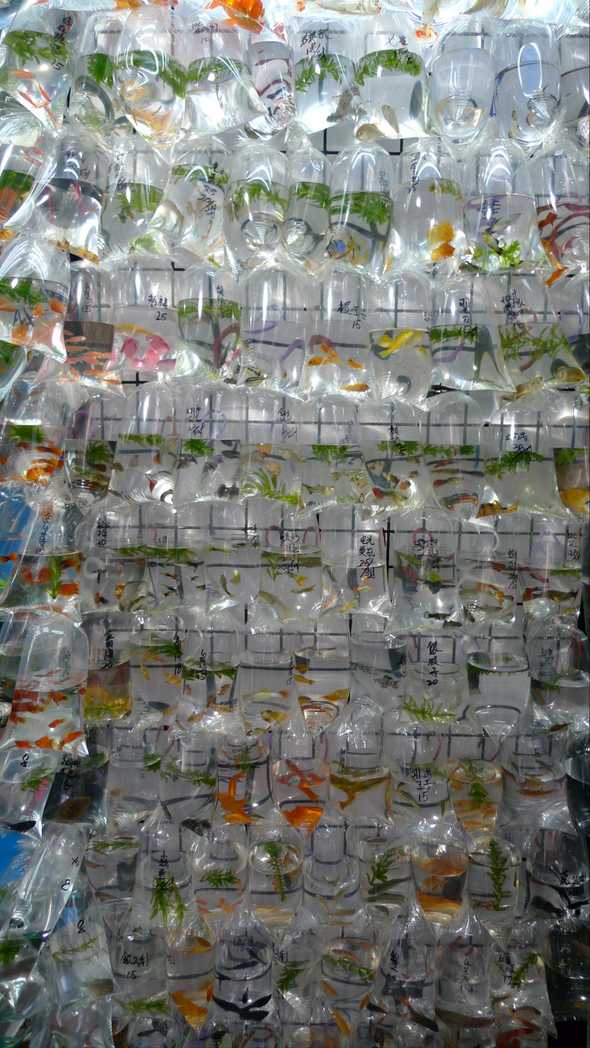 Aside from stores, there are also a lot of open air markets. Most of these are medium sized food markets, where you can buy fresh fruit and vegetables, as well as fish and meat. Besides what you'd expect at such a market, there was also a wide selection of organs (from hearts to heads) and plenty of live fish. We've also been to a very loud bird market with everything on sale from budgies to a toucan. The flower market was beautiful, and then there was a market of fish intended for aquariums. Those also came in all sorts and sizes, including small enough to fit in little bulbous key chains.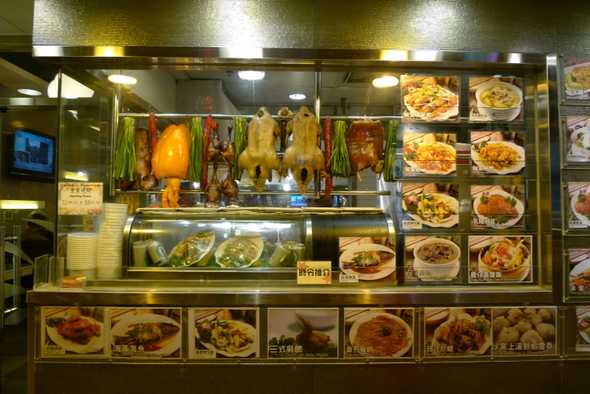 Hong Kong also has a lot of good food on offer. We ate everything from "French" breakfast to Turkish lunch to Australian dinner. We also ate plenty of Chinese food. Most commonly we just had some noodle soup, but we've had Peking duck, sweet and sour pork, pork knuckles, chicken feet, and pig intestine as well. Hong Kong is also filled with small bakeries which put out both sweet and savory cakes, pies, etc. It was also nice to eat some real street food like fried squid tentacles, breaded shrimp, meat balls, and dumplings.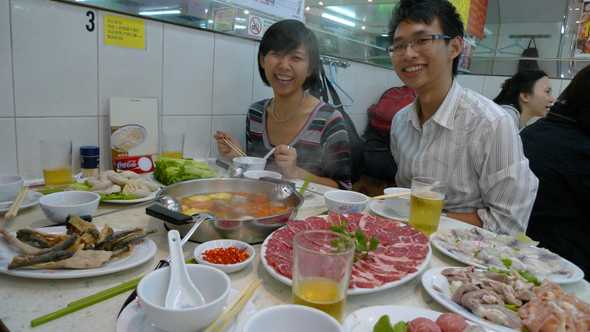 Our best food experience was when we met up with Joel and Sunny from Couchsurfing. They took us to a hot pot restaurant. In the center of the table was a hot plate with a big pot of broth. Our hosts ordered a large variety of meat and dumplings for us to boil in the broth and then eat. It was delicious, and a very fun way to eat as well. Then for dessert we went to a different place to have sweet soup. I ordered the papaya, which also had an interesting fungus in it. It was not that sweet, and the texture was a little too weird for me to enjoy it.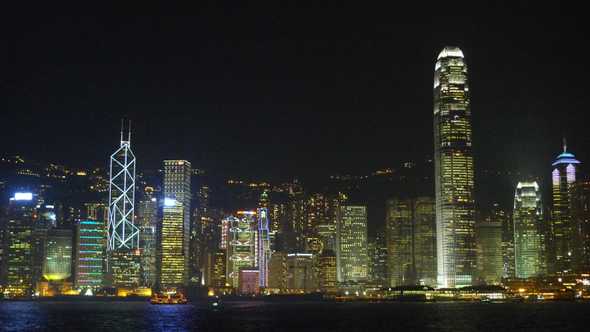 Several times we went to the waterfront, both during the day and at night, to see the prettiest skyline I've ever seen. Once we stayed for the light show, which consisted of many of the buildings showing off what their lights can really do, choreographed to cheesy but somehow appropriate music. We also visited Kowloon and Hong Kong parks. They are both very landscaped, with concrete paths throughout, but definitely a nice change from the surrounding city.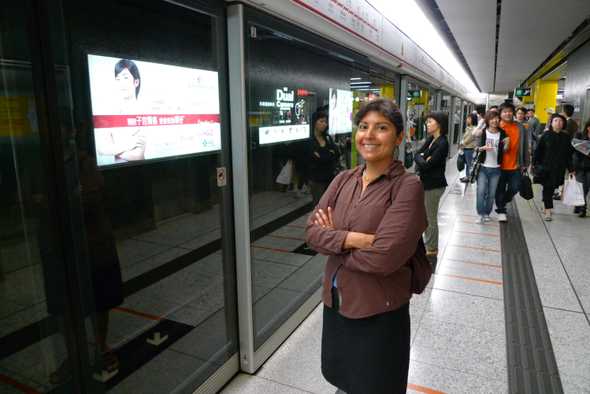 Public transportation in Hong Kong was perfect. We had bought Octopus cards which made it super easy to take the metro, bus, or ferry. Everything is well signposted (in English), and getting around is just as easy as can be. My favorite was the ferry. We took a harbor tour on one, and spent several hours on another day just traveling around, getting a good view of the city from the water. Perhaps the strangest public transport are the raised walkways which go all throughout downtown Hong Kong. It's almost possible to walk from one end of downtown to the other without setting foot on the ground.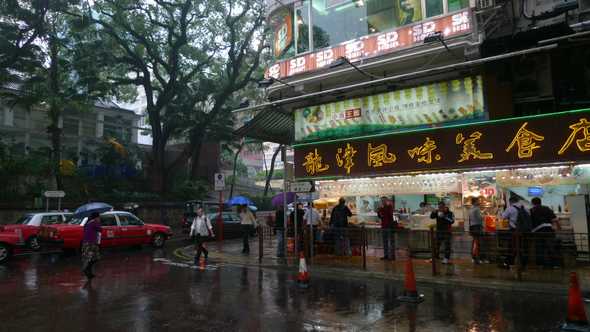 We really enjoyed our time in Hong Kong, even though we saw few "real" sights. It was fun trying different food, soaking in the feeling of the city, and staying in one place. Being in a place that was clean and well organized was refreshing. We took the metro back to the airport, where we arrived early enough that we got on an earlier flight to the Philippines. As always, the flight was comfortable and the food was good.