Typed up at: USA Hotel in Hong Kong Posted from: Cherry Blossom Hotel in Manila
For our final stay in Delhi we arrived very early Friday morning. That day we picked up a few things around town, got it all packed up and shipped it to Andy for later retrieval. We did a lot of shopping in India, right about 23 kilograms according to the scale. (Well, some of that are from Egypt and Jordan, but not much.) Everything is just so cheap here.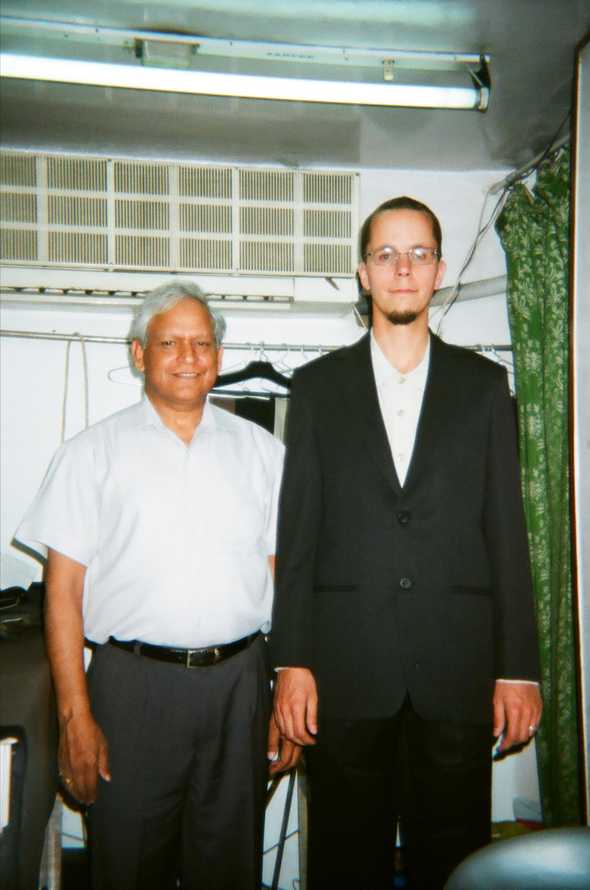 I bought a tailored suit, 2 slacks, and 3 shirts (total bill about USD 400). (Gotta look good when I go interviewing.) I also got a new pair of glasses because my current ones were all scratched up, and for the hell of it I got some prescription sunglasses as well. I've never wore any kind of sunglasses more than these, but I'm not sure if I'll become a sunglasses person.
Danielle has gone crazy buying souvenirs and gifts. She's bought herself quite a few outfits (albeit a lot cheaper than mine), as well as a new day bag. A strap on the bag broke while we were still in India, but was fixed by a tailor for USD 1. Sometimes we bargain, and sometimes we feel it's so cheap anyway that there's not much point.
Other than that we didn't do anything in those last few days but rest, eat, and Internet. We did pay one last visit to East West Medical clinic. Danielle had some lumps in her veins where the IV was, but the doctor assured us they would go away and we shouldn't worry. He also got us a new doxycycline (our anti-malaria drug) prescription so we could stock up for the rest of the trip. (Drugs are also really cheap in India.)
And then we went to the airport. We were one last time reminded about the noise, the filth, and then our taxi broke down. Our driver tried to fix it for about 15 minutes before hailing a replacement. We had plenty of extra time though, so we made it to our flight easily.