Typed up at: USA Hotel in Hong Kong Posted from: Internet Cafe in Hong Kong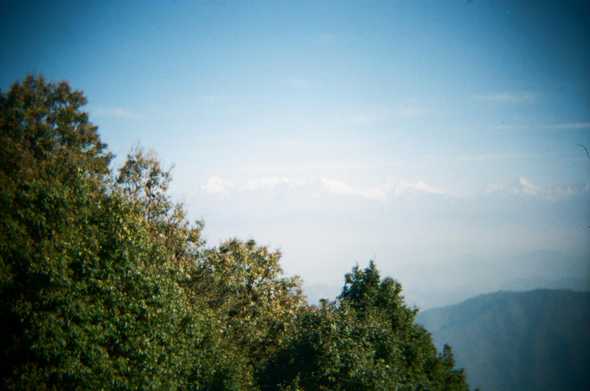 Binsar is a nature reserve on a hill offering some great views of the surrounding countryside and, on clear days, of the Himalaya mountains to the north. When we arrived it was fairly hazy, but we stayed 3 nights and every day was more clear than the previous one. On the day we left, we could even see the base of several of the mountains instead of just the peaks. It was a pretty cool sight, a little bit like seeing the Rocky Mountains from Denver, only these were much taller. (The tallest was over 4 miles tall.)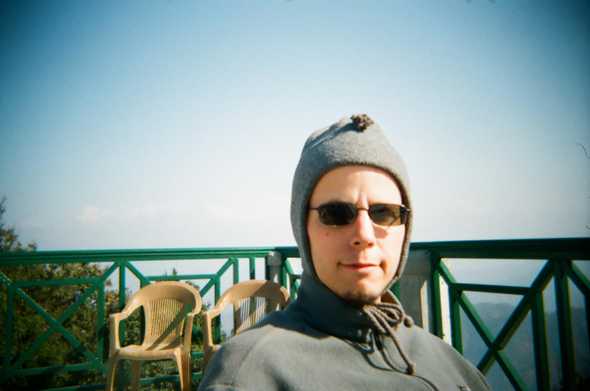 We stayed at the KMVN lodge, which was a lot like camping in a hotel. Electricity was only turned on for a few hours after sunset, and in the morning we were brought two buckets of hot water to wash with. There was no heat, and being over a mile up in the hills it was not warm at night. It was another in a long string of hotels we stayed in that had been designed for summer heat and did not cope well with winter cold. But there were nice views from the patio, the food was decent and the staff was friendly.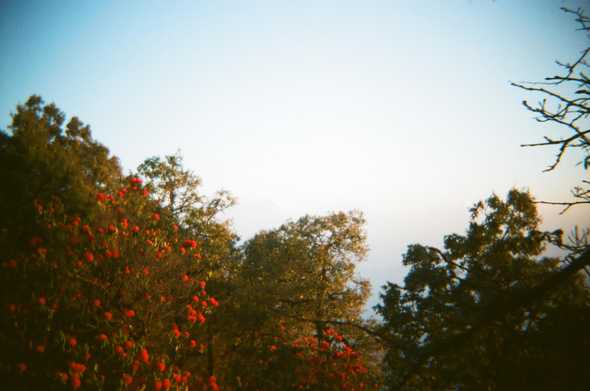 We went on one guided walk, and several ones by ourselves. They were all short walks, partly because we felt out of shape and partly because there were no maps and we didn't want to get lost. The scenery was great. Mostly we walked through pine forest, which had beautiful red rhododendrons in full bloom throughout. We saw plenty of langur monkeys, and also got to see a few birds here and there. Most of all though it was just dead quiet. We're used to India being all noise all the time, but here it was possible to here absolutely nothing except perhaps the wind.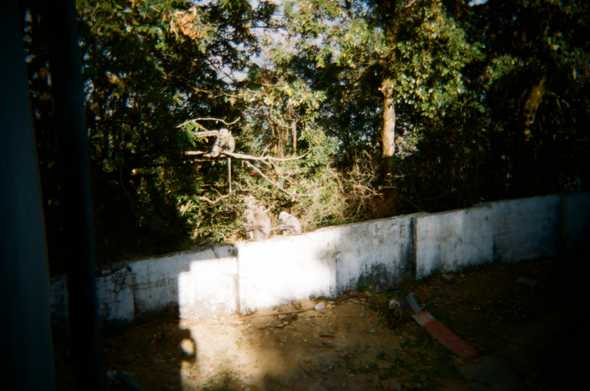 Aside from walking, we did a lot of sitting around on the patio in the sun, which was really pleasant during the day. Some days the langurs would be visible from the patio and we enjoyed watching them. When the sun set we'd stay warm by sitting half in our beds waiting for dinner to be served so we could really go to bed. Sometimes we checked out the view after dark a little bit, to watch several nearby forest fires. None of them were big enough to burn trees, but they must have been burning a fair amount of brush. We slept a lot, and we probably needed it.
I was looking forward to leaving, however. No computer and no Internet make Tim something something, and we left right after breakfast. We took a taxi to Nainital which is a resort town around a mountain lake. Like the ride up to Binsar, Danielle felt fairly car sick and couldn't enjoy the views as much as I did. We spent the afternoon in Nainital, having lunch and using the Internet. There I checked on the status of our train tickets for later that evening.
We had bought these tickets in Mussoorie, at which time we knew they were unconfirmed, meaning all we'd bought was space on a wait list. Since we were number 2 and 3 on the wait list, I felt pretty confident that we'd get on the train, but the Internet said we would not be on the train. Not understanding the ins and outs of the Indian railway system, I decided to take the bus onwards to Kathgodam where the train station was. Just about two hours later we were at the train station's inquiry desk talking to a man who spoke no English. All we managed to understand was "30 minutes."
We sat around in the waiting lounge, and after 30 minutes there was a different man in the inquiry office. This man had what looked like the passenger list. He took our tickets, studied his list, and then wrote "H-1" and "E" on our ticket. He told me: "confirmed, E K P". I wasn't sure what it all meant, except that we did get to be on the train somehow. I was still concerned that maybe we'd get to sit in 2nd class for 8 hours. When the train arrived, however, all became clear. We were in coach H-1, coupe E. It was a private little room with 2 beds, carpet, a power outlet, a sink, and everything else we might have wanted.
Meanwhile people who had 2nd class tickets tried everything they could to get seats (as opposed to standing space). The train was being newly assembled at this station, which meant the doors to the cars were locked until the conductor came to open them. But this didn't deter people, who queued up at the center window which is the emergency exit. One after another they climbed in, handing each other luggage and so forth.
Despite all the luxury, we barely slept an hour all night and we arrived in Delhi tired and confused. We thought we'd be arriving at the New Delhi train station, but we were dropped at S. Rohilla instead. But once we figured that out we had a tuk-tuk take us to our hotel. The driver turned out to be drunk but that was OK because there was very little traffic on the road.