Typed up: East West Medical Center in Delhi Posted from: Hotel Vivek in Delhi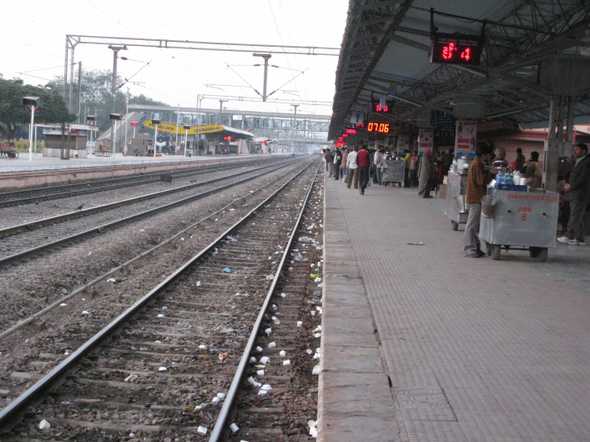 From Bharatpur we took a train to Sawai Madhopur. It was our first 2nd-class train ride in India, and really the facilities were fine. The only problem was that we had a middle+aisle seat, while the woman in the window seat had two small children with her, who didn't have tickets. The 3 of them squeezed into about a seat and a third, leaving less than 2 whole seats for Danielle and me. The seats were very slightly roomier than airplane coach seats, so that really was not enough space. During a few stretches I was able to pick an empty seat somewhere else in the carriage, but I spent plenty of time with one leg in the aisle.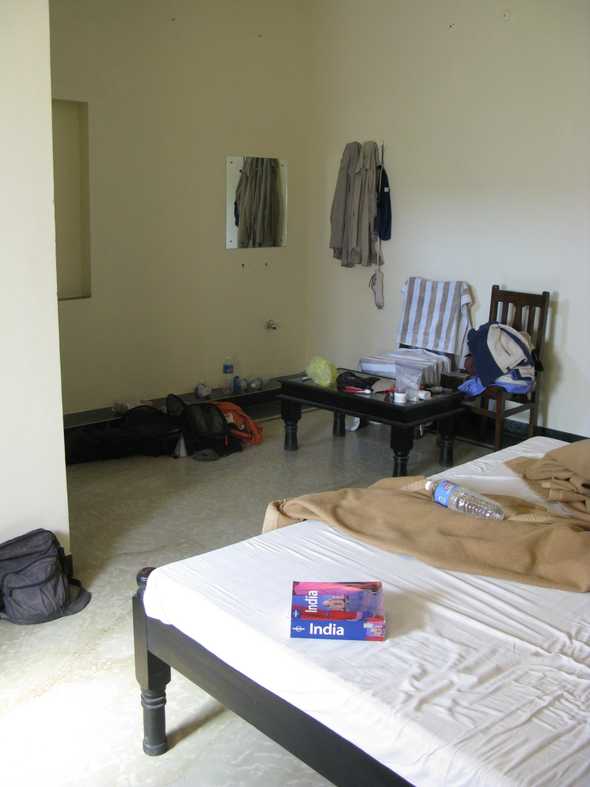 In Sawai Madhopur we were picked up compliments of the Tiger Safari Hotel, where we'd booked a pricey (for us) room. It was not worth it. The room was big, but despite this it still had the regular minimum of furniture, and no floor or wall decorations. The common areas of the hotel were nice, though, and so was the restaurant. The front desk was very helpful in organizing half-day safaris into the park. There was nothing really wrong with the hotel, it just wasn't worth the money.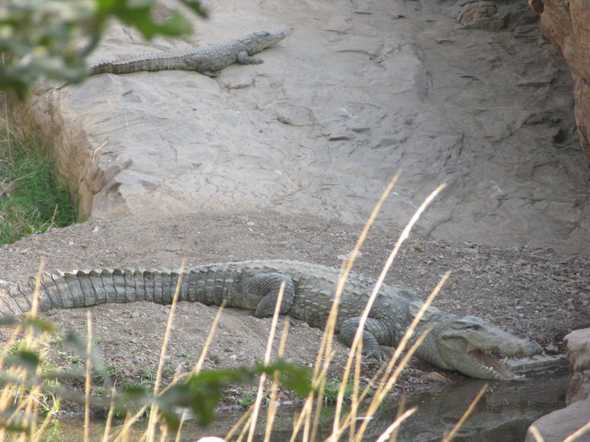 We went on two half-day safaris. Our first one was in the afternoon in a canter, a largish open vehicle with seats for 20 passengers. We picked up more people at a different hotel, and entered Ranthambore. The main attraction here is the chance to see a tiger but, the guidebook says, the scenery alone is worth it. We did not see a tiger, and I was pretty sceptical that many people do. Our guide continuously hammed up the tiger theme, which was just annoying. We did see a lot of sambar deer (tiger dinner) and blue bull antelope up close. We also got a good view of an eagle (tiger of the sky) and a pair of crocodiles (water tigers). Monkeys were seemingly everywhere. The scenery certainly was nice, but driving through a canyon with 19 other tourists was not the way to appreciate it. Going hiking in this area would have been great.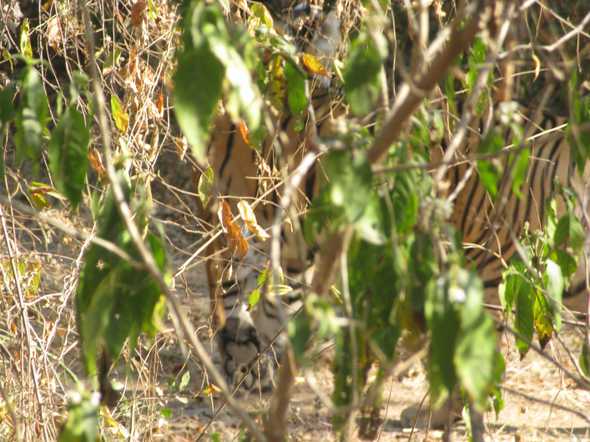 Our second safari was in the morning in a gypsy, an open jeep with room for 6 passengers. It felt much more like going on a real safari than driving through a wild animal park. Partly this was because we saw a lot less, and partly because our guides appeared to really tried to find us a tiger. We saw some footprints, but no actual tiger. As we were leaving our part of the park, the guard told our guide that a tiger was spotted just off the main road. We raced towards it, and arrived to a small crowd of canters and gypsys. After a little while we glimpsed a tiger just a few meters away, walking through some bushes. Then it disappeared but it reappeared 15s later. I couldn't find it, though, and didn't catch it until it walked off for good 15s after that. Danielle did see the tiger who was apparently looking right at us. Tiger camo is too good for me, I guess. At any rate I don't feel like I really saw a tiger.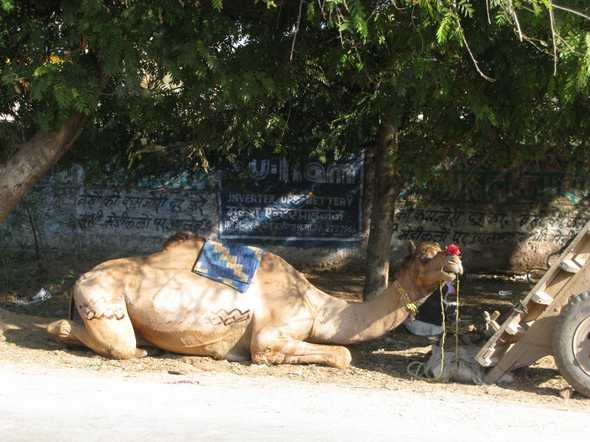 In the afternoon we walked to the small downtown area so I could buy a book for the upcoming train ride. Again I was struck by the huge gap between rich and poor. We walked down a street where on one side was a store selling men's suits. On the other side of the street people lived in make-shift tents, weaving baskets to try and make ends meet. As a rule I don't give to beggars because I do not want to encourage begging, but shortly after that I gave a little to two children. (Those children were almost everywhere as well. Invariably their clothes are dirty, they have black streaks on their faces, and they don't wear any shoes.)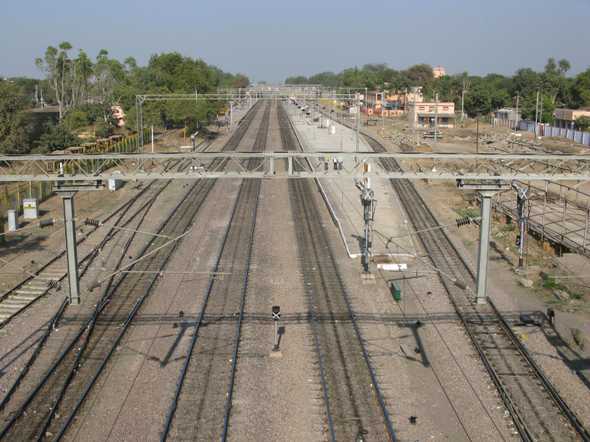 Walking a bit further down the street, I decided it was time to try some local food. I walked over to the candy shop and pointed at a few random things. Before I had the chance to pay we were surrounded by a dozen street children, including the two I'd just given some money. They followed us for an uncomfortable 5-10 minutes, all the while asking for candy, money, pens, and tugging on our shirts. Even a few locals who yelled at them on our behalf didn't seem to have much effect.
Then it was time to go again, back to Delhi to spend some time with my friend Abhijit. The train ride was just long enough to read the copy of White Tiger I'd bought the day before. The print quality was horrendous and 8 pages were missing, but I did enjoy the story. It definitely got me thinking more about poverty in India, and then I got another first-hand view as the train passed several slums on the outskirts of Delhi.