Typed up: at Hotel Vivek in Delhi, Hotel Red Castle in Delhi, East West Medical Center in Delhi Posted from: Internet Cafe in Delhi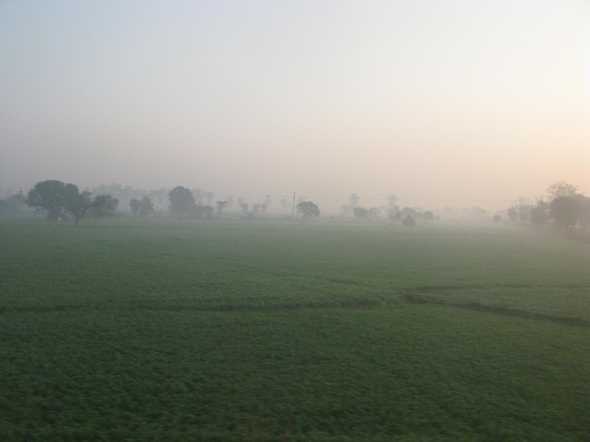 From Delhi we took the train to Agra. We'd booked fancy seats at the tourist train office, so we rode in comfort for a few hours. We watched green farmland roll by, with the occasional village. Next to the train tracks were garbage, small shacks, right down to people living in tents made from a rope and a tarp. In Agra we were met by a tuk-tuk driver sent by our hotel, the Tourist Guest House. It was a decent, clean hotel but the food was nothing to write home about.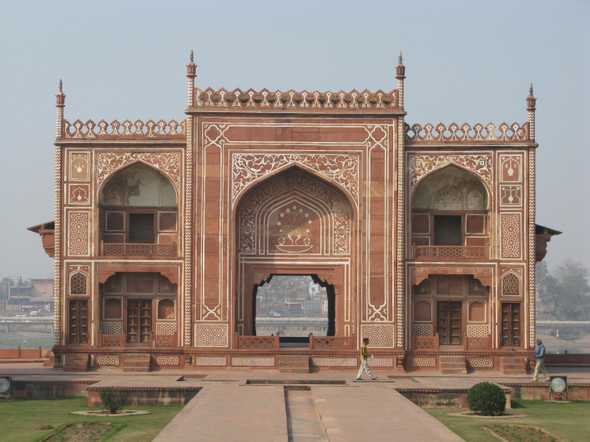 We arrived on a Thursday, and hired a tuk-tuk for the rest of the day to take us to some of the smaller sights.We stopped by Chini-Ka-Rauza, a less famous tomb which, unlike some famous ones, has not been restored. Still it has some nice blue inlaid stones on the outside, and some amazing painting on the inside. Next we saw the "Baby Taj" which was my favorite monument in Agra. It's smaller than the Taj Mahal, but its smaller size meant that the decorations everywhere were much more intricate. There also were not that many people, and we enjoyed taking our time. Finally we went to the back of Taj Mahal, where we could see the monument from across the river. It really wasn't worth stopping there. The sun was high in the sky, and the Taj was surrounded by haze and huge crowds.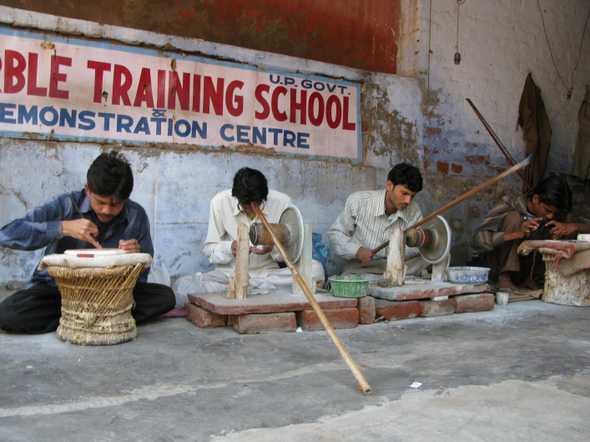 After lunch our driver offered to take us to a marble workshop. We knew we were in for a gift shop, but we did get to see the laborious process used to create inlaid marble. The people here still use the same techniques used when the Taj Mahal was built. First, semi-precious gems are sanded into the shapes required for a design using a hand-powered circular sander. Next, those stones are laid upon marble and their shapes are marked. Then somebody cuts an indentation into the marble to match the shape of the cut gems. Finally the gems are glued in place. Then we went into the shop part. First we entered the room full of big pieces where we haggled and got a nice souvenir. Surprise, surprise, there was another part of the shop where we were shown all the smaller cheaper items.
The next day was a Friday, which meant the Taj Mahal was closed. So we slept in, and took a bus to nearby Fatehpur Sikri. While waiting for the bus we chatted with some other tourists doing the same thing, and were harassed by a beggar who wouldn't go away, and just kept tugging at our pants and touching the ground. The bus ride was comfortable enough. When we got off we were lured into an eatery that should have been cheap but I enjoyed my food anyway. Then we made our way up the hill through some narrow streets lined with an open sewer (which pigs drank out of) to a giant mosque. This one seemed unusual to us because it had a small cemetery inside. There was also a very large tomb where local women would tie ribbons on the lattice work to improve their fertility. Next to the mosque was another beautifully decorated palace, which had some excellent carved walls. In the garden we even found some California poppies!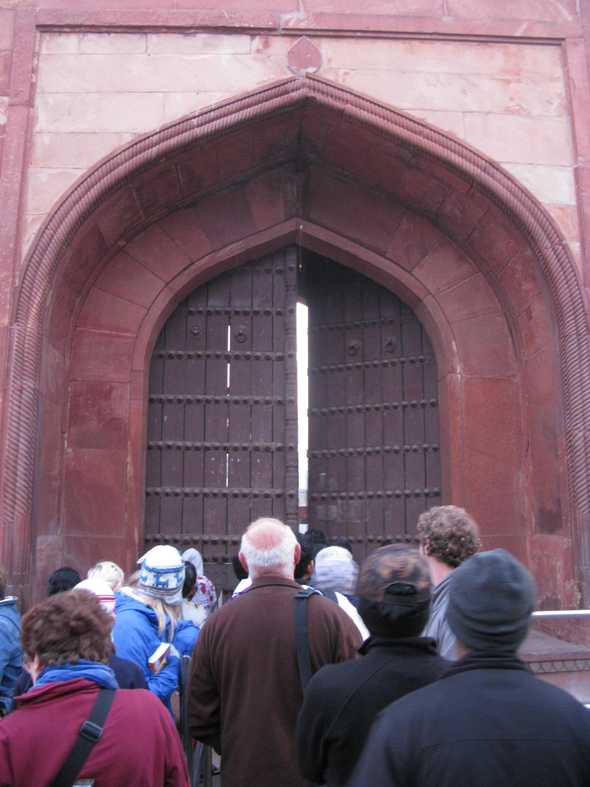 The next day we finally went to see what everybody comes to Agra to see: the Taj Mahal. We got up early and joined a small crowd of people at the entrance waiting for the monument to open. After standing around for about 20 minutes we finally got to go through security, where they told me I wasn't allowed to take in my 12" tripod. While Danielle explored a little I went back to a locker facility, and another 20 minutes later I'd finally made it through security and got to see the actual building. I was pretty annoyed at this point. Combined with that was my Mughal architecture fatigue. We have certainly seen a lot of nice buildings, but they all felt very similar.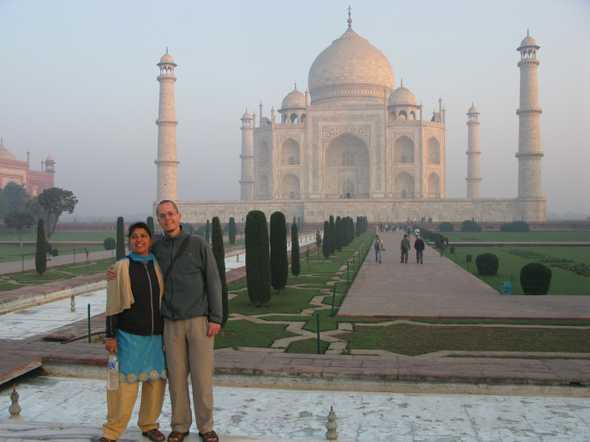 We took our time anyway. There were quite a few people there, but nothing like the crowds when we left a few hours later. The building was gorgeous but, like the pyramids, looked just like the pictures. The tomb inside was beautifully decorated with the kind of inlaid marble work that we saw at the shop 2 days earlier. We spotted several raptors sitting atop the huge marble building, and overall I did enjoy it. I preferred the Baby Taj though. In the afternoon we spent a few hours at the Agra Fort which, despite my Mughal fatigue, was still enjoyable. Some of the palace buildings inside were decorated as nice as anything we've seen.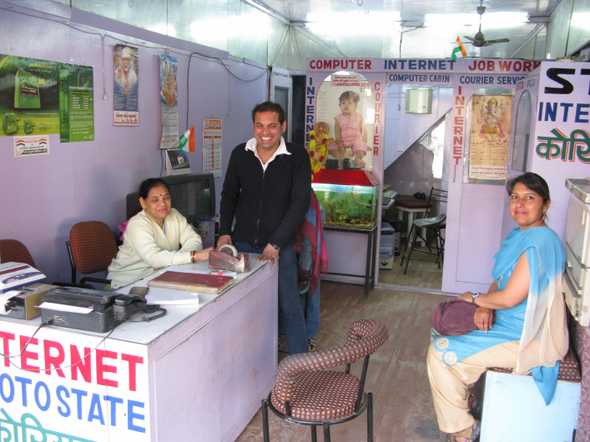 We took the rest of the day off, doing our usual Internet routine. I also finally managed to send a fax to credit card company which should put to rest the fraudulent charges that somebody racked up in LA. We spent some time shopping for more marble, too. We stopped at several places. One was clearly passing off some inferior stone as marble. A few others seemed on the level but the work was not as nice as what we'd seen before. Finally we ended up at Jaiwal Emporium, which had a large selection and prices on every item. Ever since we left Germany those have been very few and far between. Based on what we saw elsewhere the prices were not unreasonable, but it should be possible to get similar work for a little cheaper with some good bargaining. To get there walk south from Zorba the Buddha restaurant (very good). You should be able to see it on the other side of the Taj Road where you cross it.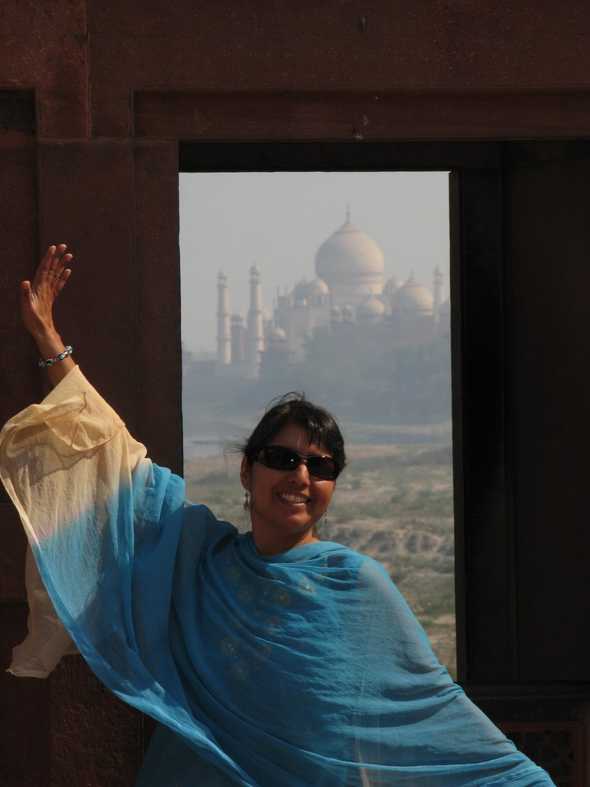 The day after that I got to feel how heavy marble really is, as we packed up and took a bus to Bharatpur. On the bus, we watched cow pies were being dried everywhere, to be used for cooking fires. Since this was Sunday, many groups of men were out playing cricket. Most used stacks of rocks for their wicket. I also saw several young men standing around in their underwear, while their laundry was being done. Relatedly, in Delhi I've seen a man standing in front of a roadside tailor (a sewing machine on a makeshift table) wearing just a shirt and his underwear, while the tailor was working on his pants.