Typed up at: Hotel Vivek in Delhi, Tiger Safari Hotel in Sawai Madophur Posted from: Hotel Vivek in Delhi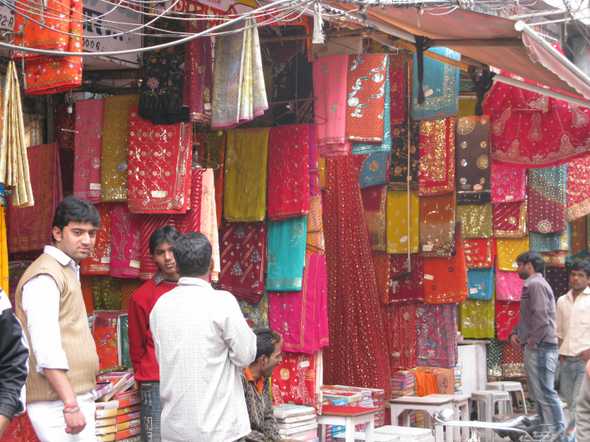 After getting out of the hospital and taking it easy for several more days, we finally got to see some Delhi sights. On our first day we were foiled in our attempt to see the Red Fort because it was closed in anticipation of Republic Day. Instead we went wandering through some of the small streets of Old Delhi. In a lot of ways it reminded me of Ataba in Cairo. It was less crowded, but getting around was at least as hard because there was all kinds of traffic instead of just pedestrians. The districts seemed to be smaller, too. Instead of a few blocks dedicated to car parts there was barely one. But with all that it still felt like a very busy shopping district, with everything on offer from axles to wedding invitations. I especially enjoyed the shops of wedding saris, which were both very colorful and very sparkly.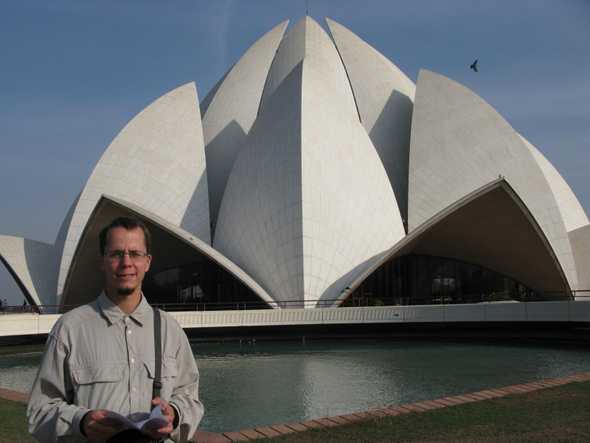 We hired a car and driver for a day to see Humayan's Tomb, the Lotus Temple, and Qutb Mina. Humayan's Tomb was a big tomb built by the same people who built the Taj Mahal. The most surprising thing were the large grounds around it. Nothing fancy, just a lot of grass, some trees, and a little water all arranged in a simple satisfying pattern. Compared to the tomb, the Lotus Temple had way more tourists. It had a nice park of grass and flowers around it but we were not allowed to explore it. Instead we were funneled into and out of the temple pretty efficiently. The building, which is quite new, looks like a huge lotus flower made of white marble. It's concrete covered with marble, but the effect is still very impressive. Inside it was cool, sitting on marble benches with bare feet on a marble floor. The echoes were horrendous.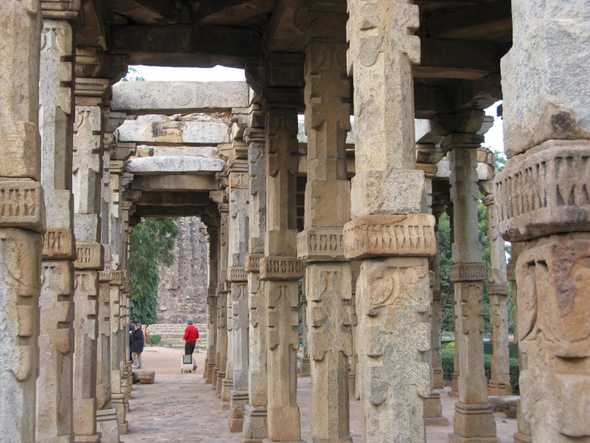 My favorite sight that day was Qutb Mina. It is the site that the first mosque in India was built, and a fair amount of ruins were still standing. What makes it most fun is that those early Muslims (who, a random guy on the street assured us were very tolerant) tore down some existing Hindu and Jain temples to get the raw materials for theirs. So we saw very Indian carved blocks arranged in a Mosque. A giant entrance gate was still standing, and an even more giant victory tower was standing next to it. On the ruins were some parakeets and monkeys, which gave everything a bit of a Indiana Jones (Tomb Raider, for you young-uns) feel.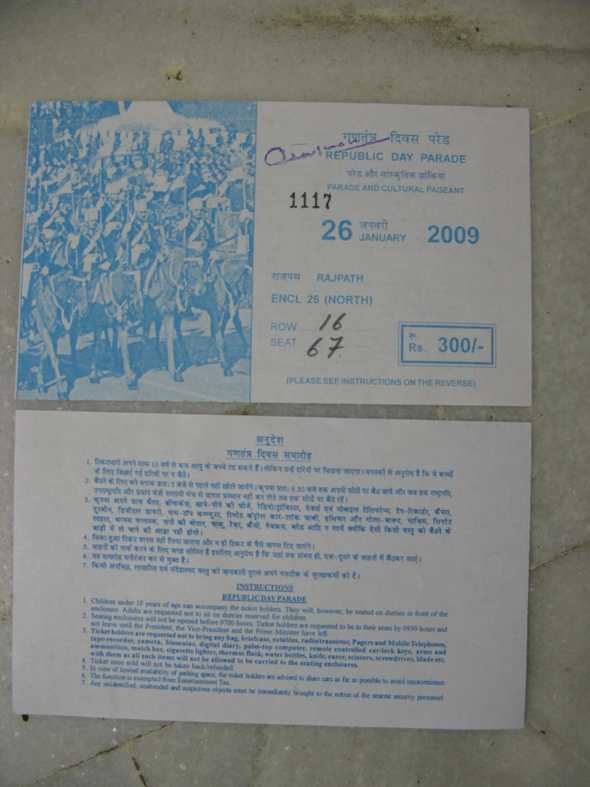 Republic Day is India's main national holiday, and we were in the capital for it. We'd bought the most expensive tickets for the event we could, which meant we got to sit about 200m down from the president. We weren't allowed to bring in anything besides our clothes and a turned off cell phone, so there are no pictures. The parade was an interesting experience, very different from what we've seen at home. First off, we had assigned seats which were decently comfy. And we had to sit in them. Whenever we stood up the people behind us would yell at us to sit down.
The parade itself felt very much like all the branches of the armed forces presenting themselves to the president while we were allowed to watch. We saw many groups march by, some with a band, some without. Indian marching involves swinging your left hand as far forward and as far backwards as is possible while still staying in time. Some groups got their hand above their heads, either in front or behind. There were also a series of very high quality floats, each highlighting a different part of the country. While the production value was excellent, the floats weren't any fun. The whole parade felt very sterile.
The main attraction for us was the military hardware. At the beginning of the parade 4 choppers flew over and dropped flower petals on us. (The other side of the street, which was not the side the president was sitting on, didn't get any.) The parade included various tanks and armored vehicles. Some missile launcher vehicles, including one giant rocket-looking thing which, we were told, has a range of 3000km and is nuclear-capable. At the end of parade we got a fly-over of various helicopters and planes. There was a demo of in-flight refueling, but at the crucial moment they flew behind a tree. It was still very cool to watch two fighters within just a few meters of the "hoses" hanging off the wings of the fuel plane.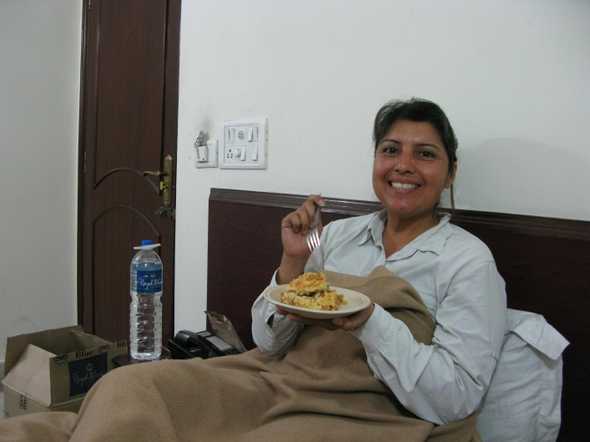 We've made rather more use of the hotel TV than I thought we might. We really only watched BBC, HBO, and Star Movies because they were in English and had programming we like. Even with that, there are 2 fun things I'd like to share. First, the audio in movies was not censored. All manner of language was apparently acceptable. But most movie channels ran English subtitles along with the English movies, and the subtitles were cleaned up. Sometimes offensive words were left out, and sometimes they were substituted. This wasn't limited to the 7 bad ones, but includes a whole list of other things. For instance, hell became heck, ass became behind, and titties became breasts.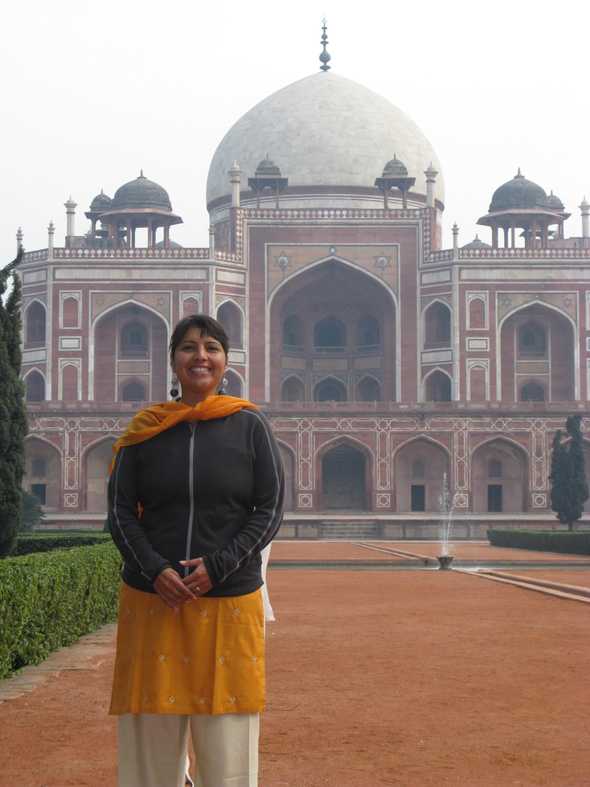 When reading the newspaper or glimpsing magazines, we also noticed some interesting differences. For one, Pakistan was always mentioned in a condescending way. It came up in the news in the context of the Bombay bombings, but still. We've seen several headlines proudly stating that India's economy is impervious to the global economic crisis. There was also an entertaining commercial running to promote blood donation. One of India's few Olympic heroes tells the viewer it's OK, finishing with "He who gives blood brings glory to the country."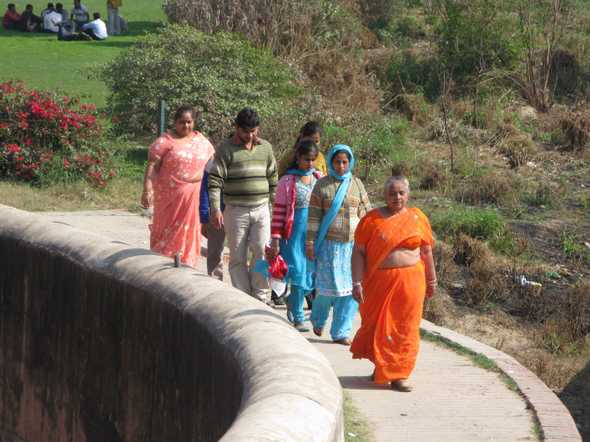 Speaking of commercials, we both noticed commercials for birth control pills as well as a morning after pill. Meanwhile, in the south of the country several fundamentalist Hindus caused a big ruckus by attacking some girls at a nightclub who were behaving in a manner unseemly to women. These attacks have been roundly condemned by the media, but some people have embarrassed their political party by making ambiguous statements.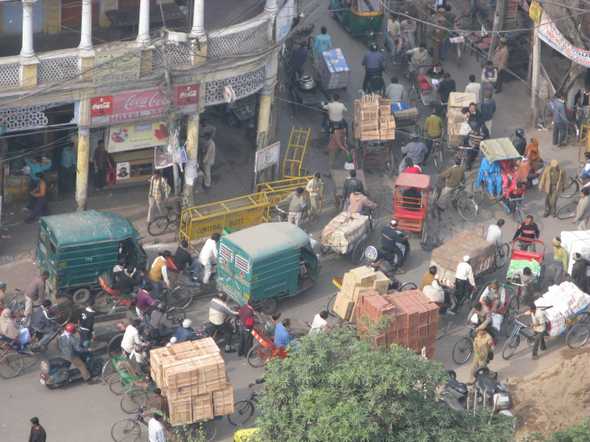 To finish up my random observations, I will say that Delhi was a lot noisier than Cairo. Cairo felt busy, but manageable. In Delhi I was almost always close to traffic, and regularly get to listen to a horn that was honking less than 1 meter away. Even in the busy parts of Cairo this was never as much of a problem.