Typed up: at Petra Gate Hotel in Wadi Musa, Dana Tower Hotel in Dana, Friends Internet Cafe in Maddaba, Salome Hotel in Maddaba Posted from: Syria Hotel in Amman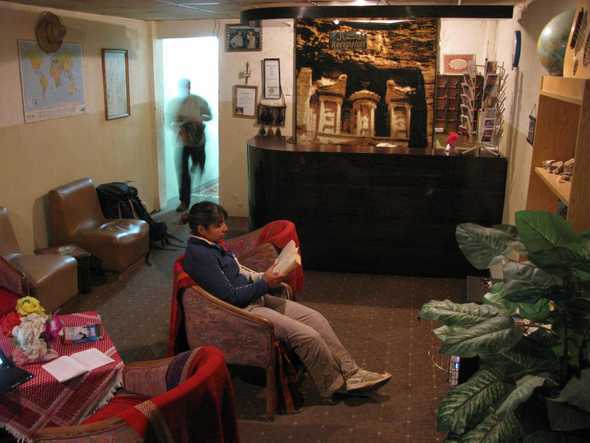 The bus ride to Wadi Musa was nice. It was a medium size bus, completely full with the luggage taking up one seat on the back row as well as all the aisle space. On the bus we talked some more to a couple from Qatar, who recommended the Petra Gate hotel which was also recommended by Mohammed. So we called them and reserved a room. The hotel was decent. The rooms and especially our bathroom were small, but the showers were hot, the heating was on at night, and the lobby had a nice seating area with affordable wifi. Breakfast was OK, the lunch boxes were nice, and dinner was a good deal. So we stayed 5 nights. We got to know the owner, Nasser, a bit and he helped us with a few things.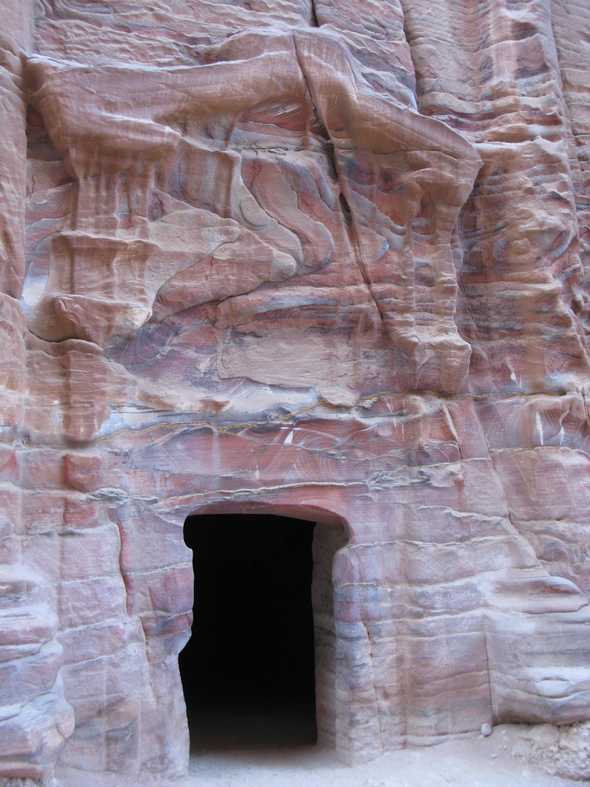 We spent our first afternoon just relaxing and using the Internet, then our first full day we went to Petra, which is the only reason people come to Wadi Musa. We had a bit of a discussion trying to figure out if we wanted the 2-day or 3-day ticket (1 day: 21 JD, 2 day: 26 JD, 3 day: 31 JD) but opted for the 3-day ticket. I'm really glad that we did. Petra is the best thing I've seen since I hiked the Narrows in Zion.
The first experience of walking up to the Treasury was pretty cool in itself. We walked through a narrow canyon with a mix of modern and Roman pavement. Down the side there's a water channel that was cut out about 2000 years ago. But meanwhile, in some strange blurring of truth and fiction, the Indiana Jones theme was playing in my head because everybody knows that Indy found the Holy Grail in the building you're about to see. Then up high we caught our first glimpse of this massive facade carved out of beautiful sand stone. From then on it's about a minute until you can make out the entire building. Even though it was pretty full of tourists, it was still a moment to remember.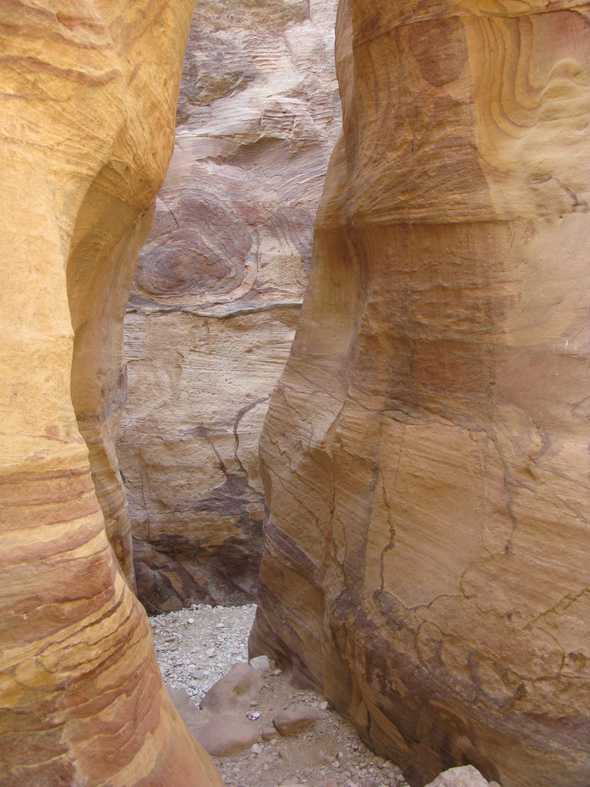 There are many tombs, some even bigger and more impressive than the Treasury. The insides are all much smaller than the facades suggest, and empty. Still, we went inside quite a few just to have a look (holding our breath because there aren't enough porta potties around). But the real thing that impressed me was the terrain. The terrain is wonderfully rocky. There are slot canyons, pinnacles, and in not a few places the rocks have wonderful bands of red, yellow, brown, and purple. Even if there were no tombs, and no ancient civilization, this would still be a beautiful place to visit. We spent quite a bit of our time in more out-of-the-way places where we could explore this landscape in peace.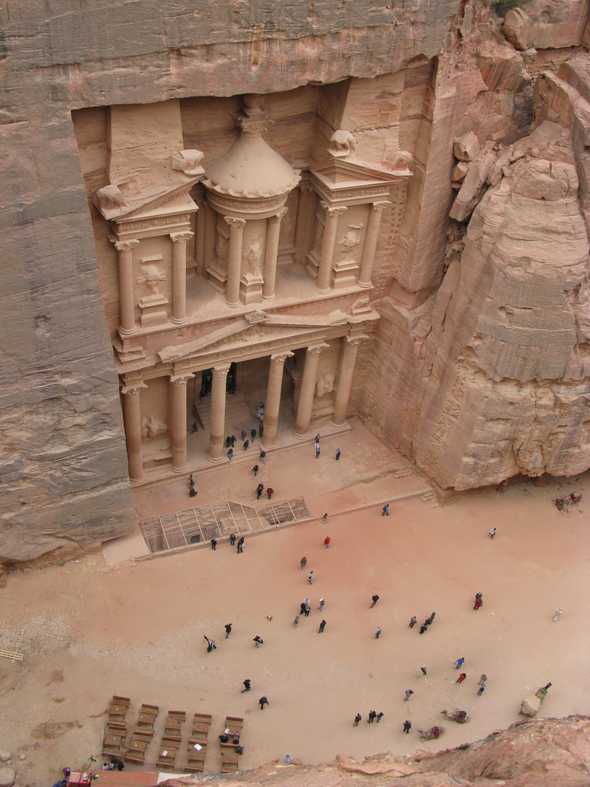 They were long days, though, and after those 3 we spent an entire day doing nothing at our hotel. On that day Nasser shared with us an interesting story. Over 10 years ago he ran the first Internet cafe in Wadi Musa. This was noteworthy enough that the queen came to visit him, and he told here how he'd been considering closing the business because the connection was very unreliable. The queen decided this was an important project for the region, so a few days later a soldier showed up at Nasser's door to let him connect to the Internet using the military network. He used that setup for 2 years and never had to pay anything. This much personal involvement of the government is amazing to me. It really shows what a ruler can accomplish without many constitutional constraints. (Of course a bad ruler would be accomplishing bad things.)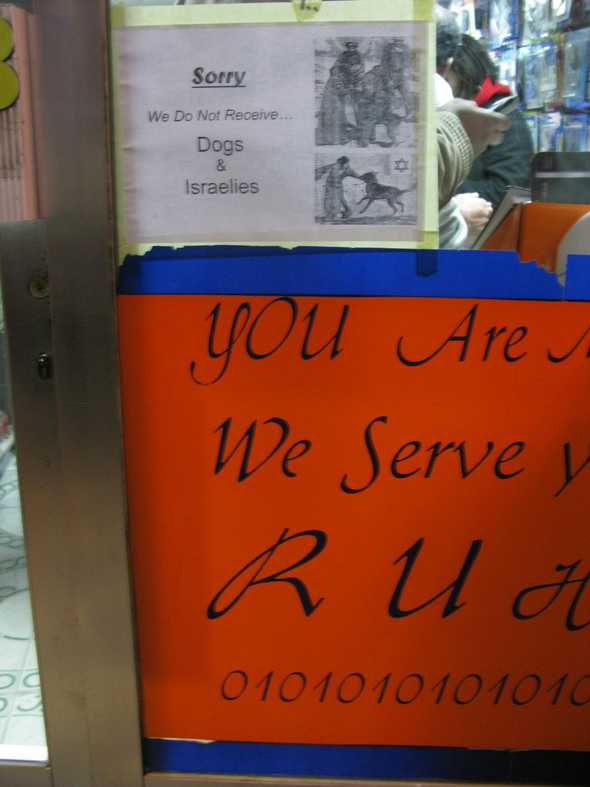 Speaking of bad rulers, Israel is making themselves extremely unpopular in the Middle East right now. It appears as if they are willing to trade any good will they might have gained for a little bit of temporary security. I wouldn't say that everybody in Jordan is in the Israel-is-an-illegal-state camp, but you're going to have a hard time finding anybody who agrees with the Israel-is-defending-itself line. Long term this invasion seems like it will be a disaster. I'm embarrassed that the United States pays for it all.