Typed up: at Petra Gate Hotel in Wadi Musa Posted from: Petra Gate Hotel in Wadi Musa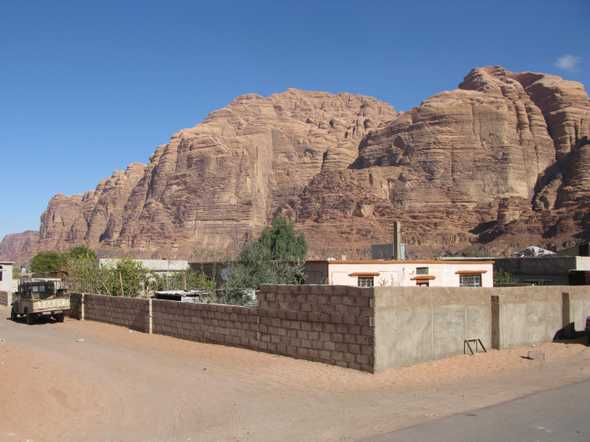 The bus from Aqaba to Wadi Rum doesn't run on Friday, so we took a taxi instead. We'd booked 2 nights in the Sunset desert camp run by Mohammed Sabah Al-Zalabeh (07 7731 4688). He organized the taxi for us, which arrived exactly on time. The ride was a little over an hour, and we wandered around the village a little bit because Mohammed was at the mosque. It's a poor village with a mixture of new-looking houses and little shacks. There is no electricity hookup, so people use other means. Our host had what looked like 3 car batteries in a box set up in his living room, where the TV was on even though nobody was really watching it.
Mohammed organized a jeep for us and another American family of 4. This was probably the worst vehicle we've ridden in so far. It stalled out several times on the trip. One time it took about 10 minutes and the help of a passing truck to get it going. After that the driver decided to not slow down so much, because that's when the stalling occurred. We hit a smallish bump with a bit of speed, and the roof rack and all our luggage went flying. By having our guide hang off the back of the jeep, they managed to fit all the people and all the luggage inside, and we made it to camp without further incident.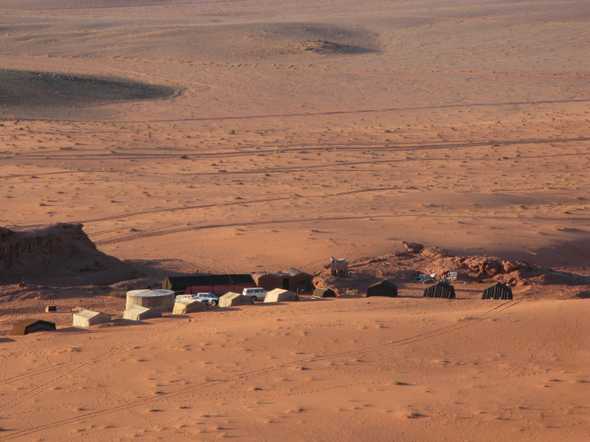 Our camp was a permanent Bedouin camp. That means each tent really had cinder block walls going up about 3 feet, and a regular but very heavy (almost heavy enough to be carpet) covering. It was set among some rocks in a mostly sandy desert. It had a kitchen building, a meal tent, a tent with a chimney and tin roof for having a fire in, and about 20 sleeping tent. We got one sleeping tent, with nice sleeping pads and plenty of blanket to keep us nice and warm at night. We slept really well while we were here. I did wake up once to find a mouse chewing on a bag of pita we had inside, though. It was very cute, desert-colored, with big back feet. After that we hung the food and I don't think it came back.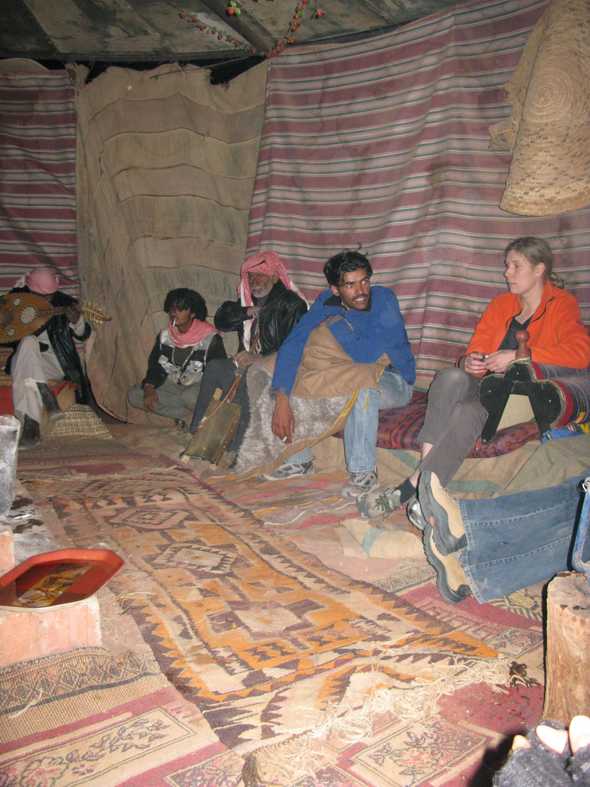 Breakfast and dinner was included, and both were good meals. At night there was a fire in the fire tent and I enjoyed sitting there and chat with the other tourists. This really is a good place to do that since nobody has anything else to do. Except then they'll start playing traditional Bedouin instruments and try and get everybody to dance. It's interesting to see these instruments being played, but I didn't really like the music so it felt mostly like an intrusion on the conversation I was having.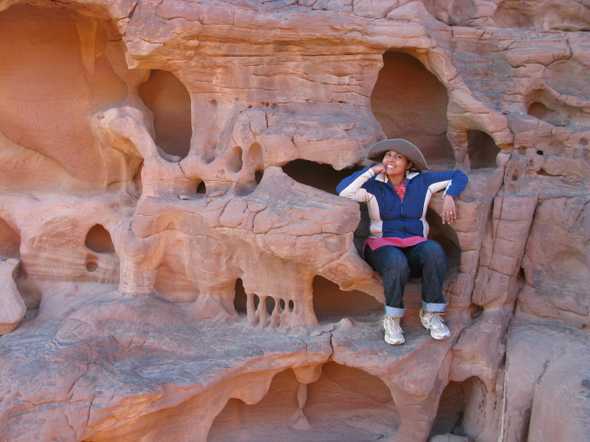 On our afternoon there we just wandered over to a nearby rock formation and scrambled up it. The desert here is mostly sandy, with big cool rock formations coming up out of it everywhere. The rock is all weathered very nicely with lots of holes, pokey bits, and other neat shapes. As a bonus it's pretty easy to climb just about any of them. That is kind of what we did the next day when we went on our guided walk. And the scrambling was a lot of fun. Walking through the sand was not. It's just tough going, and I couldn't really relax like I usually can when hiking. The scenery is great, but we wished that we'd taken a jeep or even camel tour instead.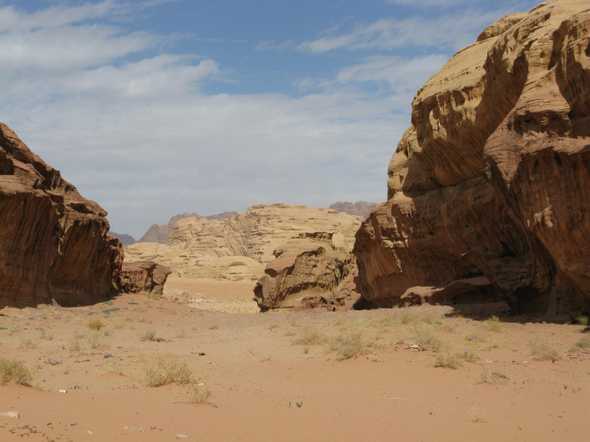 After our second night in the desert we decided that was enough. We talked to Mohammed and he made sure that we were back in the village in time to catch the bus to Wadi Musa. If you want to check out Wadi Rum then I highly recommend his outfit. It's just that it didn't really turn out to be what I wanted.