Typed up: at Petra Gate Hotel in Wadi Musa Posted from: Petra Gate Hotel in Wadi Musa
The first 2 nights in Aqaba we stayed at the Al Masra hotel in downtown. It was clean, the room was nice, and we slept on the nicest bed we've encountered our entire trip. It was very much a place where local people come and vacation. It did not seem to cater to tourists at all. Our guide book wasn't much help in finding cheap and accessible snorkeling either.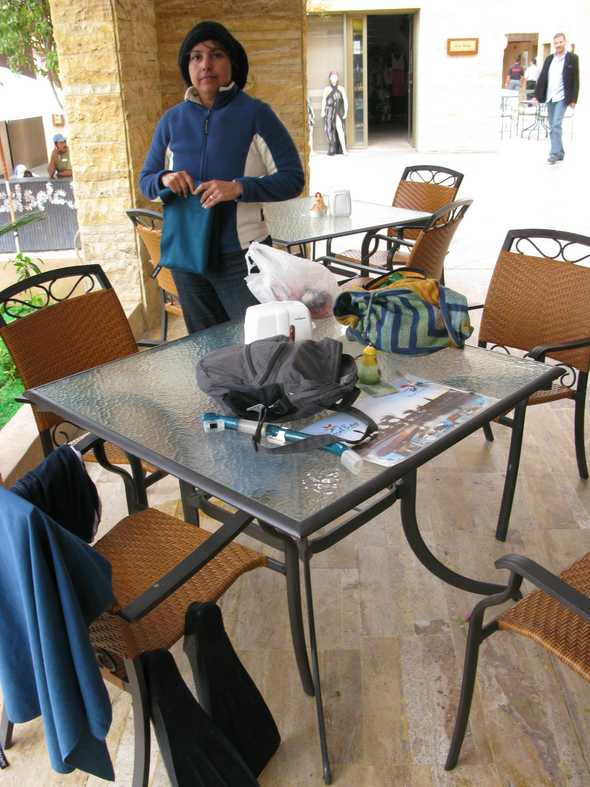 Not knowing any better, we took a taxi to the Royal Dive Club which has a dive shop at a reef. Unfortunately they wouldn't rent us wet suits. Wet suits, we were told several times, are for divers only. We were told several times because I was sure that they were joking when they didn't let us have them at first. So we went in the water without wet suites. The water temperature was 22C, the air temperature slightly lower than that, it was windy and overcast. It wasn't terrible, but we got cold after 35 minutes and had to stop. The snorkeling itself was good, and we did get a hot shower after we got out, but overall we decided it was too cold to hang around and go in again. All in all it was an expensive lesson in where not to go.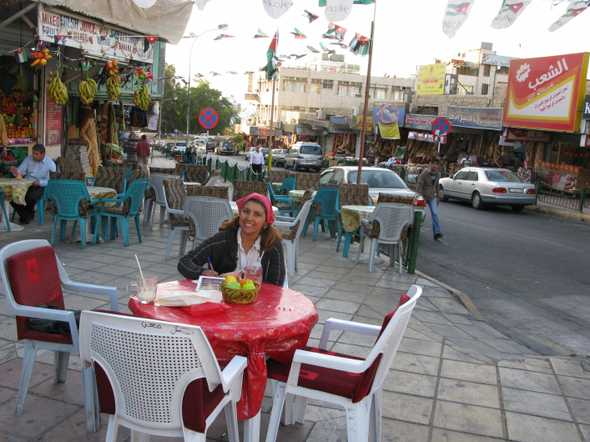 The next day we changed hotels to the Al Cazar hotel, which is definitely out of our budget. However it includes access to their Murjan beach club as well as a free shuttle there and back. Too bad for us, I had an upset stomach that day and we didn't do much besides watch TV and try to find a restaurant that offers soup. Aqaba is a pretty nice town to wander about. It certainly is a tourist town, but it feels like there are enough locals out and about that you get some idea of their daily life. The juice bars here were very expensive by Egyptian standards, but the servings were also huge. I enjoyed a milk and banana "juice" which was also a great way to get some calories into me.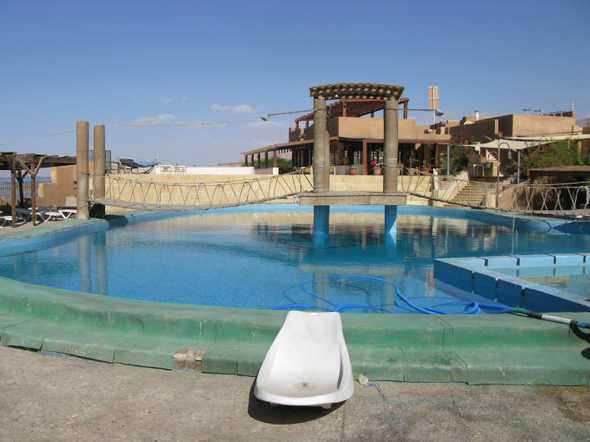 Finally, finally, after my sickness had passed we got to do what we were here for: snorkel and relax. We spent two days (including Christmas day) at the beach club. This consisted of a restaurant, dive shop, pool, and a changing room with hot showers. We'd arrive in the morning. Rent fins and wet suits (we brought our masks and snorkels), and hit the reef for about an hour. Then we'd come back, warm up, relax a bit, eat, and go in again in the afternoon. Then there was just time to warm up and relax a bit more before time would come to go back to town. On the first of those two days we wrote about 50 Christmas postcards. Hopefully you'll get them soon.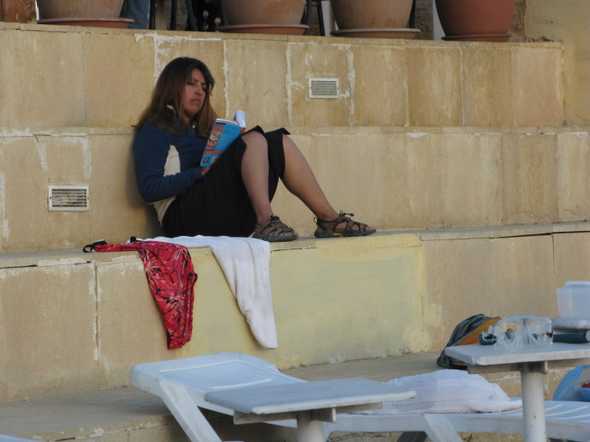 The snorkeling was really great. Whenever we entered the water we'd always see nice coral, covered in fish of all colors. Plenty of clown fish, damsel fish, angel fish, butterfly fish, blennies, box fish, puffer fish. If you don't know what all of these are, just imagine each one is a different color with different patterns and you're not far off. In the coral we saw many worms, their brightly colored feathery gills sticking out of their holes. We saw some comb jellies, and inch-long transparent arrow worms. It was beautiful. So that's the general setting. We bought a disposable under water camera which we easily filled up. The pictures haven't been developed yet but I will let you know when that happens.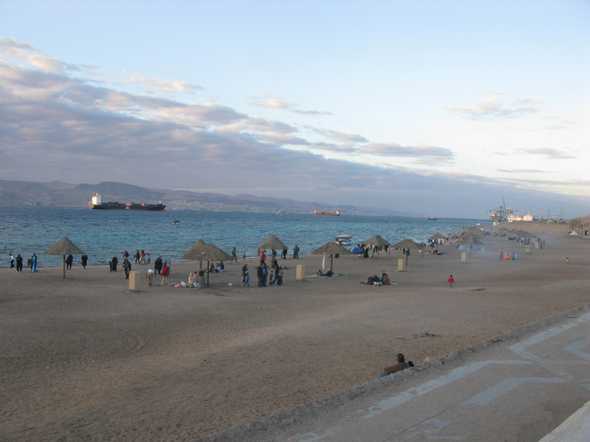 We saw lots of lion fish. It was really neat to see them drift away from their rocky hiding place when a school of baby fish would swim by. It was also a little freaky since they are really poisonous, and we couldn't always count on them to just be right next to the rock. We also saw a few stone fish, one of which was actually "walking" on the sandy bottom on its fins. There was a stingray relaxing on the bottom, which was very beautiful with its yellow body and fluorescent blue spots. I spotted the head of a moray eel, perfectly camouflaged among a chunk of lumpy coral. We saw a meter-long cornet fish hanging out near the bottom. It showed a little bit how it could change color, and flashed slowly when I dove down to look at it closer.
As we were on our way out of the water for the last time, I looked aside to take a look at a pencil slate urchin. I got close to a reef and suddenly a small white octopus swam across. It settled on a rock and played around with its colors briefly before it settled on a shades-of-brown color pattern. Together with that it also changed its texture from a smooth lump to be more spiny. I called over Danielle who took a little while to see the octopus, even though we were just a few feet away and I was pointing right at it. Then we scared it a bit more, it flattened itself against the rock, changed to white and then pitch black. Still black, it hid in a dark crevice where the only thing we could still see of it was its syphon.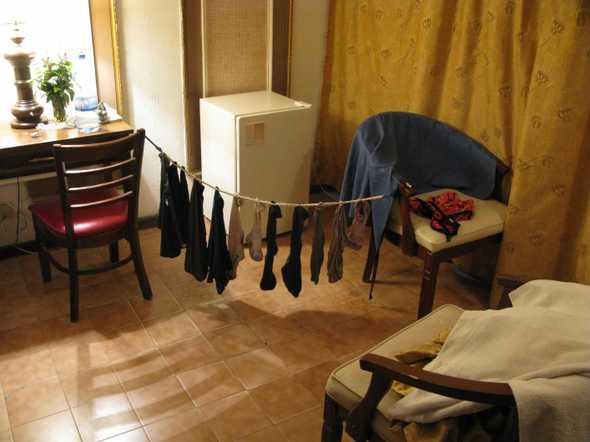 We didn't really do anything special for Christmas, except spend more on dinner than we usually do. We did Skype our families, and it was nice to talk to them. Without being bombarded by Christmas decorations, music, and advertising it didn't even feel like Christmas. We saw our share of decorations but nothing like the amount we'd see at home. Really, I don't miss Christmas. Danielle does, but for me Christmas is just something special to look forward to. But traveling like we are, almost every day is special. I don't need more special in my life. I suspect New Year's will be similar.