Typed up: at Nefertiti Hotel in Luxor Posted from: Nefertiti Hotel in Luxor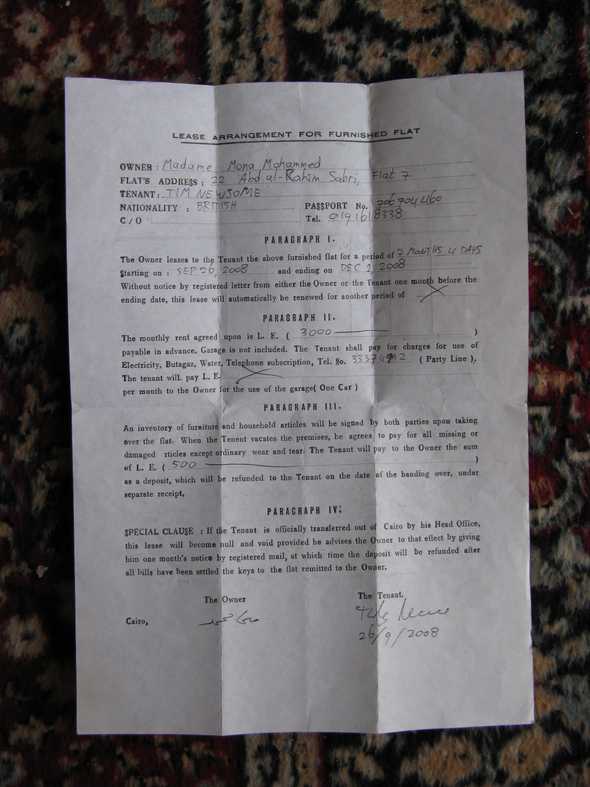 Moving out of our apartment was another small experience in what's different. A few hours before we were set to go, the landlord and his wife came to visit us. The bowab and his wife (and their baby daughter) were also there. They took a look at the apartment to see if we'd broken anything, and then tried to figure out what utilities I had paid for and what they should take out of the security deposit. Unfortunately I hadn't kept any gas receipts, but they took my word for it that I'd paid that bill. They made me pay for telephone, electric, and a final cleaning plus maybe another charge that I forget. The total was about LE 250 which seemed quite reasonable for 2 months. All of this was complicated by the fact that they spoke about as much English as I do Arabic. The only regret I have is that we failed to offer them tea while they were sitting there with us. I'm sure that was a bad faux-pas on our part. They were nice people though, and I'm sure they'll accept that we're just foreigners who don't know any better.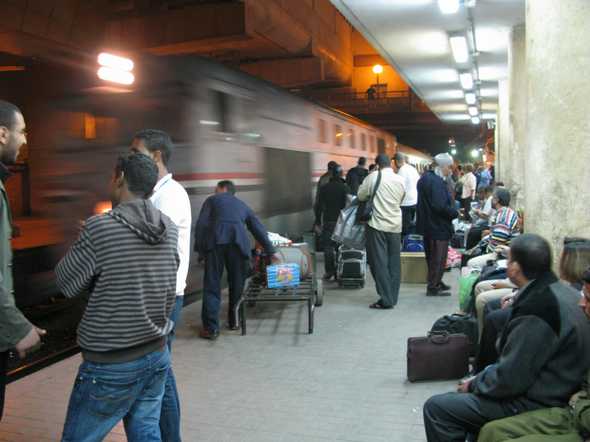 They were so nice that our landlord even drove us to the train station, where we waited quite a while because we'd arrived early and the train was 30 minutes late. But we got on without any problem and found our sleeper cabin. It was of course small but we had 2 fold down beds. Dinner was decent enough. Like airplane food but less artificial. We didn't sleep as well as I would've liked because of lots of creaking and movement of the train. Breakfast was OK again, and after that it was only a few more hours to Aswan. It took us something like 15 hours on the train, and I think the sleeper train was a much better option than doing the same trip seated during the day.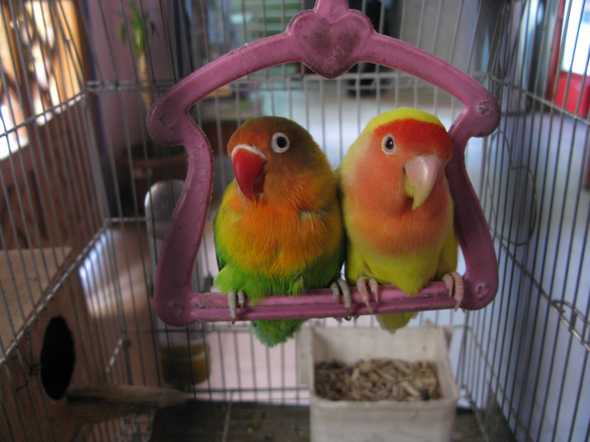 In Aswan we checked into the Keylany hotel, which provided us with a nice room for a reasonable price. The lobby has several bird cages which make the place feel busy all the time. It was very clean and the staff was helpful. We stayed in two different rooms. The first was great and slightly pricier. The second was OK, but the mattresses were bad. The staff was very helpful and friendly.
On the first night we went (late) on a felucca ride when there was no wind. We were being tugged most of the way by a guy in a rowboat. It was kind of neat but not that much fun. So the next night we did it "right" and showed up a bit before sunrise, got a good deal, and got to sail around the island. It was very beautiful and peaceful. Then at the end of the trip our captain tried to tell us that we'd been on the boat 2 hours instead of 90 minutes, and all parties left unhappy.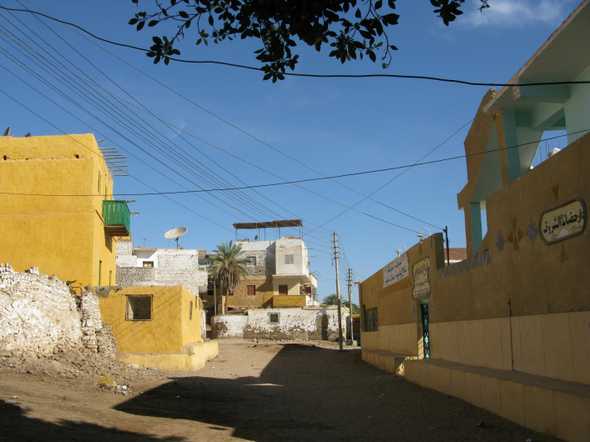 We visited Elephantine Island. We had a wander through the small village there, which was very peaceful. There are no roads, just dirt passages between buildings everywhere. Many of the houses were painted in bright pastel colors, which made everything even nicer. The museum and ruins were also worth visiting. We saw our first Nilometer, which was used by everybody from the pharaohs on to see how high the annual flood was, so that the appropriate taxes could be levied. There were ruins of a temple complex that had been around forever, but had most recently been redone by Alexander's people.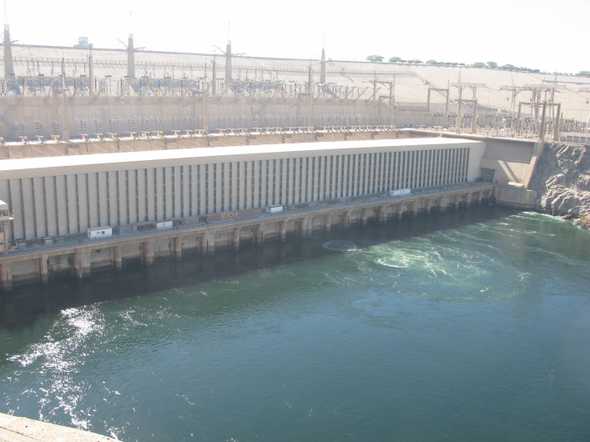 Our other major activity was our trip to the High Dam. Instead of taking an organized tour we decided to adventure our way there by train. It was actually not that hard, but we did ride a mostly empty 3rd class train with several other locals. The doors never close, and it only stops for several seconds at each stop. Coming off the train a friendly local walked us to the dam a few hundred meters away. There we took Abdul, a taxi driver, up on his offer to drive us over the dam and drop us off at the North Quarry close to town. Our drive didn't go as we'd hoped because we didn't understand what he was saying about tickets until it was too late. Without tickets the car isn't allowed to stop on the dam, so we only stopped very briefly twice. I'm still glad we went, and the structure doesn't disappoint even when you realize it stops the Nile's annual flood, which has been the key to Egypt's agriculture for 5000 years.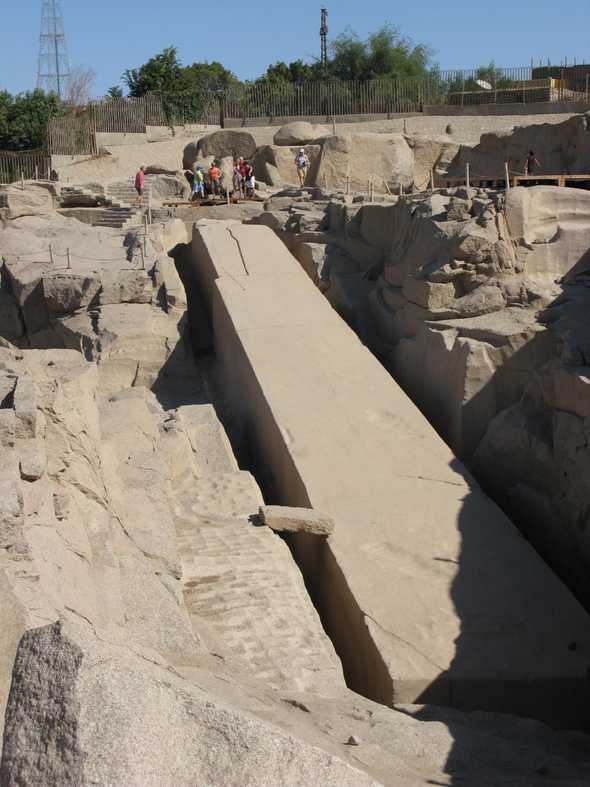 The quarry was neat to see. There were still lots of "holes" in the rock where they'd put in the wood to cause it to crack off. The main attraction was the unfinished (because of a problem in the rock) obelisk. It's a truly massive piece of rock, and I just cannot imagine moving that thing even if you complete the work carving it out. The ancient Egyptians accomplished some amazing things.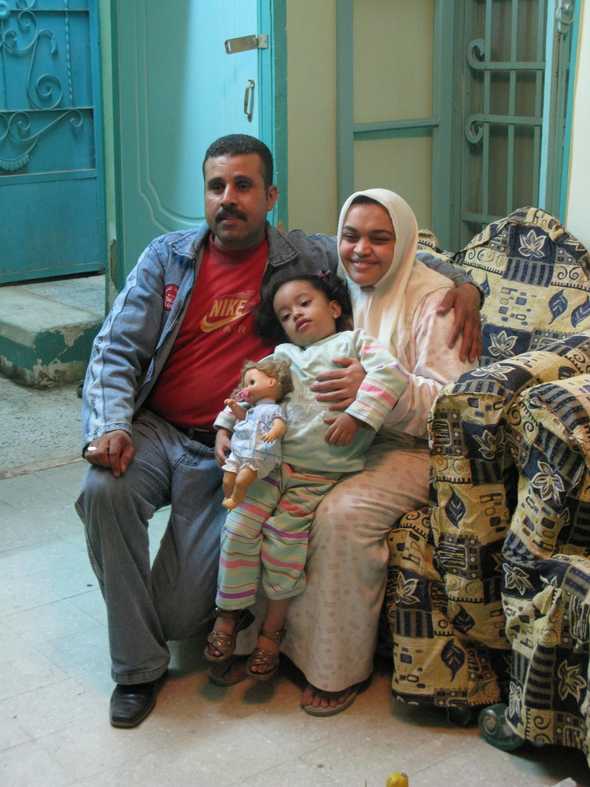 That night we went to Abdul's home to have tea with him and his family. We'd had a big debate about whether to go or not. Danielle thought he might just try to sell us stuff. I was willing to give it a try. We did go and were glad that we did. He didn't seem to want anything from us at all. He was just happy to have some foreigners visit him. His wife was also very nice, but the show was stolen by their daughter Aisha. Two French girls also came, and it was nice talking to them as well. It looks like Abdul invites almost any foreigner into his home, because he has a big collection of photos that people have sent him, which will soon be slightly bigger.
All in all we saw quite a few things over several hot days. Aswan is very beautiful. We could have spent more time, but we had to move on.