Typed up: at Morad's place in Cairo Posted from: Morad's place in Cairo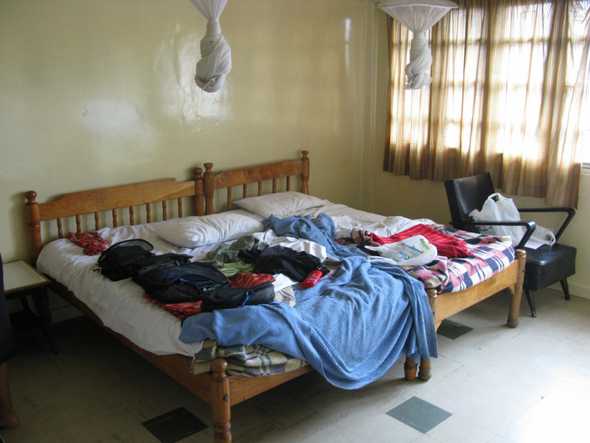 In Nairobi we took a taxi to a hotel the book likes. Our taxi driver had to stop and get out of the car to ask for directions twice, and on top of that the car stalled several times. Despite all this he asked for a tip (which he did not get). Tipping in Kenya is not as for-granted as it is at home. In general I've noticed that if a cab has a radio, then the rest of the car is in workable shape. If it's got a fancy radio then it's probably in good shape. We checked into the Terminal Hotel. As always, Kenya's tourism is in bad shape right now which means we can walk in anywhere and get a room. It was pretty nice, with a hot shower in the morning and evening. The noise was quite reasonable considering that Nairobi is a huge city. It also had a nice supermarket in the building across the street, which was convenient for water and snacks.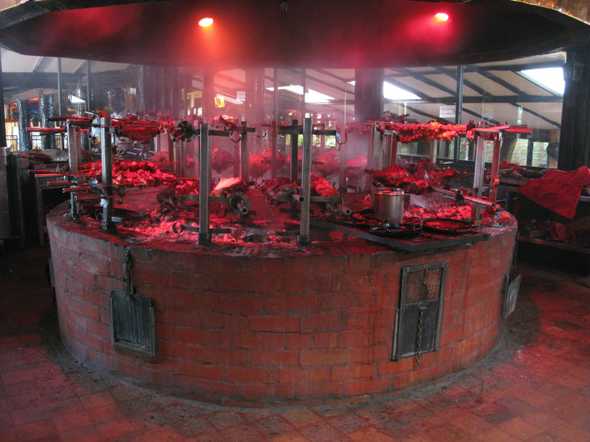 We were only in Nairobi for one whole day, which we used for Internet and eating. We also wandered the downtown area a bit. All this time we felt perfectly safe. Nairobi has the reputation of being the most dangerous city in Africa, but when we were out it was busy. Even where we went for dinner the first night was well lit outside and we felt fine walking back. But eating. My first good food was the white forest cake at the coffee shop across from the hotel. I'd been disappointed with dessert the last night, but all was forgotten. Very nice cake.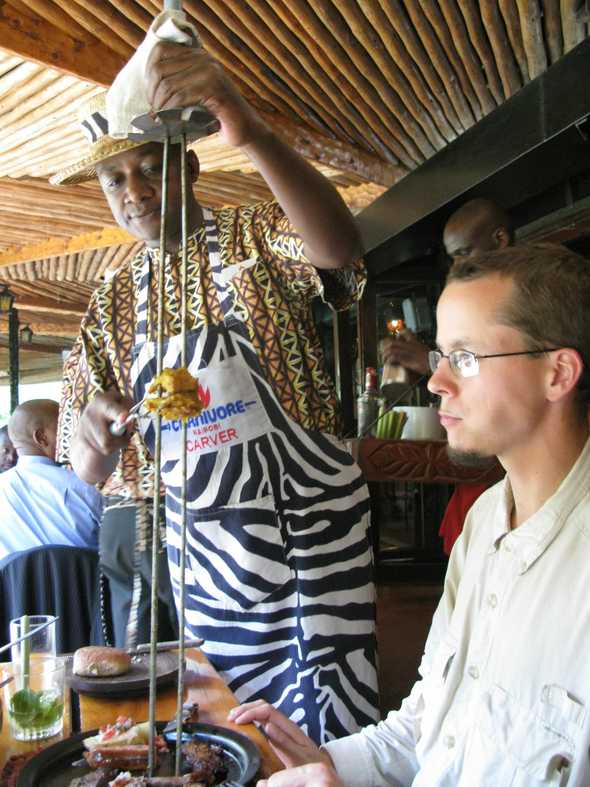 Then for lunch we went to Carnivore, which has all-you-can-eat meat. At one time they offered all kinds of exotic meats (zebra, giraffe) but that is now illegal in Kenya. In the restaurant everybody got the same meal. We were first given soup and bread. Then for the rest of the meal, waiters just wandered around constantly putting more meat on our plate. They wandered around with big skewers, and cut the meat straight from the skewer onto our plates. We also had a big thing of garnishes and sauces to have with the meat, and a token salad. So we tasted: lamb, beef, pork spare ribs, ostrich meatballs, and crocodile. I enjoyed all of it. Finally we got a very tasty dessert as well. All the food was included in the price. Separately we also each got a dawa cocktail, which is vodka, lime, and honey. When we were there the place felt nice and full, which gave it a nice atmosphere. It was also the most expensive meal of our trip so far. All this came to less than \$70, and afterwards we were so full that we just had a light snack for dinner.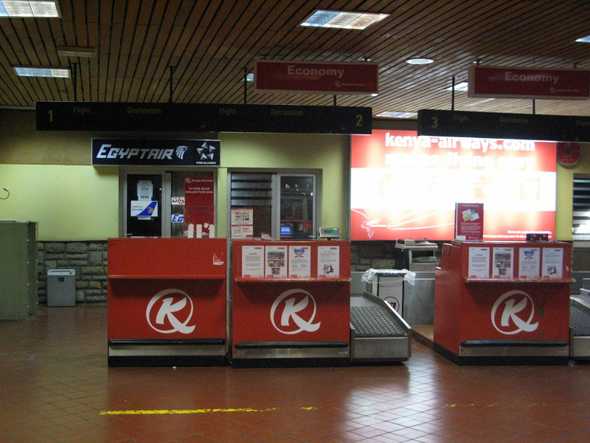 Back at our hotel we went to bed a bit early, and woke up about 1am to get to the airport. At 1:30am we were picked up by Milton, a cab driver, and we got to the airport just before 2am. Our flight didn't leave 'til 5:15am, but we didn't want to show up late just to discover that we really did have to be there 3 hours before. It turns out there was no reason to be there that early. The check-in counter wasn't even open when we arrived. So we sat around, checked in, went through emigration, waited a long time in a deserted tax-free mall, and finally got on our plane. The only advantage to being the first flight of the day was that it left exactly on time.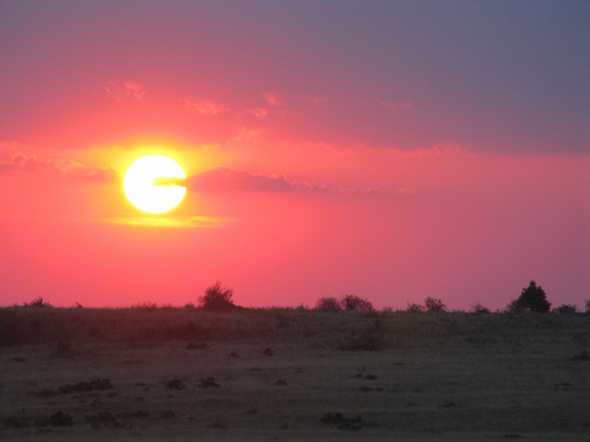 Goodbye Kenya, we had a great time. At least half the people we talked to in Kenya asked that we tell everybody it was great, and it was, so here you go: Kenya is a great country to visit. Come and spend your money there, see some great wildlife, relax on a beach, see some old culture, maybe climb a mountain, whatever floats your boat.
Workouts: 9/16, 5 rounds of 4 clap push-ups, 10 jumping squats. 26s, 31s, 55s, 60s, 40s for 3:33. Quick but really kills you.