Typed up: on Egypt Air flight to Cairo Posted from: Pension Zamalek in Cairo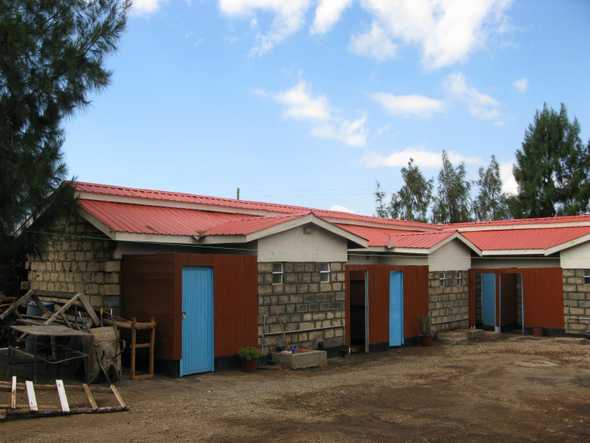 On September 5, we woke up at Mt. Longonot. We had a nice breakfast. (The difference between a so-so and a nice complementary breakfast is 1 egg in the omelette, it seems.) Dominic, the manager of the place, personally walked us to the main stand a couple of hundred meters away. He even bought our tickets, saving us one haggling experience. The road to Naivasha was great, and it was only half an hour.
From Naivasha we got a matatu to Fisherman's Camp, which was another 30 minutes or so. On the way I chatted with the conductor, Peter, about what we might see in Hell's Gate. The real interesting thing was how Peter would occasionally duck into the back of the matatu, not to collect money or something, but to hide from the police. Kenya law only allows 1 person per seat in these buses, and this law is routinely broken.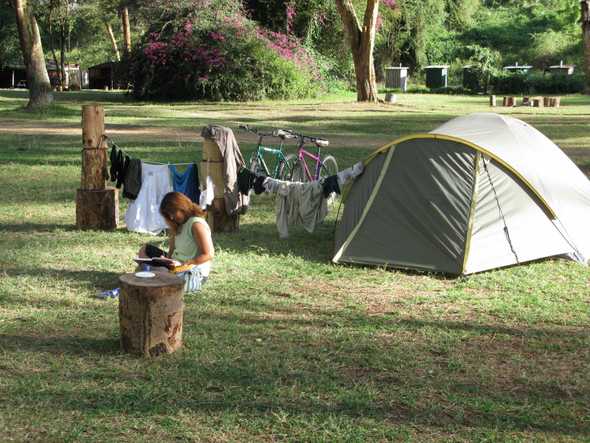 Fisherman's Camp (recommended to us by "Big" Sammy) was very nice. We rented a tent and mattresses, and we finally got some real use out of that big, heavy blanket we bought way back in Arusha. The tent was pitched on the large lawn, which had several large acacia trees. At first we didn't recognize them because they are so much bigger than the ones in the plains. Amazing what a little water will do. There were also hot (wood fire) showers, a nice restaurant, and just nice amenities all around.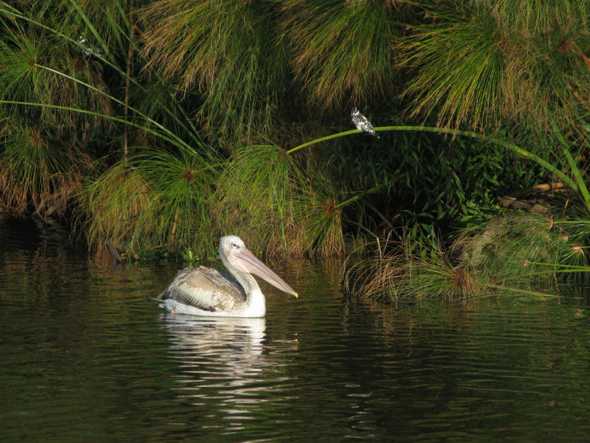 The campsite is right on the water, and we walked out on the little dock to view white pelicans, 2 kinds of kingfisher, some egrets and occasional other birds. There were also 2 monkey troops. One of vervet monkeys, which enjoyed getting into any tent that isn't completely closed. The other was a group of colobus monkeys, which have a very cool, kind of croaking call in the early morning.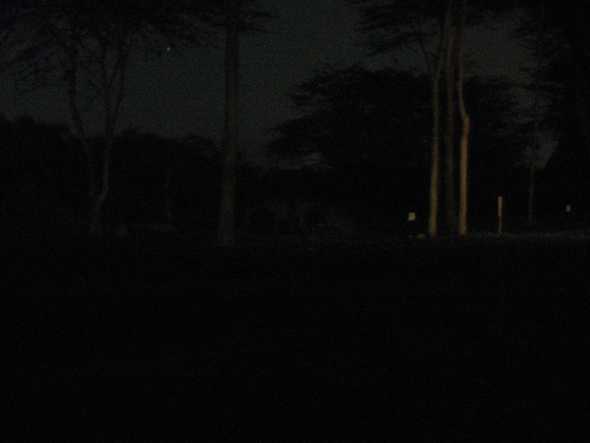 Finally every night hippos come out of the water to graze on the nice lawn. To keep them away from the tents an electric fence is installed, but a few nights ago that was not enough. All the guests had to hide out in the restaurant while the Kenyan Wildlife Service came to chase the animal back where it belonged. But it wasn't that exciting for us. Around 8 pm we wandered over to the flashlights, where the security guard would use his super powerful beam to illuminate the hippos. There were 3 adults and 1 baby, and the guard was still a bit nervous from the recent experience. So we didn't get to see them very much or very close. You can try to find them in the picture, but I sure can't.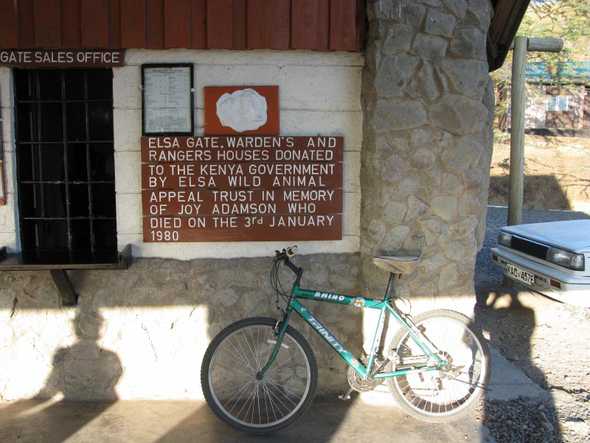 The main reason to visit this place was to go to Hell's Gate. This is the only national park in Kenya where you're not limited to a car because there are very few big cats. So we did the tourist thing and rented mediocre mountain bikes at the campsite. On Saturday we got up real early, had a minimal breakfast of some fruit, and biked the 5 km to the entrance. We got to the park at about 7am, and I think we were the first people there that day.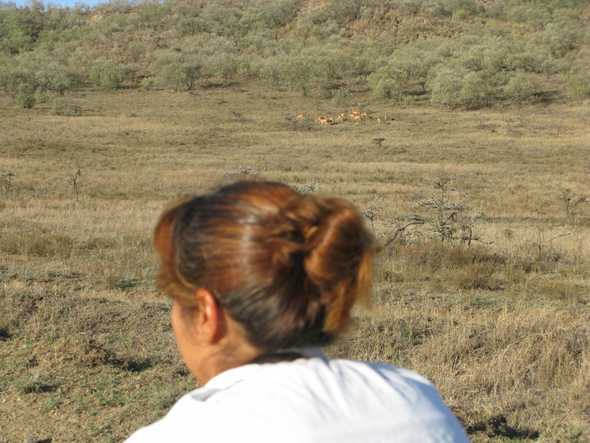 In the park, we saw some gazelle pretty early on, as well as some topi and other grazers. Then we got to a junction which gave us the choice of doing the Buffalo Circuit (14 km) or just to go straight to the gorge, which is the main attraction. Being fit, ambitious tourists we chose (over Danielle's objections) the Buffalo Circuit. It started out nice, just slightly up hill. We saw a few animals, and the dirt road we were on was littered with hoof tracks. As the road turned up into some hills, the surroundings went from grassland to brush, and we encountered good sized lumps of obsidian.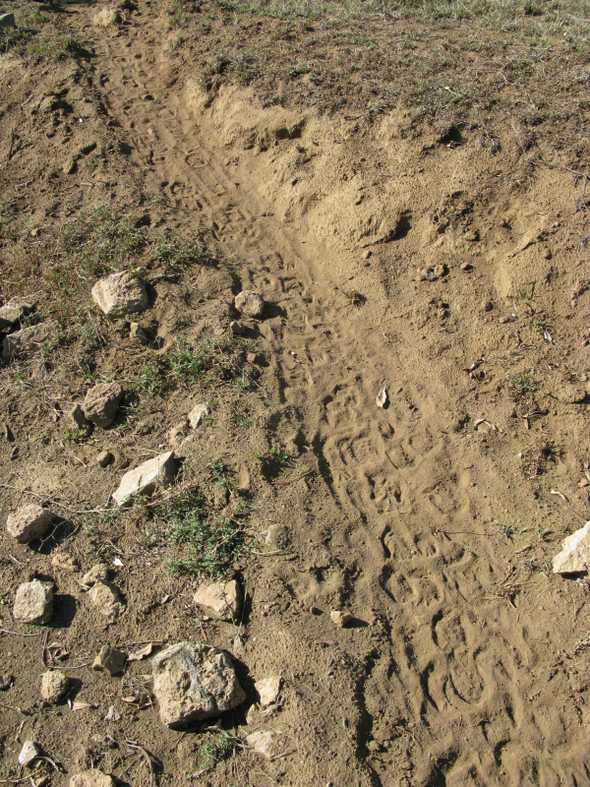 It kept going up, and actually it kept going up for quite a while. Then we started to doubt our decision, but stubbornly we figured it must lead to some good view point. We did get some decent views of Lake Naivasha, but nothing that I would call a view point. Then time was really getting on, we were getting off our bikes for some climbs and some sand pits, and of course it always felt like the top was right around the corner. Danielle was getting saddle sore, but we kept at it.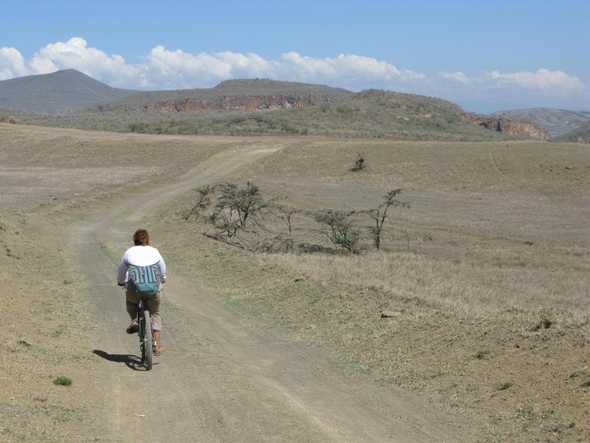 Eventually, I decided to go ahead to the next rise and then decide whether to continue or turn back. I'm fairly certain that the rise I was on was in fact the top, but I saw no viewpoint. The road appeared to turn away from the gorge to the other side of the hills, so we decided to turn around. Going down was much faster than going up, but what it gave us in terms of free speed it made up for with a little terror. About 3 hours after we first left there, we were back at the initial junction.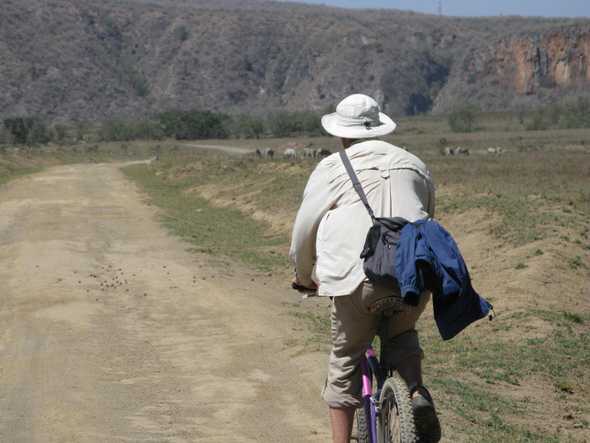 We were not feeling great, but decided we had to go to the gorge since that is, in fact, the main attraction. Danielle was forced to take several walking breaks, but we made it. We also saw many animals. While we'd seen some (mainly zebras) on the buffalo circuit, the grassland next to the main road are almost teeming with animals. In addition to what we'd already seen we saw baboons, wart hogs, but mainly just more. We missed seeing any giraffes, though.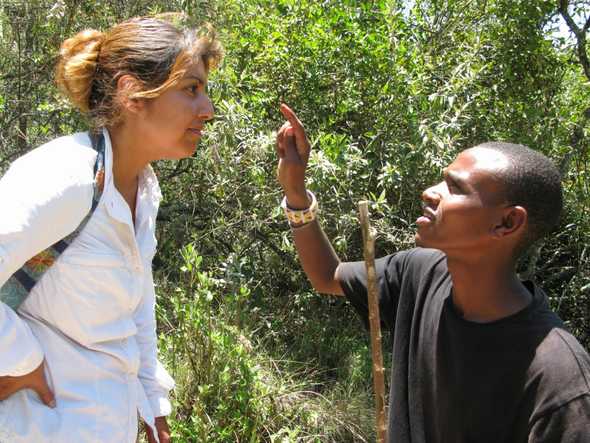 At the gorge you can take one of 3 guided tours. (You can go self-guided, but we'd spoken to some people who recommended against that.) Because we were already quite tired, and it was getting pretty hot, we opted for the 1 hour one. Our guide, Joe, was a Masai from a local village. He was 1 of 5 chosen by the tribe elders to make money for the village in this way.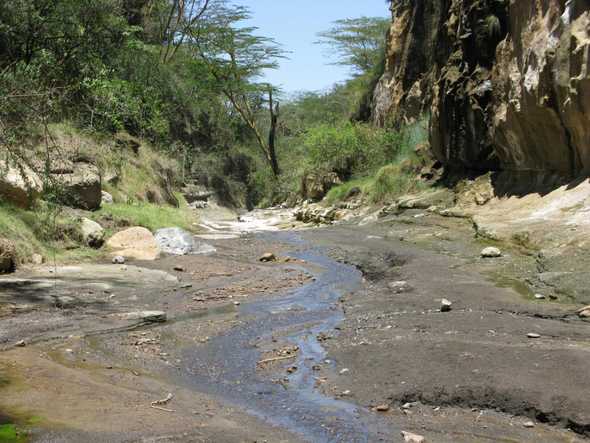 The gorge itself was very nice. It reminds me a little bit of Zion, but on a smaller scale. Unlike Zion, the walls are not smooth but have a layering to them. Also, there are many springs along the way, each a different temperature. The coldest one was regular cold water, and the warmest one was boiling. The water seeps from Lake Naivasha and then passes by a shallow lava flow to get up to temperature. In a few places it was like we walked through a warm rain as water splashed off a small waterfall above us. Also interesting were the algae. You could identify the temperature of the water by looking at the color of the alga growing in that water.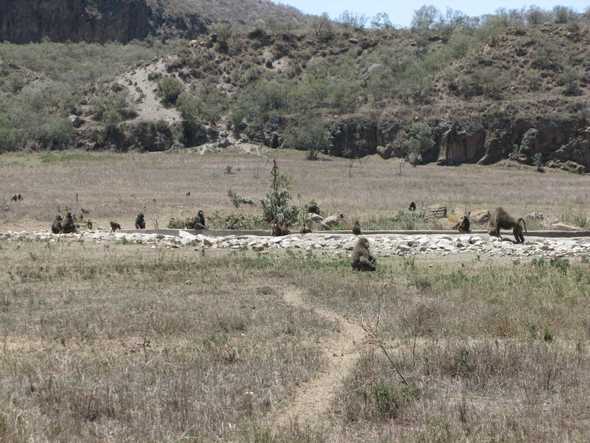 After our walk and a rest break, we tackle the ride home. Walking hasn't helped Danielle's sore butt, but mostly she suffers through it and we just ride on. Neither of us is really having fun anymore. It's 1 pm, we're about 1 degree south of the equator, and there are no clouds. We had a few pieces of fruit for lunch, and barely any water. It was bad enough that we started checking for signs of heat stroke (negative). But we made it to the gate. Then made it to the road, where somebody was selling water. Then the way back to camp seemed shorter than on the way in, which was a major bonus. We got there at 2:40 in the afternoon, about 8 hours after we'd left. I figure we rode about 38 kilometers (10 of which on a paved road), and gained a few thousand feet.
We were totally wiped out, and the afternoon we did nothing but sat in the restaurant, drank water, and ate. Aside from a headache and sunburned hands I came out OK, but Danielle was quite sore for another day or so. Hell's Gate is a great park, but if you don't cycle regularly I recommend you get there early, bike straight to the gorge, and do a longer walk there than we had the energy for. You can always do more biking later if it turns out you have buns of steel.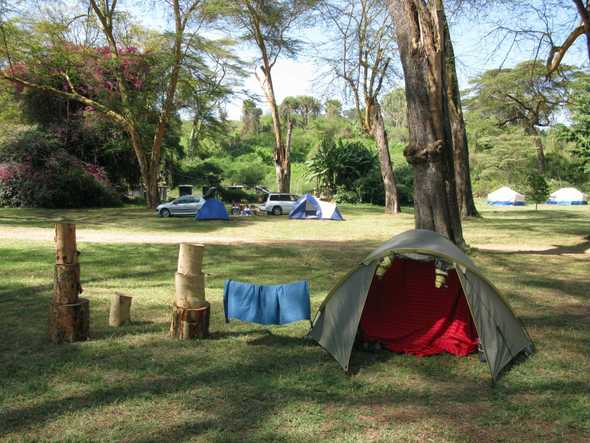 Then on Sunday we decided to move on to Nakuru. The first step was to take a matatu back to Naivasha. As always, one stopped for us pretty much the instant we got to the road. I really love the African matatus, even if they're not the most comfortable or safest methods of transportation. You just can't beat the convenience and price. The one that stopped for us actually picked us up when it was going in the wrong direction, because it was only a few minutes from its turn-around point. We probably could've been faster by waiting more, but we didn't feel like arguing. Also, we got the best seats in the van this way (1st or 2nd row of passenger seating) and our packs went in the trunk.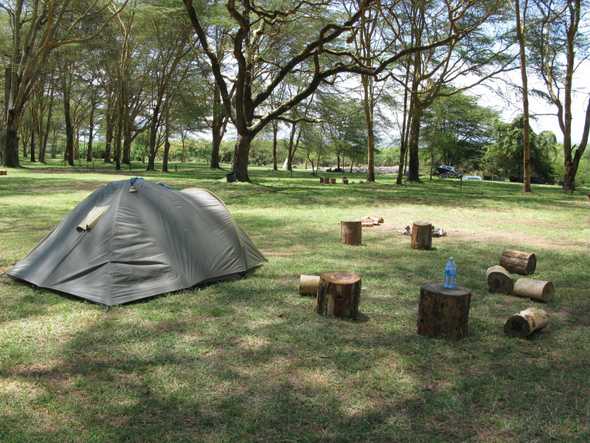 Workouts… 9/5 lifted each lying down log overhead. Deadlifted the standing logs, except for the one with the water bottle on it because it was too heavy. 9/6 death ride. Not much of a CrossFit workout, but definitely stressed some of my body systems. It just wasn't the muscles or the oxygen delivery ones.