Typed up: at Tas Hotel in Nakuru Posted from: Petmary Internet Cafe in Nakuru
On 8/31 we traveled back to Mombasa. From Coral Cove Cottages we took a cab to the road, and just a minute or two later we were on board a matatu back to the ferry in Mombasa. We just missed the ferry, but they run about every 5-10 minutes so that's no big deal. Or so we thought. The next ferry left with just a gasoline truck on it, and then inexplicably no more ferries came. More people lined up behind us, and it got pretty crowded in the waiting area. It was hot, and there was no shade. Finally a giant cargo ship went by, and ferry service resumed. We waited about 45 minutes. So long, in fact that we heard the sidewalk preacher's entire spiel and he was quiet for a while.
Across the ferry we took another matatu to downtown, and went back to the New Palm Tree Hotel where we'd stayed before. In the afternoon we took it easy. We just bought a bus ticket to Nairobi, used some Internet, and spent some time watching National Geographic on the TV in our room. There was working AC and we used it to keep the mosquitos out at night.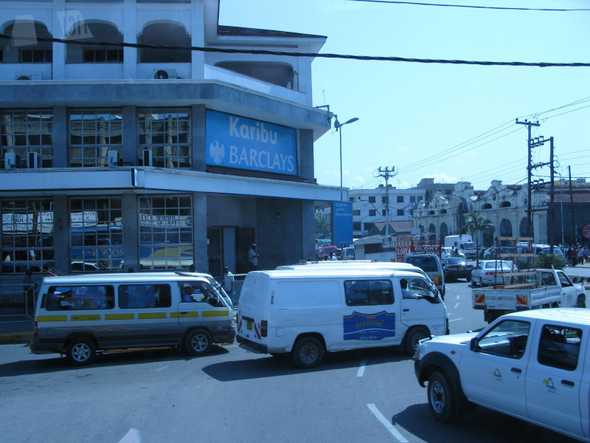 The next day we had to go out for breakfast because the hotel was being renovated and the kitchen was closed. (It was also the start of Ramadan, no coincidence.) It was actually very easy to find a small place that sold us various breakfast items a la carte. Then we're off to the Crown bus office, where the bus leaves pretty much on time. There's a break at a place where plenty of fast food lunch items are for sale, and the roads are good until not too far away from Nairobi. There's lots of road work there, and we are frequently forced onto a parallel dirt road. We arrived at the city's edge around 6pm, but it took a full hour before we got to the bus station due to bad rush hour traffic.
At the bus station we were met by "Little" Sammy who organized our safari to Masai Mara, and Martin who drove us to the Bush Camp hotel. We ate OK dinner, and went pretty much straight to bed. I did chat a little bit with a Dutchman and an Australian who had taken local buses all the way from South Afrika.