Typed up: at Coral Cove Cottages in Tiwi Beach Posted from: Internet cafe in Mombasa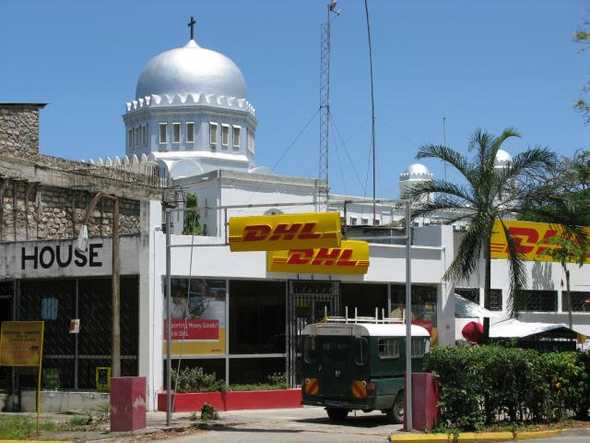 Mombasa is Kenya's second largest city, with about 2 million people. It's on the coast, and the city center is on a peninsula. We spend all our time on this peninsula. When we were coming here we were a bit worried, because all the guide books etc. warn about crime (from scams to mugging). When we were there, we felt perfectly safe. Like anywhere, if you stick to the busy streets things seem to be fine. But not like anywhere in Africa we've been, people left us pretty much alone. We were not constantly hassled to buy art, tours, etc. This alone made us enjoy Mombasa. We spent our days wandering around on foot, taking naps, and visiting the Internet cafe.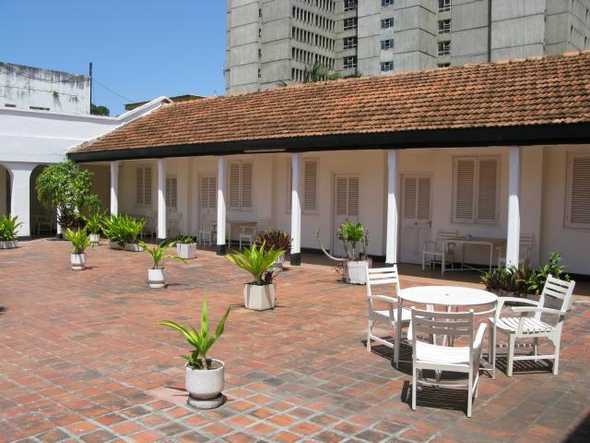 We stayed at the New Palm Tree Hotel. It was a little pricier than we would have liked, but we got a double room, private facilities, a TV that wasn't plugged in, a refrigerator we didn't use, and a fan. We did not have hot water. All the rooms in the hotel are on the second floor, surrounding a large courtyard. The center of the courtyard is taken up by a huge skylight down to the main lobby. The other guests seemed to be about half Africans and half other tourists. We didn't talk to any of them, except for Shakir, our neighbor. He's visited Mombasa many times and keeps coming back. With his bug spray we killed all the bugs in our room one night, but I felt it involved a slightly scary amount of chemicals.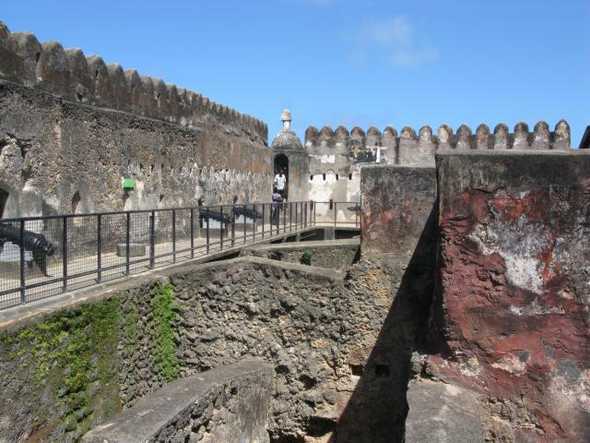 The main tourist attraction in Mombasa is Fort Jesus, and we visited it. The fort was build 1593-1596 by the Portuguese, who held onto it for 200 years before Omani Arabs kicked them out after a 33-month siege. Entry into the fort includes a personal tour, and our tour guide cleverly sold us an extra tour of the surrounding old town and a few other sites. The fort is quite cool, with some nice old architecture in pretty good shape. We also got our first real glimpse of the Indian Ocean. We'd seen the water in the bay in Tanga, but it's not the same without waves which we saw now.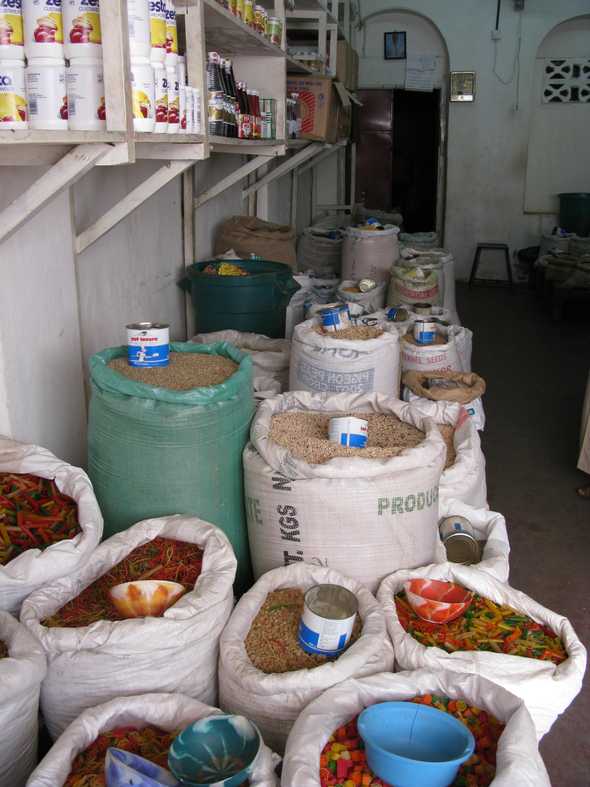 There were quite a few interesting lizards in the fort as well. And there was a collection of old artifacts, several kinds of cannons used by different people, and Dunga, our guide, explained to us the history of the fort and a bit of the history of Kenya. Then we toured old town with him, which consists of narrow streets, and mostly falling apart buildings from a really long time ago. There is still some of the old architecture left, mostly in the elaborate doors. Old town borders a market area, and then we crossed into new town.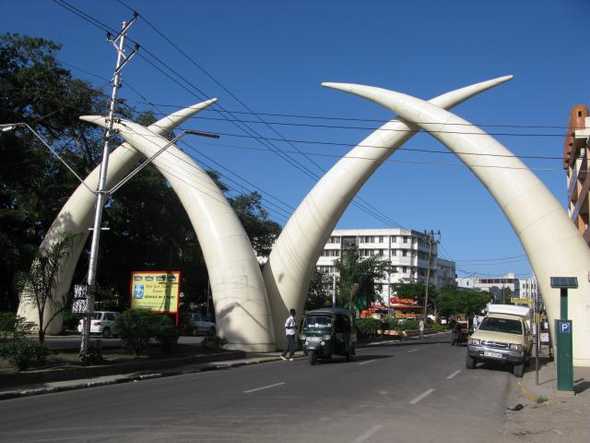 There's not much to say about new town. It's a bustling area. We stopped at a Hindu (I think) temple, which had some really cool painting/sculpture combinations. We also visited the giant elephant tusks, whose construction somehow relates to saving of the elephants. The part of the tour after the market mostly felt like a lot of walking, though. Then time came to pay he thought we'd agreed on 2500 per person, and we thought it was 2500 total. (I still don't quite understand why small group guides charge per person.) Anyway, we compromised and that was the end of official sight seeing for us.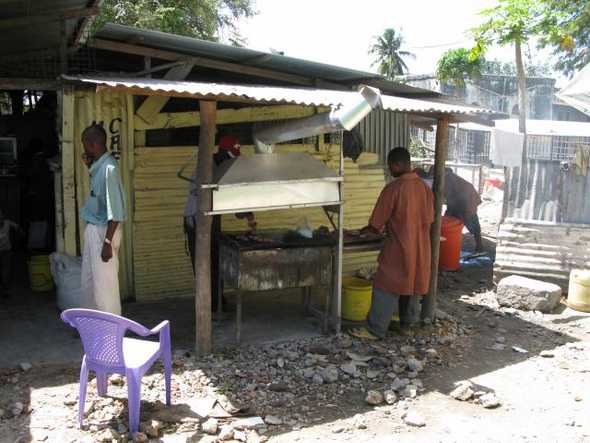 We've been a lot more adventurous regarding the restaurants we ate at, except for the first night. That night we went to a nearby Chinese restaurant that our guidebook said was good. It was good, but also expensive. Just coming from Tanzania 2000 shillings sounded pretty good, but while 1 USD is 1170 Tanzanian shillings, it's only 67 Kenyan shillings. Since then, we've eaten almost exclusively at places which didn't have any tourists. The most adventurous was a place down a dirt aisle off a main road. It was actually a lot like a restaurant at home. The main difference were that we didn't have a private table and there was only a verbal menu. But it was cheap, and the food was good, traditional African food. We ate at the hotel restaurant once, which wasn't as good. And we ate at several other small "eateries."
Mombasa, and presumably most of Kenya, has fast Internet so I managed to upload all the pictures taken so far (small size only). But even Kenya-Internet was not good enough to book a flight with Egypt Air. Out of desperation we decided to go to a travel agent, Dial-A-Tour, which were half a block from our hotel. That was a great move. Not only could they book the same Egypt Air flight we wanted, for the same price, they even suggested we try a round trip ticket because it might be cheaper. That trick saved us another \$20 per ticket or so. We might have to use travel agents more often. I do like sending money into a small local business instead of faceless online services.
Workouts: I'm going to get back on this horse, once every other day this time. 8/25 I started 15 min AMRAP of: 20 squats, 10 push ups, 15 lunges, 5 pull ups. After 5 rounds and 15 lunges, 1:20 left, I gave up because I'd ripped up my pinky on the rusty stairs I'd been doing pull ups on. Then Danielle put some tea tree oil on my rip to sterilize it. There was at least another round worth of pain in those few drops.