Typed up: at Ocean Breeze Hotel in Tanga Posted from: Internet cafe in Mombasa, Kenya
Right as we got off the bus in Lushoto, we were hounded by 3 guys trying to sell us various services. Luckily we'd seen the Tumaini Hotel from the bus, and we just walked the short distance there. We checked in, and were given a suite with a double bed and a sitting room, as well as bathroom. This was more than I'd wanted, and all in all I was pretty fed up with people trying to overcharge us, sell us stuff, not mention cheaper options, etc. When it took half an hour to get a cup of soup at the restaurant that didn't make things any better.
But eventually I mellowed out. There are actually very few people in Lushoto who bug you on the street. The next night we changed to a smaller, cheaper room. And the restaurant is only slow because they make everything from scratch. The food is both cheap and good. I guess it's true what they say: fast, cheap, good, pick 2. The hotel has a nice garden courtyard, an adjoining Internet cafe, it's close to the market, and we met several people in the restaurant.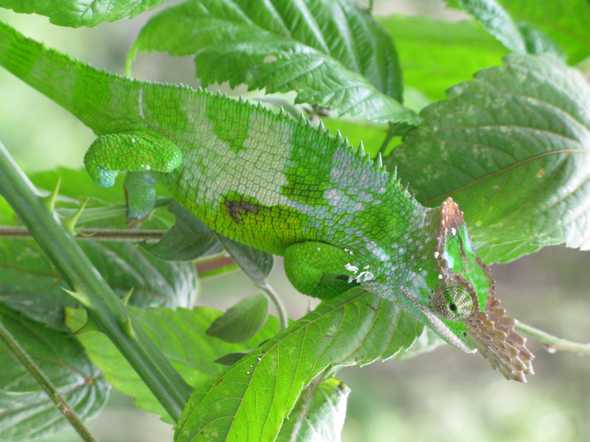 Lushoto has been the most relaxing place we've been to, and we stayed for 5 nights. It is a major town in the Usambara Mountains. The mountains themselves are like an island in the surrounding plains, which means there are a lot of endemic species here. Like 7 different species of chameleon. It's the mountains, so it's a lot cooler than on the plains. The days were usually overcast and around 70. The nights got quite cold, and Danielle actually used the blanket we bought in Arusha.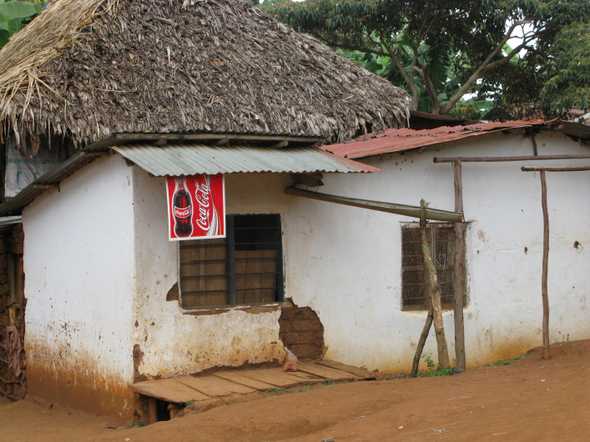 The main advertised activity for the Usambara Mountains is hiking. I wouldn't say we hiked much, but we did some kind of walk every day. The first day we were joined by Jennifer from NYC on self-guided walk to Irente viewpoint. We just stuck to the road, and made it up without any difficulty. It was a very relaxing day, not being hounded by touts, and not having any kind of schedule to worry about. Many pictures were taken, and many "jambos" were exchanged with the locals. A few of the kids asked for pens or money, but by and large we were treated like anybody else. (The toddlers yelling jambo repeatedly and at the top of their lungs were very cute, though.) We also got to see some more of local dwellings, which seem to be about half sticks-and-mud, and half home-made brick. I get the impression that everybody builds there own house, regardless of which technique they use.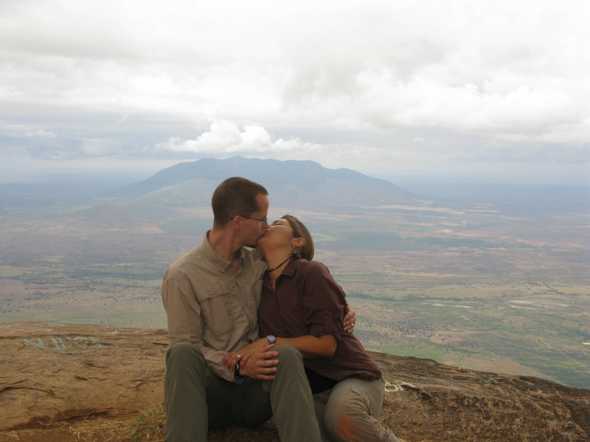 The viewpoint itself is very impressive. I didn't crawl right to the edge, but it does go down very steep for maybe 2000 feet. Down below you can see some small farms, and further away you can see Mombo and some more industrial farm fields. To the side there are even taller sheer faces, lots of green. Some day you'll be able to see the pictures (and even later, you'll be able to see the movie I took).
The next day we went on a guided tour to a waterfall. It was great to walk on smaller paths but Bacardi, our guide from the Friends of Usambara, did not make it a relaxing experience. Some of the time he really was a great guide, answering all our questions about the local flora and fauna, and pointing out things. But for a lot of the walk, it felt like we were just tagging along on his personally walk. He'd be 20 yards ahead, keeping a faster pace than we'd like. He also sent us ahead a few times; once when he was giving the local kids our left-over lunch, and once when he was waiting for another kid to get him an ear of corn for dinner. And then we stopped at somebody's house, where he had a 5-minute conversation in Swahili while we stood around waiting. But we did see a few chameleons. The waterfall was in a pretty spot, and we did learn quite a bit about local life. Overall though we decided it was too expensive for what we got, and we did not do another tour with this company.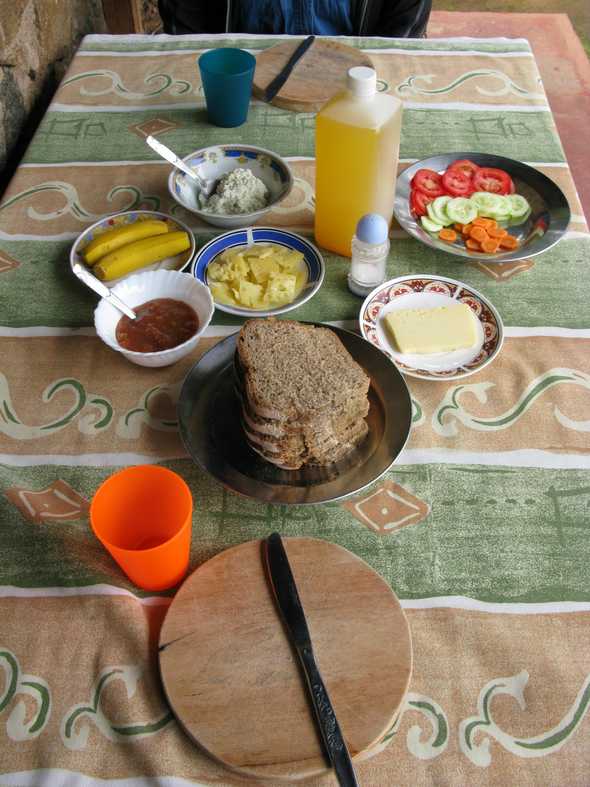 Instead we walked south on the road one day, joined once again by Jennifer. Then on our last full day we walked up to Irente farm for a great lunch there. We feasted on whole wheat bread, quark, jam, butter, and cheese, all of which were made right there at the farm. On the way back we even tried a slightly different path which (as we'd assumed) also brought us back to Lushoto.
We've been getting a bit braver with food. The books say to only eat produce if it's cooked or you peeled it yourself. We now always eat the little bits of vegetables that are routinely served with a meal. Often they're thinly sliced bell pepper and tomato. On our guided tour we ate vegetables that were, before our very eyes, washed in the same stream that further up we'd seen people doing laundry in and, probably worse, had livestock grazing in the area. Then we'd also bought kumquats from the market and ate a pair without any washing at all. (The remaining ones we did wash pretty well.) They tasted very nice and tart, and were probably the best food deal we've had. In my stay there I also ate quite a few of the little fried things, which reminded me a lot of poffertjes but not nearly as sweet. All this is sold by women at the market in small stalls. Often they'll only sell one or two different things. Another popular item they sell is charcoal, but I didn't taste any of that.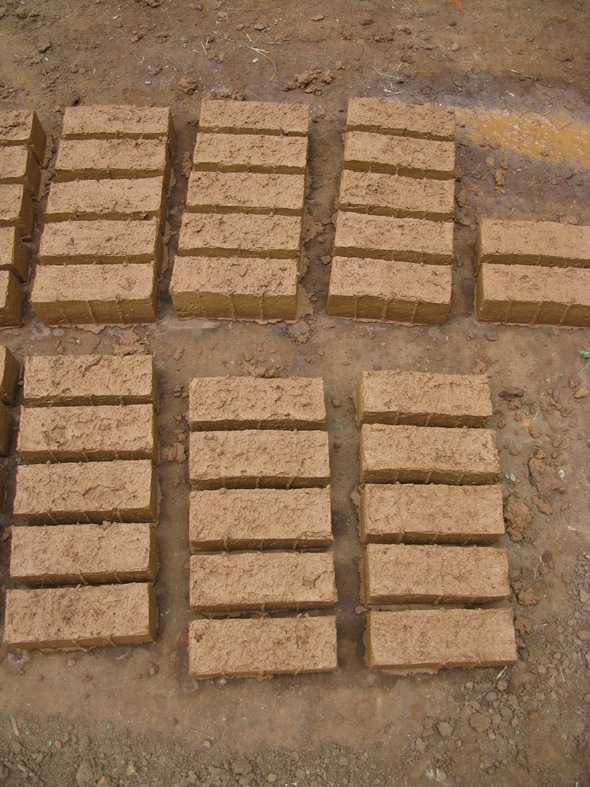 You'll notice I took a lot of pictures of bricks. Partly they're quite common, but more importantly Danielle and I are reading a "brick book" she bought before we left on our trip. It describes how the curator of a museum of ancient brick travels the world to collect specimens for the museum. But it has me a lot more interested in brick, and everywhere you look in Tanzania, somebody is making them. On some buildings you can even see that each brick is marked with the maker's initials. On our last day I saw a few smoke stacks where I believe they're firing their bricks. I haven't seen a brick tour yet, but if I do I'll be jumping on it.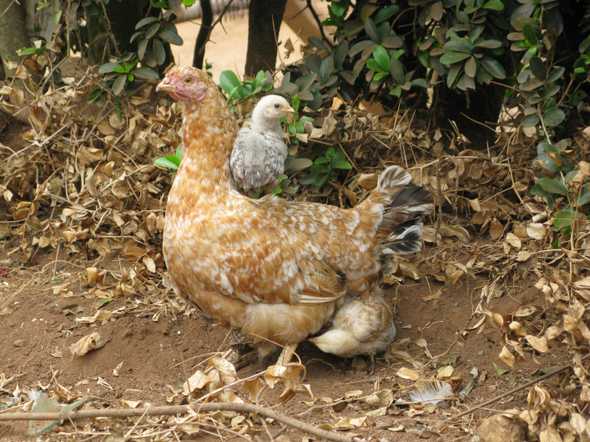 Another thing I enjoyed seeing is the local farm animals. Free range chickens are everywhere, and the corresponding roosters make themselves heard every morning (and throughout the day). You'll even see the occasional chick here and there. It's definitely neat to see chickens foraging for insects, like they were meant to. Most cows, on the other hand, are kept in very small pens and are fed elephant grass daily. You do see the occasional herd, but it appears to be not the rule. Goats are free range, and quite common. Our best goat moment came when a goat ran across the street, and scrambled under the barbed wire fence (the kind you use to keep goats in/out) to join the other goats. There are some dogs as well, although you never see anybody playing with them or taking them for walks. Apparently the main reason to keep a dog is that it keeps the monkeys (which we only saw a few of in one place) away.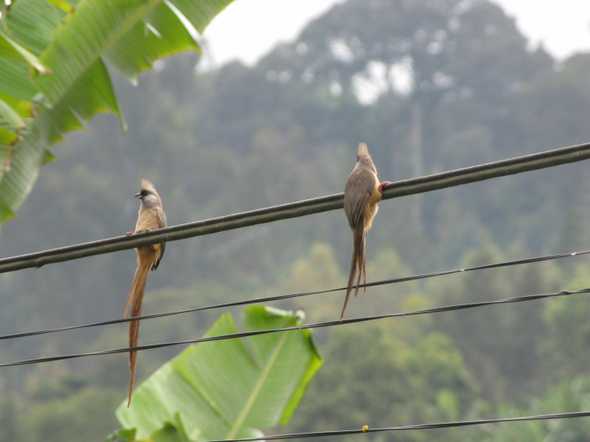 We even saw some interesting wildlife at our hotel. One day, walking to breakfast, one of the gardeners was sweeping up a huge pile of dead bees. We never quite figured out what the story was, but we assume that overnight a whole colony of bees needed to move, and had decided some hole in our hotel was a good place. Unfortunately not all the bees were dead, and for days a few stragglers remained. One morning I even got bit by one on my ankle. It hurt pretty bad, but after about an hour and some home remedies based on our 1st aid book, it had pretty much gone away. We also saw half a dozen sun birds right outside our private patio on the clothes lines. They're small birds with a big mohawk and an even bigger tail. They're quite chatty, and at least sometimes feed by hanging off a plant and eating its flowers. At night we got to listen to a chorus of large frogs and crickets.
Overall, we enjoyed our stay in Lushoto. It was nice to see life in a small village. It was great to have a daily routine, which really helped us relax a bit. It definitely gave us some needed energy for the next leg of our trip, which is to Mombasa, Kenya.