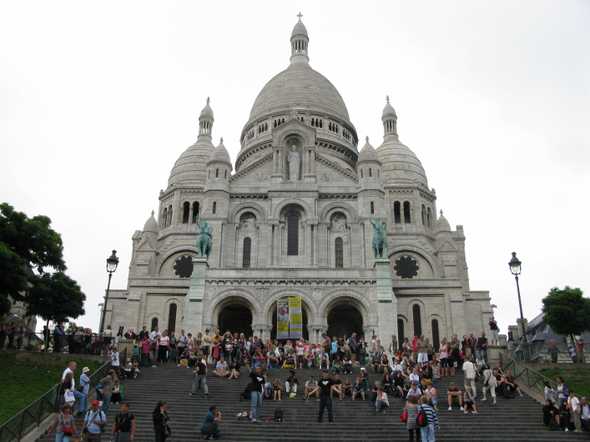 In Paris we stayed at the Hotel le Montclair, which is really a hostel, but where we had organized a private room anyway. The room was small but nice. We had our own sink, but a bathroom down the hall. We also had a big window which let in lots of cool air, some traffic noise, and a partial view of the Sacré Coeur. (You'd actually only get that if you stick your head out the window and look left.) Otherwise it was fine. Nothing particularly good or bad. It was, like everything else in Paris, expensive. But we've still got some last paycheck money sitting around, so we decided to let the price of things not get in our way for now.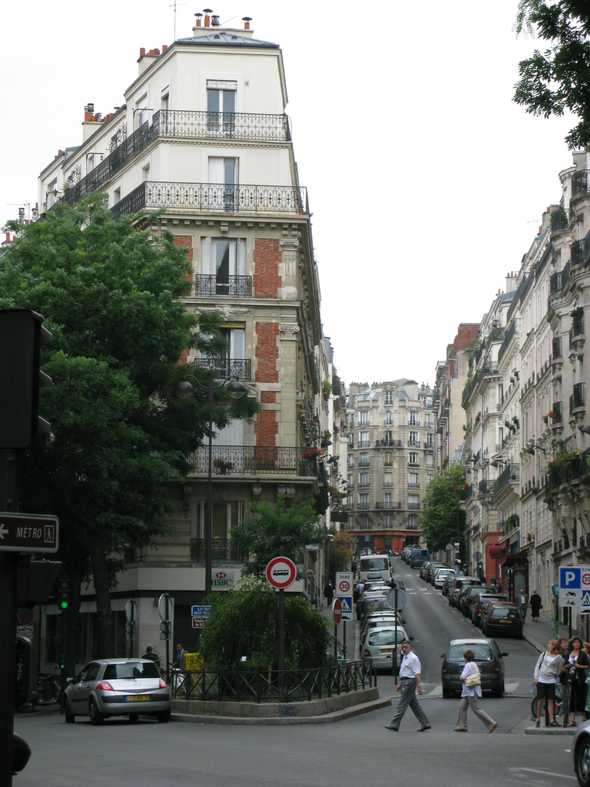 The hostel was just a few hundred yards from the Jules Joffrin metro stop, which is a wonderful place to be. The neighborhood feels busy, there are lots of little stores, bakeries, butchers, cafes, restaurants, and anything else we might want. Not just that, but a lot of people live in this neighborhood, too. It's not all tourists all the time like the Latin quarter.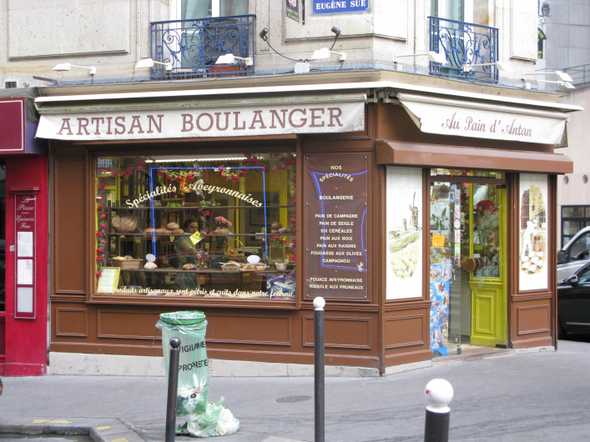 On our first night we discovered that dinner doesn't start 'til 7. (Red-eye with little sleep meant we would've liked it a little earlier than that.) However, it was worth the wait. In fact, that entire first day we probably had the best food of our stay here. A wonderful bakery sandwich (fresh bread, with some ham, cheese, lettuce, tomato, and horse-radish mayo) started us off, and we've been going back to that bakery ever since. (We also tried a few others, but they just weren't as good.)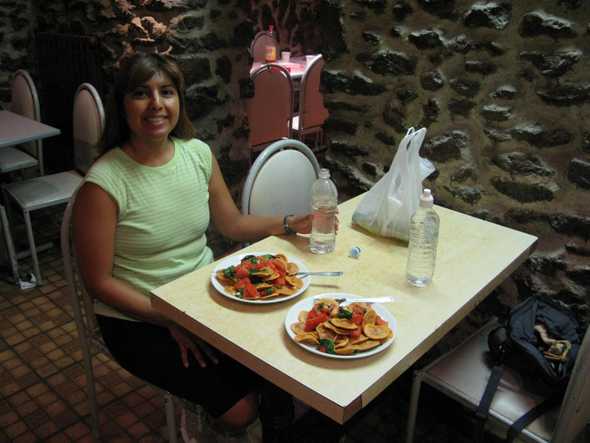 Just northwest of the metro station is a street thick with food stores, and we cooked some simple meals in the hostel. Our first cooked meal was made up of hand-made ravioli (bought, not made), tomatoes, basil, garlic, and olive oil. The next one we did was a stew of random things, centered around Toulouse sausage. (Turns out Toulouse sausage is not the best choice for that. It's all meat, so doesn't have a lot of the flavor I usually associate with sausages.) Our final dinner was a rotisserie chicken with assorted vegetables. The produce here is very nice, and available everywhere. You can't go a few blocks without encountering a convenience store, and they all sell produce. And not just 5 apples and some bananas, either. My most interesting food experience was to try foie gras. It tastes, unsurprisingly, somewhat like liver. But it's much less grainy, smoother, and not as strong. It's more like a liver pate.
The language wasn't really a problem. A lot of my high school French came back to me, and most of the people we interacted with (ie. the ones selling us something) spoke enough English that I didn't strictly need the French. The front desk people at our hostel all spoke English quite well, and that was the only people I really went outside the standard script with. Our funniest language moment was when Danielle wanted to order coffee with milk, started saying "cafe con …", and the waiter helpfully completed "cafe con leche" (which is Spanish, for those who don't keep up with world-wide coffee lingo). Almost everybody we saw was actually quite friendly. We didn't see really anything of the stereotypical rude Frenchman.
We also enjoyed people-watching at the cafe/brasserie on a busy street corner right by the metro. Somewhere there's a series of 10 pictures of everybody crossing the street in a short amount of time. It's interesting to see how different (or similar) people dress. Some Parisians definitely try to stand out more. Instead of plain jeans, they've got patterns. Or they wear a crazy hat. Or a weird belt. Or whatever. Some of the most interesting dress belonged to (presumably) African immigrants, who still go around in their native garb. I was also surprised at the relatively large amount of American shirts to be seen around. I even saw somebody sporting an "I heart NY" shirt.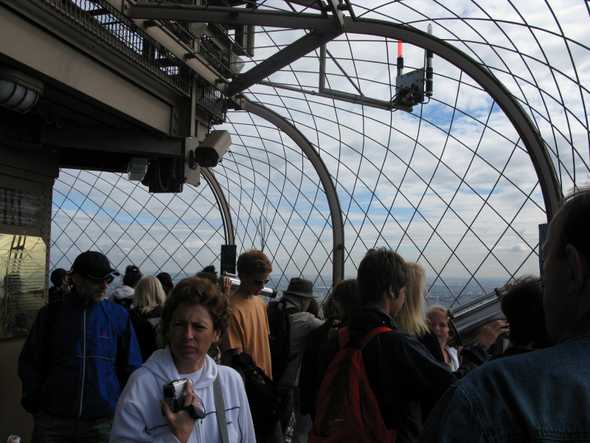 Most days we spent getting up late, eating, wandering around somewhere new, eating, relax at the hostel a little (which for me usually meant uploading pictures; if you hadn't noticed, you can often see what we're up to in between blog postings by checking if the album has changed), maybe some more wandering and eating, and then to bed. We only got up early twice. Once to beat the crowds at the Eiffel tower (it was merely busy when we arrived 20 minutes before opening), and once to see the inside of Notre Dame on our day of departure here.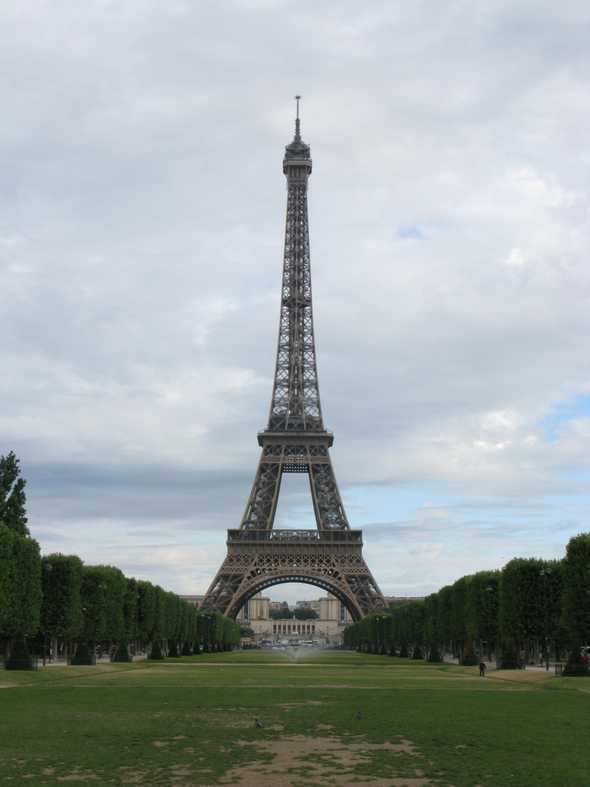 So we saw a bunch of sights. Not a ton. Just a bunch. We went up both the Arc de Triomphe and the Eiffel tower. The latter had better views, although looking down the Champs Elysees from the Arc was pretty cool. The neatest part about the Eiffel tower was the actual going up the elevator. You can see how you're getting higher and higher, and there really isn't a whole lot of actual building around you to keep it all up. It must be solid because it's been around for a while, but it's still a little scary.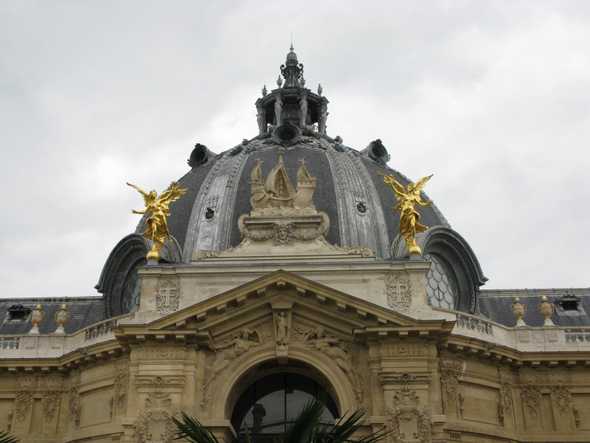 The best surprise sight was the Petit Palais, which we entered because our guidebook (Rick Steves' Paris, recommended) said to go in. It's free, and it is a really cool building to see from the inside. Some amazing mosaics, cool sculptures, gold leaf. There was also a cool old clock, which looked like monkeys would dance on the hour. The outside of the Notre Dame is also very pretty. It's impressive how much detail there is everywhere. Even the little sculptures over the side door are beautifully finished. The inside is nice, but not as neat.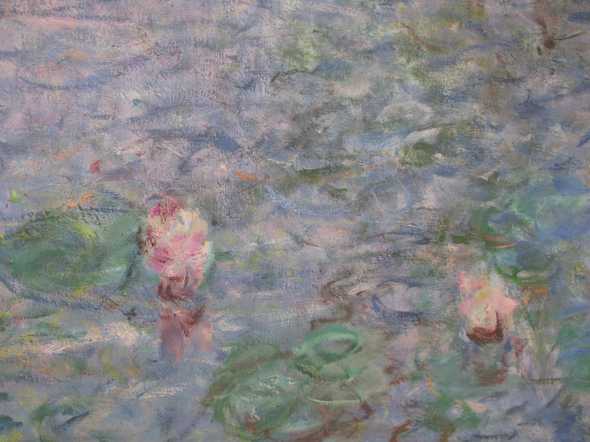 We decided to skip the Louvre, because it would mean lots of crowds, and I wouldn't enjoy it that much anyway. Instead we visited the Orangerie. Monet's water lily paintings are there, and they were very nice. They're over 50 feet long, which I never realized. There was also some other stuff there, and I dutifully looked at it all, but I didn't like it that much. What I did like was some of the art sold on the banks of the Seine in the Latin quarter. It was much more colorful (and not necessarily less stylized) than the stuff we saw in the museum. It was also much cheaper, but not cheap enough for me to buy any.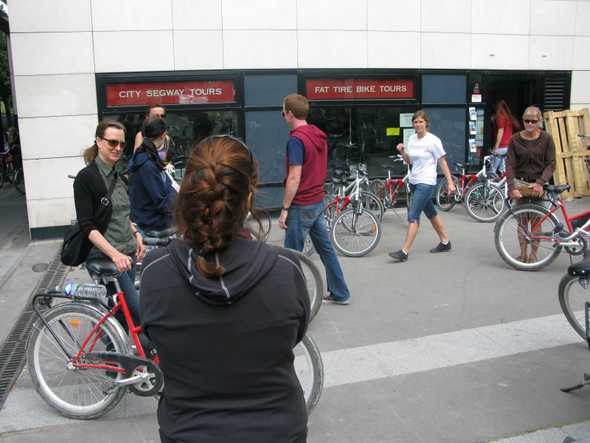 On Friday we did a guided tour with Fat Tire Bike Tours. They're an American company, and take you around the town on a bunch of Schwinn-looking bikes. It was a lot of fun, and a nice change from walking all the time. We went by most of the Champs-Elysees sights, along with some other ones. I think I even learned a thing or two (that I actually remember). On a related note, Paris has these neat rental bikes scattered all over the city. You get a special bike card, and you can take one out. Return it a few hours later, all for just a few euros. It seems like a great idea. We didn't get to try it, because it requires a French-issued credit card. After the bike tour we took a boat tour on the Seine (because we were there anyway) which was pleasant but not as fun.
On Saturday, a day late, I did a 12 minute Cindy workout. That means, as many rounds as possible in 12 minutes of: 5 pull ups (on the scaffolding in the courtyard of the hostel) 10 push ups 15 squats I managed 7 rounds, 5 pull ups, and 8 push ups. Not as good as last time, but good enough.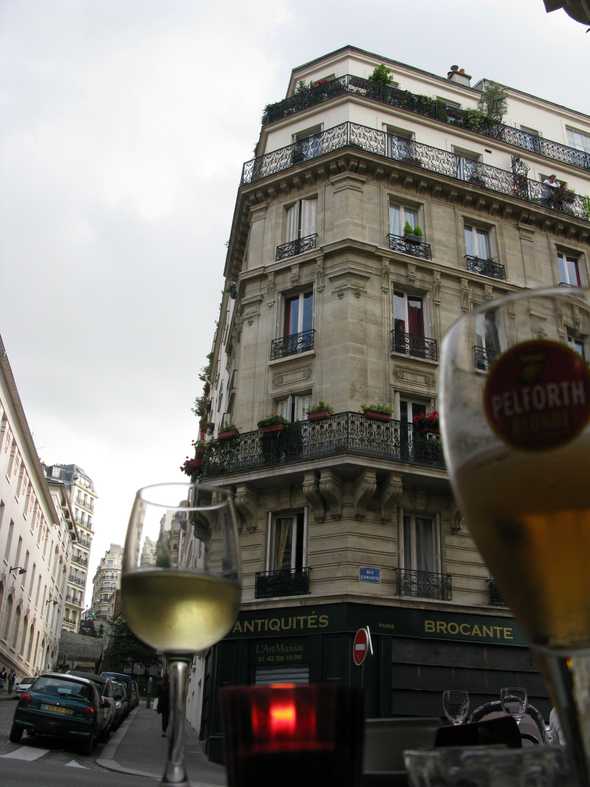 So that was Paris. I'm sure there's something I've forgotten. Ask questions if you're curious. It feels like we've both been here too short and too long. Too short because there's tons left to see. Too long because I'm pretty tired, and am looking forward to a few days in a sleepy town.