Once again, we went to Oregon for Danielle's spring break. Using the Trendwest points we had, we'd organized a stay at their resort in Gleneden Beach. We flew this time, because past experience has taught us that it's just too far to drive, even for a week's vacation. We flew out of Burbank, and boy is that ever better than flying out of LAX. On the way there we stopped at Monte Carlo Deli which was great. Big sandwiches, with lots of meat, oil, and vinegar, and 2 good salads on the side. We don't understand why anybody would go to the Subway half a block away. At the airport, the long term parking shuttle showed up right as we unpacked. We checked in at one of the electronic terminals (no line). Less than 10 minutes after we'd entered the terminal we were through security and waiting to board our plane.
In Portland the Dollar clerk convinced us to upgrade to the Prius over the cheapest car we'd had reserved. It's a fun car, but we didn't save enough money in gas to warrant the extra cost. I had fun with it though, with all the controls on the steering wheel and the fancy GUI to display everything. We managed to average right about 50 gallons per mile for the week, too, so at least we helped keep gas prices low for the rest of you.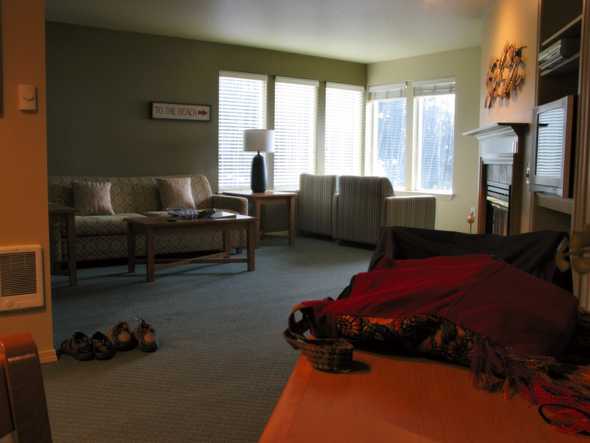 The resort we stayed at was nice. Our "condo" consisted of a living room with open kitchen, and a large bedroom. The best part was the ocean view. We dragged over the couch to sit opposite that window, and spent most of our condo-time right there. There also was a fireplace which I frequently used to roast marshmallows. We also had access to a pool, hot tub, Internet-connected computer in the lobby, and some rec room which we looked at once but never used.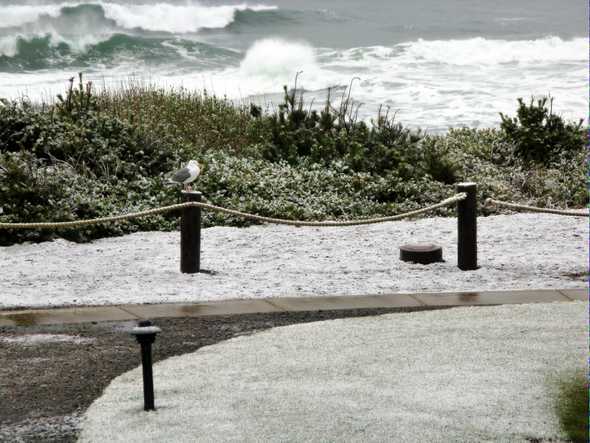 The weather was not what you'd call typical vacation weather. It rained, it snowed, and it even hailed. It was also windy, and never got much warmer than 50 degrees. But it never precipitated for very long, and we basically did what we wanted. We just did it wearing all the layers that we packed, and with frequent indoor stops. It was good to learn that we could deal with the weather in this way.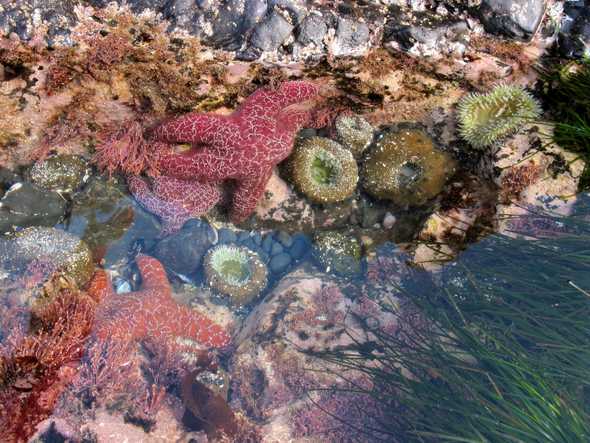 Not far from our resort was Yaquina Bay where the tidepooling was excellent. The beach was filled with volcanic rock, polished smooth through wave action. Just beyond the beach was a rocky shore filled with tide pools. We saw lots of the spineless stuff that Danielle loves, but no sunflower starfish. There were some nice little trails in the area too.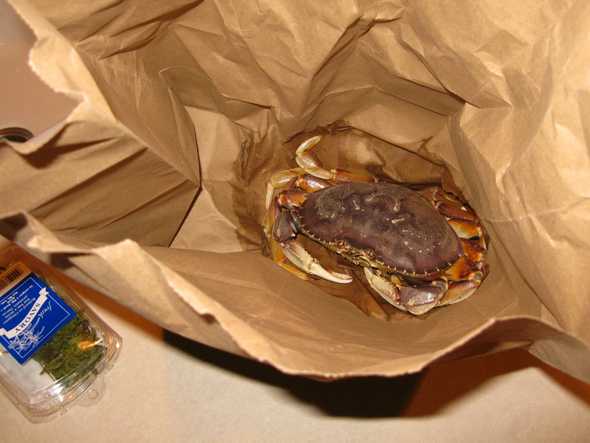 On our way home from the first tidepooling session, we picked up a live crab from a boat (kind of pricey, \$6/lb). Together with some nut crackers from the dollar store, we had a good time cooking and eating him. Having a kitchen is nice. We would not have been able to do that while camping. We only ate out a few times. The only really good place we found was Georgie's.
In between meals and sitting on the couch, we did a fair amount of walks/short hikes. The most impressive one was the hike to Drift Creek Falls. The drive up was half the fun, because there was half an inch of snow on the ground. Luckily others had driven it before us, because I don't know if I would've taken the rental car up a twisty snowy logging road without that. Oregon is very green, and we really enjoyed all the leaves, moss, mud, fungi, and ferns that we saw. It's totally different from the dessert, but no less pretty. On one of hikes we saw large amounts of what we think is mountain lion scat. This had Danielle quite worried, while I figured that it wouldn't attack two hikers together. We never did see any cats, but we did later confirm that mountain lions live in that area.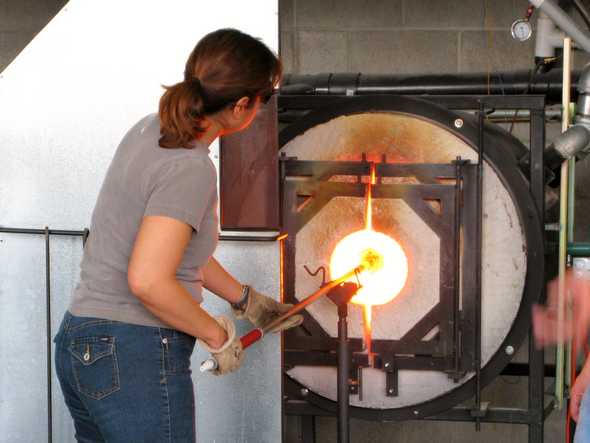 The highlight for Danielle was probably her glass blowing experience. A place in town lets you spend your hard-earned dollars to assist an expert glass blower in making your own glass float. Danielle had fun while I watched from outside and took a very large number of pictures.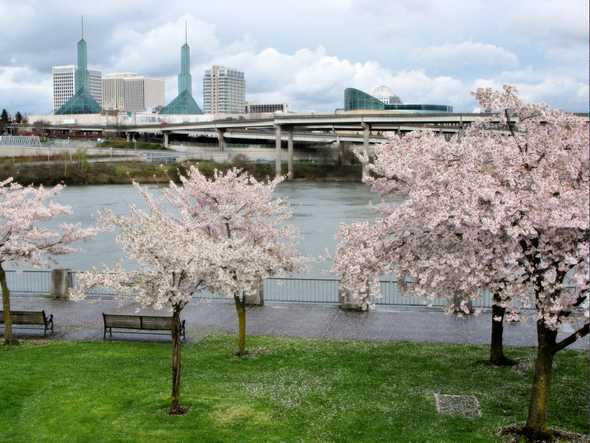 Half way through the week, we decided to leave a day early and make time to see some of Portland. Through couchsurfing we found Devidas who was kind enough to let us stay at his place. This was our first couchsurfing experience, and it couldn't have gone any better. We spent a fun afternoon exploring the downtown area, eating food, and in general trying to stay warm in between bouts of being outside. We like the train and trolley, even though at one stop I decided kind of late that this was our stop, so I got off while Danielle didn't. Washington Park also really impressed us. It's pretty cool to have that much park right next to downtown.
Overall we really enjoyed our week, and think that we can cope with the weather enough that we're tentatively planning on moving to Portland after our big trip.