Danielle's spring break was rapidly approaching, and we hadn't planned anything to do yet. After spending some time on Rip Off America we ended up with reservations for 4 nights of camping in and around Yosemite National Park. Monday, April 2nd was our departure date. Despite very little slacking off, it took us all morning to get ready to leave. A lot of our time was spent planning and buying food for the week. Since our last trip, we've changed our diets to include more fruit and vegetables with less starch, so we couldn't fall back on random cans of stuff over couscous. Instead we ended up packing lots of fruit, vegetables, and meat that we cooked (for lunches).
Around 12:30pm, we finally hit the road. We stopped by Trader Joe's to get some lunch food as well as several Tasty Bites to serve as flavor for otherwise pretty basic dinners. In the checkout line I grabbed a chunk of the plastic-wrapped chocolate they keep there. That turned out to be a good move. It was good chocolate for not a lot of money, and it served as a tasty treat throughout the trip. After this delay we drove straight to Dry Gulch Campground which is just west of Yosemite. The drive was pretty boring, and didn't get fun until we were well on our way on 41 where the scenery got steadily prettier. There were flowers, green rolling hills, mountains, forests, etc. Winding our way over to 140 we even saw several deer on the side of the road.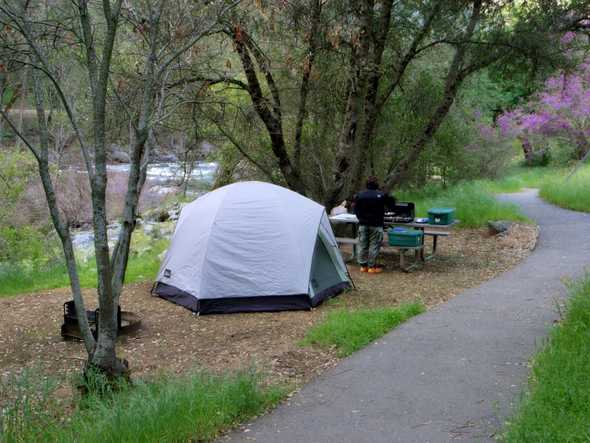 The campground turned out to barely fit between the Merced river and a small access road. You can't park next to your campsite, so you have to walk 50-200 yards from the parking spots to your campground. The sites themselves are pretty big but not level. There are no bumps in the ground, it's just at an angle. The river does do a really good job of drowning out any noise from nearby 140. We quickly set up camp, cooked and ate dinner, and went to bed.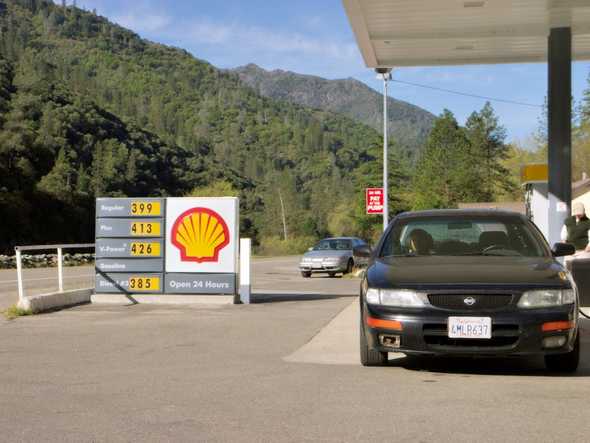 In the morning I was happy to discover that my back felt fine. Apparently sleeping on a Thermarest on top of my closed-cell foam pad gives me enough padding to be comfortable all night long. After a quick and tasty breakfast, we headed towards Yosemite Valley. Just before entering the park we filled up with expensive gas, but presumably not as expensive as any gas we might find in the park would be. We briefly visited the visitor's center and then went to set up our tent at Upper Pines Campground. I wanted to get that done soon, as it was quite wet from the night's condensation. The campground was full and packed quite densely, but was nice otherwise.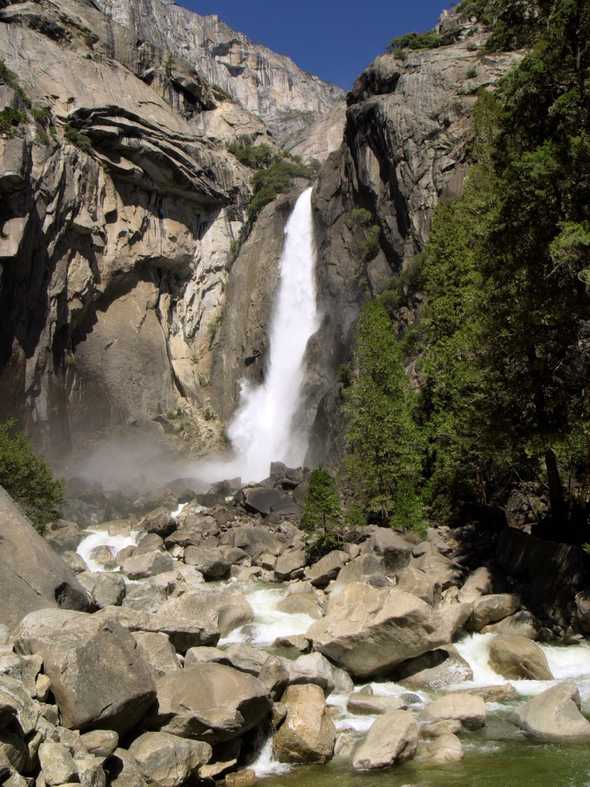 Afterwards we set out to explore the valley for real. We drove around and walked the short tourist trails to the bottom of Lower Yosemite Falls as well as Bridalveil Falls. They were both very crowded. Because we wanted to have lunch somewhere without a million people around, we decided to head up Four Mile Trail a bit to get away from them. This worked great, and we had lunch with a quiet and wonderful view of Yosemite Falls. Watching Yosemite Falls is amazing. Just to state the obvious: a lot of water falls down a long way. It falls so far down that something happens in your brain and you think you're watching a movie in slow motion. Varying winds make patterns in the water as it falls down. It's obviously far away, but the water is so loud that you can hear it anyway. All of this happens with a backdrop of granite cliffs, pine trees, and blue sky. This sight is up there with the Grand Canyon on a list of 2 things that everybody should see once.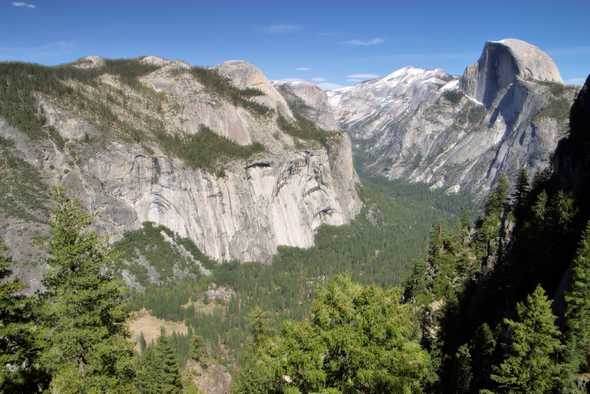 After lunch, I decided I'd like to continue to Union Point, while Danielle decided she was still a bit tired from the 13.1 miles she ran on Saturday. I went up and she went down. I don't think I ever made it to Union Point because I encountered a closed gate before any obvious viewpoint. However, at that gate I did have a nice view of Half Dome, and it was just before my turn-around time. So I hurried back down to find Danielle reading a book while lying on a large rock in a meadow.
We decided to head back to our campground to just sit around and relax for a while until dinner time. I don't sit around and relax very well, so instead I studied the map. We'd decided to do a day-hike on Thursday, and I found just the one. We'd leave from our campsite, walk past Mirror Lake, up on Snow Creek Trail, bypass North Dome, head to Yosemite Point, then to Yosemite Falls, and finally back down to the valley. This route is over 14 miles, but we figured we could take it slow (2mph) and still make it, as long as we left early enough. To be extra sure, we hurried back to the visitor center where we got in the door just before closing. The ranger told us that, according to their reports, there were some snow drifts up there but nothing requiring snow shoes. We returned back to our tent, ate dinner, and got into bed nice and early in anticipation of a nice long hike.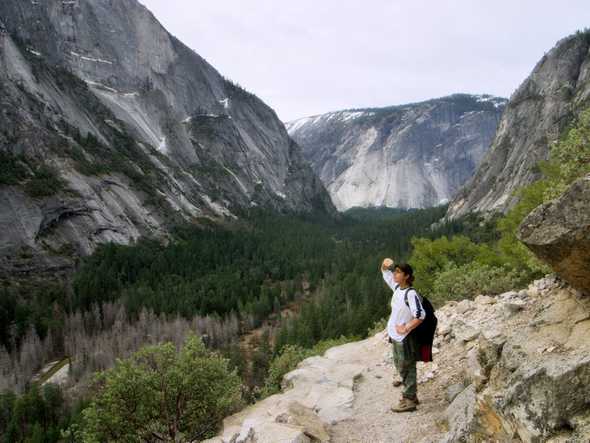 In the morning everything went according to plan. We started walking at around 8:30am, just as most people in the campground were waking up. A little while later we arrived at Mirror Lake, which was as reflective as its name suggests. The weather was forecast to be cooler than yesterday, and so far the clouds made that true. It warmed up to a comfortable hiking temperature just before we left Tenaya Creek behind, and started a near endless series of switchbacks which would take us 2500 feet up. It took a long time to get up, but we enjoyed wonderful views of Half Dome all the way. We were going even slower than we would otherwise because Danielle's legs were still tired from the recent half marathon.
Once we conquered the switchbacks, I figured the major climbing was over and we were basically home free. I misread the map, and thought we had about 550 vertical feet to go, but much less steep. Looking at it now, it is clear that we had 1100 vertical feet to go. Even though it had taken longer than expected to get this far, we pressed on, optimistic that soon we'd be on easy streets. A slight damper was put on our optimism when we met a guy who had camped out the previous night. He said they walked through deep and soft snow, post-holing all the way. I asked for how long that section lasted, and he said one to two miles. We decided to hike on a bit to see how bad the snow was. When we saw the snow, it seemed frozen enough that we could walk on top of it relatively easily. How bad could 2 miles of fairly frozen snow be? We continued on.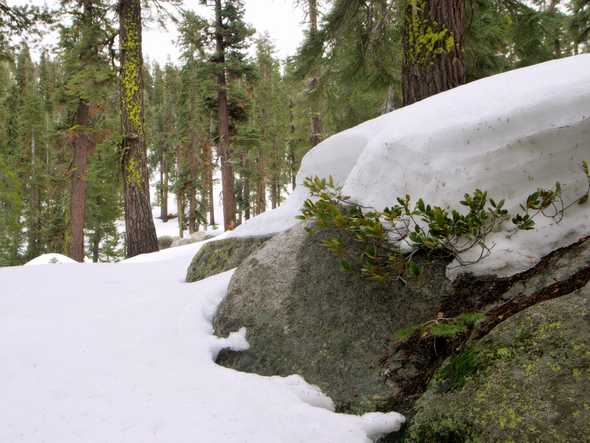 At first there were just occasional snow drifts, but quickly this changed to where there were just occasional patches with no snow. The snow was still mostly frozen, but we would regularly sink in a foot or even two feet. This slowed us down quite a bit, but we were committed to finish the couple of miles of snow before it could melt into the miserable mess the camper had described. After at least 1.5 miles of the snow, and with no end in sight, Danielle declared that she was going to have lunch right there. Her legs were really tired, and to top it off her ankle was bothering her now. We ate lunch, and kept on going. We briefly considered turning around. We still hadn't reached the highest point of our hike, we were less than halfway there, having a late lunch, and Danielle was falling apart. The smart thing to do would have been to turn around, but we didn't really take the time to make an informed decision. Instead, we just kept going, hoping for the snow to end, and not wanting to have to go through the snow on the way back.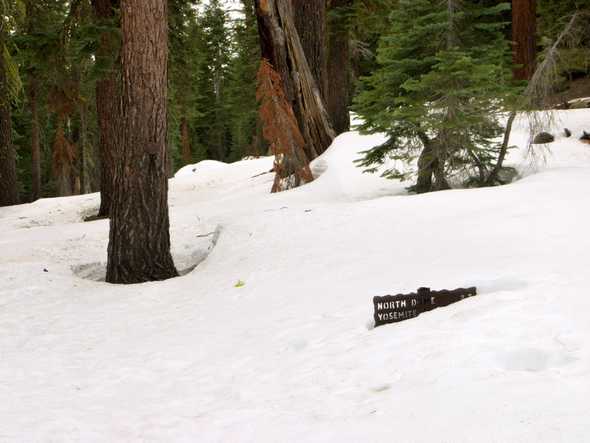 The snow did not end, and we were still going up. Finally we reached the highest point, where we started going down. Surely the snow must end soon now. At least walking down was easier. For a little while it appeared that we had gone through the snow, but then we hit another long stretch of nothing but snow. At this point the snow had also melted some more, and we were sinking in more often. After several hours of walking over, in, and through snow our socks were wet, and it was starting to look like we'd be hiking down in the dark. We filled up a water bottle from a creek we crossed. I'd brought some purification tablets, but after checking on the map that this creek came from a spring not very far away, we decided to drink it like it was.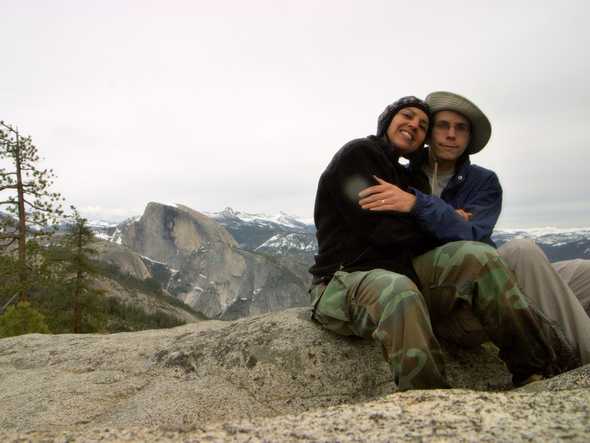 Crossing that creek, we briefly lost the trail for a second time. We worked our way up more snow, until we finally reached Yosemite Point. The snow had been thinning for the last mile, and from here on out it was no longer a real problem. After a 15-minute break to enjoy the view, we headed down towards Yosemite Falls. Despite losing the trail a few times, going down made me feel like everything was going to be all right. We briefly lingered at the Yosemite bridge, and headed on. At this point I decided I had to make the quarter mile round trip to the lookout point. When was I ever going to get that chance again? Danielle joined me for what made another 20 minute delay. The view from the lookout point is impressive, but you can't see much of the falls itself.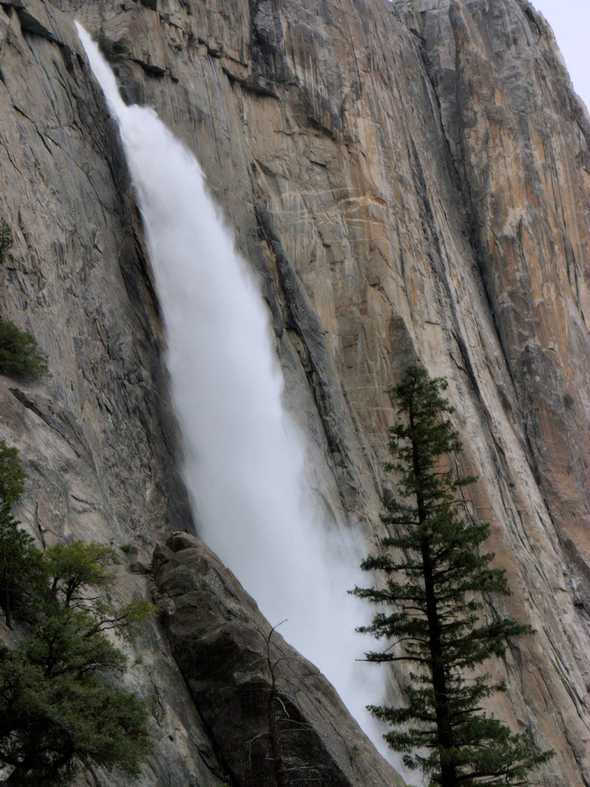 Just before sunset we started heading down the penultimate series of switchbacks. Since this is such a heavily traveled trail, we expected it to be easy to follow and easy to hike. It is fairly obvious where the trail goes, but it is quite steep and lots of rocks made for uneven footing. Despite the late hour, there was still plenty of light to see by. It was clear, however, that we wouldn't make it down before it got properly dark. Another hiking couple passed us as they raced down the hill. I asked the guy if they had any extra lights and he just managed to mutter some kind of negative answer before he was gone.
Soon thereafter we hit a relative flat section of the trail. We took a brief break to admire a small mountain kingsnake that was crossing the trail. By this time it was so dark that it took a little while to see that the red was next to black, and not to yellow. Just a little further down we passed the other couple, who had gone off the trail where they thought it took a switchback. A minute later they passed us again while I was checking the map. The trail was switchbacking up, and I wanted to make sure there wasn't some other trail that we may have gotten lost on. By this time, it was too dark to read the map. We pressed on.
Again we passed the other couple, as they'd gotten off the trail. And again they passed us right back. The trail had changed from rocky to mostly sandy, which was making our descent much easier, when it changed to switchbacks again. With the switchbacks came more rocks, and the steps down were hard to see. I began calling out to Danielle, who was much more tired than me, what was coming. "Sand… just a few rocks… big step down… sand… big rock… step down…" As we got lower, there were more trees blocking out the light. At this point I was getting more than half of my trail information from my feet, instead of being able to see what was coming. Just as the trees got so dense we could barely see any trail at all, we heard some shouting from down below, and saw lights.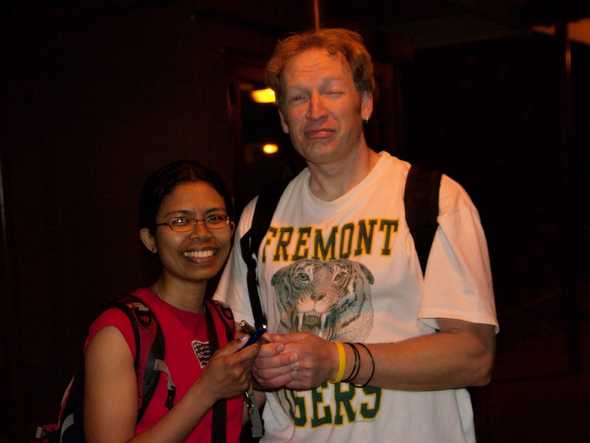 We yelled back, and the voices told us to stay put, and that they were coming up. Less than a minute later, one of the hikers who'd repeatedly passed us earlier showed up holding an LED key chain light. It turns out his name was Costa, and his mom had given him and Dani, a pair of small flashlights for Christmas. They had completely forgotten about them until it was completely dark. When they discovered they had 2 flashlights on them, they came back to help us get down safely. Greatly relieved, but no less tired, we continued down the switchbacks. Costa with a light in front, followed by Dani, followed by me, followed by Danielle with the other light. After another 20 minutes we finally arrived at a parking lot near the bottom.
Thank you, Dani and Costa, for coming back for us, and slowing down so we could keep up as we walked down. Without your help, it would have taken hours longer, and been a lot more miserable to come down. I apologize for the awful picture of Costa, but it's the only one I have.
From the parking lot we walked to the nearby Yosemite Lodge. There, Dani and Costa continued to the shuttle because they were driving home that night. Danielle and I walked to the front desk, to ask what our dinner options were. We were told that the restaurant was seating people for 5 more minutes so we hurried over there. In our hiking clothes, boots still wet, carrying packs, we entered the Mountain Room Restaurant and were seated immediately. Instead of 7 or 8 hours it had taken us 12 hours and 20 minutes to cover just under 15 miles. You can see our route here. Needless to say we wolfed down our excellent dinner, which was served to us by a very friendly wait staff. After dinner we took the shuttle bus back to our tent, where we finally got to take off our boots. Our feet were wrinkled from being wet so long, but amazingly neither of us had any blisters. We went straight to bed and slept very well.
In the morning Danielle was unbelievably sore, while I was feeling remarkably good. We packed up because our reservation was over, and headed to the visitor center to see what we might do that day. It took Danielle a while to complete the 0.4 mile walk from the parking lot to the visitor center, and she even had to take a break. We decided right there that we would go home a day early, since she was clearly in no shape to do anything. At the visitor center we watched the movie, and checked what roads were open. We decided to take 41 south, and drive home from there.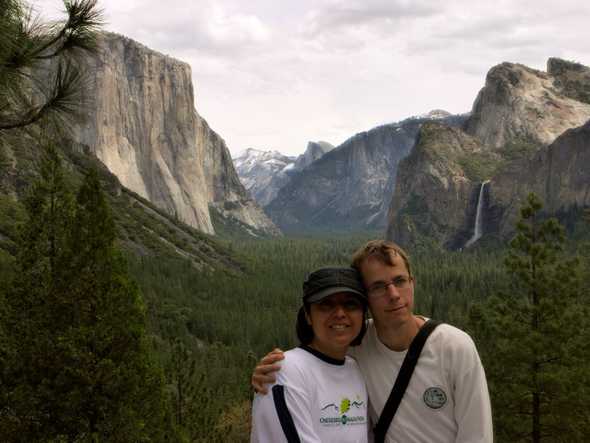 We made several stops on the way home to look at El Capitan, to admire the valley from the tunnel view point, and to enjoy the Mariposa Grove (where Danielle stayed in the car while I hiked in just a little). Mostly we just wanted to get home.
Lessons Learned
On the positive, Trade Joe's chocolate is great. When planning several days of meals, there's nothing wrong with repeating a lot. We ate the same thing several times and it never crossed my mind that it was boring.
Our hike very nearly ended in a disaster. We were very lucky that some light showed up exactly when we needed it. When we were half-way to darkness, and less than half-way to the end of the trail, we should have turned around. I need to be more strict about deciding what the turn-around time is, and to make a good decision when we arrive at that time. In addition, I'm also going to put together a small survival kit that I'll take along on every hike. If I don't feel I can carry the extra pound, then I shouldn't be going hiking.